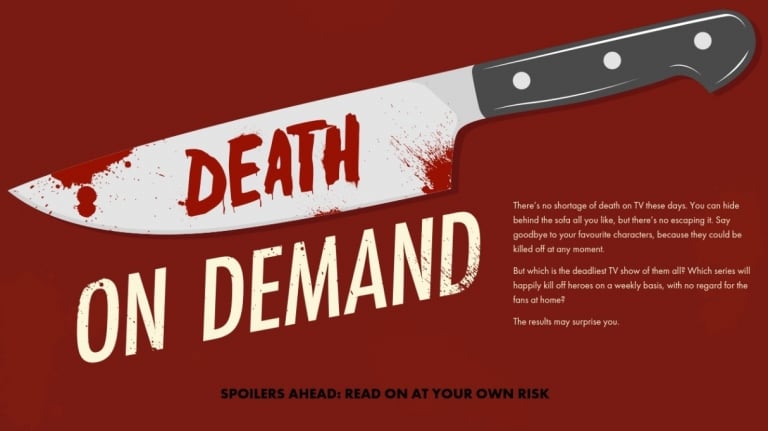 There's no escaping death on TV these days, with shows killing off popular characters on a weekly basis. Hero or villain, friend or foe, no-one is safe.
Q2 hedge fund letters, conference, scoops etc
How Warren Buffett Went From Hating To Loving Banks
Since the financial crisis, Warren Buffett's Berkshire Hathaway has had significant exposure to financial stocks in its portfolio. Q1 2021 hedge fund letters, conferences and more At the end of March this year, Bank of America accounted for nearly 15% of the conglomerate's vast equity portfolio. Until very recently, Wells Fargo was also a prominent Read More
But which is the deadliest show on TV? Which has racked up the most horrifying body count? Well, a new study has the answer – and it's not what you'd think.
Black Mirror - 387,063 deaths
According to research from Music Magpie, it's not Game of Thrones or The Walking Dead topping the chart, but Charlie Brooker's Netflix series Black Mirror, with a spine-chilling 387,063 kills under its belt.
For those surprised to see Black Mirror top the chart, this is largely thanks to one particular episode, season three's Hated in the Nation, which sees a horrifying 387,036 people killed by rogue Autonomous Drone Insects.
Game of Thrones - 174,373 deaths
Unsurprisingly, Game of Thrones takes second place, with an impressive 174,373 deaths to date. Throughout seven seasons the on-screen brutality has seen characters stabbed, beheaded, poisoned, burned alive and eaten by dogs. One of the most shocking deaths, however, saw Viserys Tagaryen finally have his wish for a crown granted, when Drogo poured molten gold over his head.
Humans - 110,059 deaths
Humans takes third place, with a death count of 110,059. 110,000 of these deaths happen following the season two finale, which sees Mattie upload the consciousness code, waking up Synths and causing chaos around the world.
24 - 16,115 deaths
24 follows everyone's favourite counter-terrorism agent Jack Bauer, as he works to defeat terrorist plots and save America. 24 racks up a total of 16,115 deaths, including 12,000 in one episode in season 6, which sees a nuclear bomb detonated in California.
Battlestar Galactica - 10,892 deaths
Fan favourite Battlestar Galactica follows the ship of the same name, and the passengers on board. Following a ruthless attack by the Cylons, the last remaining 50,000 humans flee the carnage in search of the fabled 13th colony, Earth.
The 100 - 4,411 deaths
After the planet is ravaged by a nuclear apocalypse, humanity escapes to the stars to start a new life. 97 years later, a group of 100 juvenile prisoners are sent back to Earth to see if it's become habitable again. The 100 follows this group as they fight for their lives on the surface, facing new threats around every corner.
Supernatural - 4,301 deaths
Supernatural follows the Winchester brothers as they travel across America in their Chevy Impala, hunting down all manner of supernatural beings. If points were given for consistency, Supernatural would come out on top, with only six episodes through its 13 seasons to date not featuring a death of any kind.
The Walking Dead - 1,946 deaths
It may not top the list for highest body count, but The Walking Dead has featured some of the most heart-breaking and brutal deaths of any of the shows featured in this study. While there are many that stand out, it would be hard to forget watching Glenn and Abraham die at the hands of Negan and his barbwire-wrapped baseball bat, Lucille.
NCIS - 981 deaths
NCIS follows the Naval Criminal Investigative Service, the team tasked with investigating crimes involving Navy and Marine Corps personnel. With a whopping 15 seasons under its belt so far, NCIS is the second longest running scripted, non-animated U.S. primetime series currently airing, racking up 981 deaths along the way.
The Vampire Diaries - 598 deaths
The Vampire Diaries follows the Salvatore brothers, Stefan and Damon, and Elena Gilbert, the girl they both love. With a show centred around the supernatural, fans can expect to see a lot of death, with some characters even coming back to life, just to be killed all over again.
Sons of Anarchy - 370 deaths
Crime, family, loyalty, corruption – Sons of Anarchy deals in all of these themes and so much more. From running guns to protecting their town from rival gangs, the members of SAMCRO get into their fair share of dangerous situations, leading to 370 deaths across 7 seasons.
Once Upon a Time - 336 deaths
You wouldn't expect a show based on fairy tale characters to feature a lot of death, but that's exactly what you get with Once Upon a Time. The show sees famous fairy tale characters robbed of their memories and banished to the real world, where things aren't quite as 'happily ever after' as you might hope.
Breaking Bad - 271 deaths
What would you do when faced with your own mortality? Get your affairs in order? Say goodbye to your loved ones? Or maybe, like Walter White, you'd start manufacturing and selling crystal meth, beginning a long descent into the deepest, darkest depths of the criminal underworld? Just remember, tread lightly.
Fear the Walking Dead - 252 deaths
Set prior to the original show, Fear the Walking Dead takes us back to the very beginning, chronicling the outbreak of the virus which leads to the zombie apocalypse. Like main series, Fear the Walking Dead features some pretty gruesome deaths, as we watch society's downfall in real time.
True Blood - 223 deaths
What happens when vampires no longer need to hunt and kill humans to survive? If they come out of the shadows and reveal their existence to the world, how will the world react? True Blood answers these questions, following barmaid Sookie Stackhouse, whose life is changed forever following The Great Revelation.
Spartacus - 214 deaths
Finally, we have Spartacus, which follows the title character's journey from hero to gladiator slave back to hero again. With the gruesome gladiator arena forming the centre point of this series, violence and death are commonplace.
Want to know more about these deadly TV shows? You can view the research in full on the Music Magpie website.