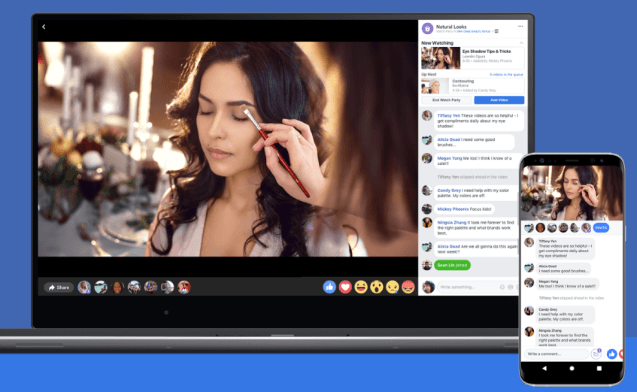 Facebook has come up with yet another interesting feature that has the potential to make users spend more quality time on the platform along with encouraging them to talk to each other. This new feature – called Facebook Watch Party – allows groups to watch live or recorded videos together while interacting with each other in real-time.
Facebook Watch Party – what it is?
The Facebook Watch Party feature can be started by anyone in a group. The person starting the Watch Party will also get to select co-hosts, who will control the playlist and playback. All members of the group can suggest the videos, ask questions, make comments or add reactions in real-time. A Facebook notification about the party serves as an invite for the members.
"We've been focused on building new ways to bring people together around video, create connections, and ignite conversations; Watch Party is the next step in bringing this vision to life," Facebook said in a blog post announcing the new feature.
Qualivian Investment Partners July 2022 Performance Update
Qualivian Investment Partners performance update for the month ended July 31, 2022. Q2 2022 hedge fund letters, conferences and more Dear Friends of the Fund, Please find our July 2022 performance report below for your review. Qualivian reached its four year track record in December 2021.  We are actively weighing investment proposals. Starting in November Read More
Starting a Watch Party is similar to posting on a group's wall. The first thing that you need to do to start the Facebook Watch Party is give it a catchy title (you can add an image as well), and post it. Next, you will have to add a few videos to start with. The stream will start after other users join in, and the videos will get synced up for all viewers. More videos can be added as the stream progresses.
Facebook Watch Party builds on the Watch content and interactive features similar to Facebook Live. However, Watch Party for now only supports Groups and not pages. Also, the videos have to be hosted on Facebook itself. The company, however, did say that it is testing the Watch Party for pages, but doesn't have any specific timeline for its launch.
Could prove useful
Facebook Watch Party has been in testing since January, and was released publicly only Wednesday. During the testing phase, the social networking giant noticed that some of the groups enjoyed the new feature for over ten hours with members joining in and going out throughout the day. Further, the company also noticed that in comparison to the usual clips, video generates six times more interactions.
"In our testing, we've seen Watch Parties, both big and small, with highly engaged members often generating hundreds or even thousands of comments while watching videos together," Facebook said.
Also, the Facebook Watch Party feature could prove extremely useful for marketers, who can use it to connect and engage with several users at once. Facebook claims the feature has several use cases, like demonstrations, Q&As, behind-the-scenes, and more.
"We've heard from group leaders that they're excited to use Watch Party for things like: hosting Q&As around particular hobbies such as cooking or crafting, sharing behind the scenes details of a video,…." the company said.
Despite the positive results during the testing phase, it is not very clear how many users would be interested in viewing videos with their random Groups. Facebook, however, claims that the objective of the new feature is to enhance the concept of video streaming, which for now is mainly passive.
Nevertheless, it surely is an interesting feature, something that users have long been requesting from services like Netflix and Spotify.
Focus on videos
Facebook has been focusing heavily on videos in the last couple of years. The social networking giant has emerged as a potential rival to YouTube as more marketing dollars move from TV to online. The company also gives priority to videos (mainly live videos) in its algorithm, and last year, it launched Watch, a new platform for original video content.
Further, in a bid to give more options to the users in the video space, the company is also working on ways to live video stream picture-in-picture inside a prerecorded video that users are viewing in the Watch Party, Erin Connolly, Facebook social video product lead, told CNET in an interview.
In a bid to promote the new Watch Party feature, Facebook is hosting a "Weekend of Watch Parties" this weekend. Under this, Facebook Groups from all over the world will host Watch Parties. Some of the participating groups are: Outdoor Afro, Physician Moms Group, Female Travel Bloggers, BuzzFeed's Tasty Group, Red Table Talk Group, Jamie Oliver's 5-day Veggie Challenge, Mama Tribe and more.
Updated on