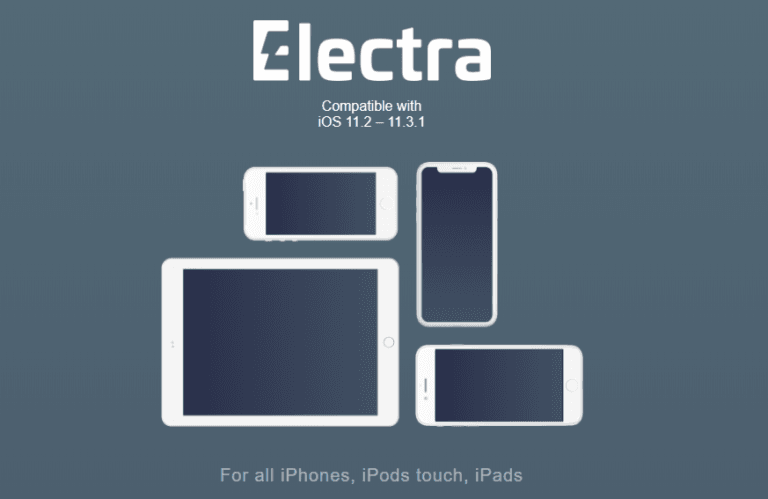 The wait is finally over. After several weeks of hard work, developer CoolStar has released the Electra iOS 11.3.1 jailbreak tool to the public. The tool – dubbed Electra1131 – is compatible with all iPhones, iPads, and iPod Touch running iOS 11.2 – 11.3.1, including the iPhone X. If you are interested in liberating your device, you could download Electra iOS 11.3.1 jailbreak tool to enjoy the freedom from Apple's walled garden.
There have been a handful of other iOS 11 jailbreak releases as well, but most of them were either unreliable or came with tons of restrictions. The updated Electra1131 brings an easy-to-use interface in a neat package to liberate your iOS device. It relies on Project Zero researcher Ian Beer's exploit. CoolStar has confirmed that the tool fully supports Cydia and the Substitute framework, meaning you'll be able to access Cydia and install your favorite tweaks right after jailbreaking the device.
Before diving into how to download Electra iOS 11.3.1 jailbreak, you should know that it is a semi-untethered jailbreak. If you reboot or power down your device, it will go back to the pre-jailbreak state. It means you'll have to launch the Electra app and re-jailbreak the device every time you shut down or reboot it. Fortunately, that's pretty easy considering the Electra app is already installed on the device.
Benjamin Graham GEICO Buy Was Just A Simple Value Play
Was Ben Graham's big purchase of GEICO shares actually a value investment? Perhaps it was contrary to what many believe. "In 1948, we made our GEICO investment and from then on, we seemed to be very brilliant people." -- Benjamin Graham, 1976 Both Benjamin Graham and Warren Buffett can attribute a large part of their Read More
Step-1: Backup your device
Anything could go wrong during or after the jailbreak process. Before you download Electra iOS 11.3.1 jailbreak, you need to ensure that your data is safe even if something goes horribly wrong. You could do it via iCloud or iTunes. Taking a backup via iTunes is faster and more convenient. Here's how to back up your device via iTunes:
Plug in the device you want to liberate to a PC or Mac
Launch iTunes
Click on Back up now
How to back up via iCloud:
Connect the iOS device to a reliable WiFi network
Go to Settings > Your name/photo > iCloud > iCloud Backup
Tap on Back up now
Stay connected to the WiFi until the process is complete
Step-2: Enable Airplane mode. Disable Siri, Find My iPhone, WiFi, and Passcode
According to CoolStar, more than 90,000 devices have been successfully jailbroken using the Electra tool so far. Many of them encountered errors during the jailbreak process. They figured that disabling Siri, Find My iPhone, and Passcode significantly increases the chances of successfully jailbreaking your device. CoolStar recommends that you should toggle on the Airplane mode before jailbreaking.
To enable Airplane mode, go to Control Center and tap on the Airplane toggle. To disable Siri, go to Settings > Siri & Search and then toggle off Listen for 'Hey Siri' and Press Home button for Siri. Now reboot your device. Rebooting it may turn off the Airplane mode, so you may have to re-enable it from the Control Center. Also, ensure that WiFi is disabled after rebooting.
To turn off Passcode, head over to Settings > Touch ID & Passcode (Face ID & Passcode if your have iPhone X). You'll be prompted to enter your passcode. Enter the passcode and then tap on Turn Off Passcode. Now the only thing left to disable is Find My iPhone. To turn it off, launch the Settings app, tap on your name/photo, and go to iCloud > Find My iPhone. Tap on the Find My iPhone toggle to turn it off. Enter the Apple ID and password when prompted, and you are done.
Step-3: Install Cydia Impactor on your PC/Mac
Cydia Impactor is the tool that makes all the magic happen on your device. Go to CydiaImpactor.com in the web browser of your Mac or PC to download and install the relevant version of Cydia Impactor.
Step-4: Download Electra iOS 11.3.1 jailbreak IPA file on your computer
After having installed Cydia Impactor on your computer, you have to download Electra iOS 11.3.1 jailbreak file from the official website. Go to this link and you'll see two versions of Electra. One is for developers, and it requires you to have a $99 per year Apple Developer account. Another is the non-developer version, which means it is for the general public. Almost everything is the same between the two versions, except that the developer version relies on the multipath tcp exploit while the non-developer version uses the vfs exploit.
If you don't have a paid Apple Developer account that costs $99, download the non-developer version of Electra. Note that you'll still need a free Apple Developer ID. If you don't have one, you can get it from developer.apple.com using your existing or new Apple ID.
Step-5: Connect your iOS device to your computer
Take your iPhone, iPad, or iPod Touch and connect it to your Mac or PC via a compatible USB cable. If you see iTunes launch automatically, just close it.
Step-6: Launch Cydia and drag the IPA file to it
You have already installed the Cydia Impactor on your computer, haven't you? Good. Launch the Cydia Impactor app and drag the Electra1131 IPA file onto the Cydia interface.
Cydia will ask you to enter your Apple ID and password. Do so. Now Cydia will start sideloading the Electra IPA to your iOS device.
Step-7: Trust the Electra app
After Cydia has sideloaded the IPA file, you'll see the Electra jailbreak app on the home screen of your iOS device. Don't launch it yet. You have to Trust the app to be able to launch it on your iPhone or iPad. Go to Settings > General > Profiles & Device Management and look for the profile associated with the Electra IPA file. Tap on Trust and then Trust again. Now go back to the home screen.
Step-8: Launch the Electra app
From the home screen, launch the Electra app. On the main interface, you'll see a button named Jailbreak in the center of the screen. Right below it is a Tweaks toggle. Make sure that the Tweaks toggle is on and then tap on the Jailbreak button. Electra will do its thing and reboot your device automatically.
Now it will take you to the lock screen. Unlock the device, launch the Electra app again and tap on the Jailbreak button. Once the process is complete, you'll get a notification that your device has been successfully jailbroken. You'll also see the Cydia icon on the home screen. Launch the Cydia app and start downloading the tweaks of your choice.