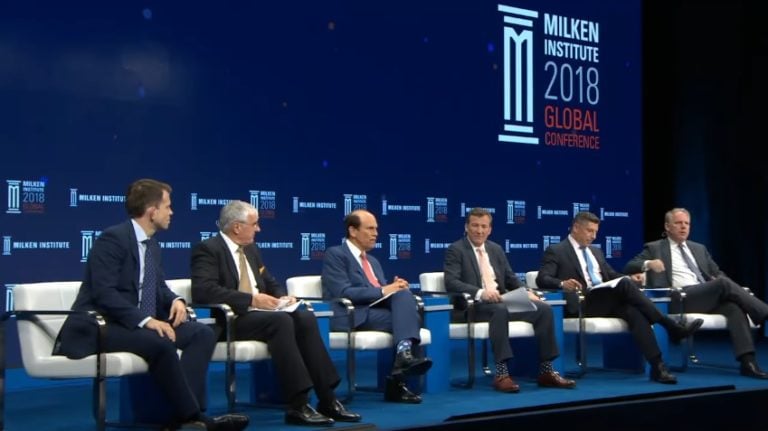 Over the past five years, a massive $600 billion has funneled into high-grade funds. In our annual look at the issues shaping global credit markets, industry leaders will assess the sustainability of this trend, given that higher bond yields gashed returns for U.S. and E.U. credit investors this year. What are some of the less obvious challenges facing this asset class? Will covenant light loans continue to dominate in 2018? Where are the bright spots?
[REITs]
Q2 hedge fund letters, conference, scoops etc
Qualivian Investment Partners July 2022 Performance Update
Qualivian Investment Partners performance update for the month ended July 31, 2022. Q2 2022 hedge fund letters, conferences and more Dear Friends of the Fund, Please find our July 2022 performance report below for your review. Qualivian reached its four year track record in December 2021.  We are actively weighing investment proposals. Starting in November Read More
Moderator
Michael Milken – Chairman, Milken Institute
Speakers
Ilfryn Carstairs – Partner and Co-Chief Investment Officer, Värde Partners
Sir Michael Hintze, AM, GCSG – Founder, Chief Executive and Senior Investment Officer, CQS
David Miller – Global Head of Credit and Head of Global Credit Products, Credit Suisse
Joseph Naggar – Partner, GoldenTree Asset Management
Jim Zelter – Co-President, Apollo Global Management
Milken Institute 2018 Global Conference: Credit Market Outlook
Transcript
Please welcome your panelists for credit market outlook moderated by Michael Milken like that clapping good. Yes well good afternoon. And credit underlines most of the access to capital in the world today and we have five of the world's leaders here in investing in credit. And we're going to get you into this session today in 2018 and a look at credit and to start us off. David Miller from Credit Suisse. David tell us a little about what our financial markets like now when you're talking to companies that want to finance private equity firms. What guidance are you giving. And how does the market look to you. Thank you Mike and Mike. Thank you very much for having us here. An honor to be sitting next to you. I'm going to talk a bit about the leverage finance markets and and that market right now is particularly strong. If you look at the leverage finance markets over the past six years the size of that market has grown 48 percent the leverage loan market itself has grown 51 percent. So let's think about the credit characteristics of what's going on in that market. Lots of question bring those slides back up from that moment so we could see them a little longer. Lots of questions about you know where are we in the credit cycle and the like. So if you look at the fixed charge coverage ratios today compared to 0 6 to 0 8 there over two and a half times compared to back then they were under two times interest coverage ratios of four times compared to two and a half times.
Most importantly equity checks in these leveraged finance financings that were praying together averaging 40 percent precrisis it was 30 percent. So that the credit dynamics are quite strong. If you look at overall leverage ratios on average they're five times if you if you remove the energy from it from the equation and that's really it not community adjusted either which is a term I recently saw default ratios default ratios ex retail and energy have been arranged Bauma to one point eight and 2.8 per cent and currently at 2 percent. If you strip retail and if you strip out energy. So I believe the crowd dynamics are quite good right now quite healthy right now. And then you look at what's about what about the future and you've probably heard from many in the private equity industry so far today there's over 1 trillion dollars of private equity dry powder globally and Mike likes to correct me and says I'm not counting a bunch of other types of. So if you look at the 200 large family offices that are here at the conference exactly. So if you look at that one point one trillion dollars of private equity dry power this is dry power needs to be spent the next five to seven years. That equates to if you put 30 percent equity it that equates to a three point six trillion dollars of purchasing power of which 2.5 two point six is debt that we're going to originate we're in structure and syndicate in the World Trade it just to put that number in perspective the total U.S. leverage finance market size today is two and a half trillion.
So it's a virtual doubling of the debt markets and this is just private equity. This is not a family office and this is not corporate. So I think it's it's a very compelling market right now and it's I think the prospects are quite good. Tell us David if I come and see you and tell you I want to borrow money to leverage six times or more and I don't want to have any covenants. What's the situation on covenants right now. So you did put in the in the pamphlet about let's talk about coming to light covenant light is here to stay. We strongly believe that the slide here shows what has happened. I mean if you look at 0 7 it was a little less than 30 percent of the market. It is 75 percent of the market last year it is here to stay. But what's interesting is if you look at the spreads on the fully covenanted deals compare the covenant lite deals the spreads are materially higher on the fully covenant deals 85 90 basis points per year. Why is that the companies that need to have financial means have it. The market is speaking and the market is willing to price tighter on covenant light for those types of companies have the credit characteristics. So let's look at the other side of the ledger. David you've told us there's a lot of demand a lot of opportunity going to be tremendous expansion in the market probably maybe less equity as a percent. You've gone to 30 and there's no covenants.
Updated on