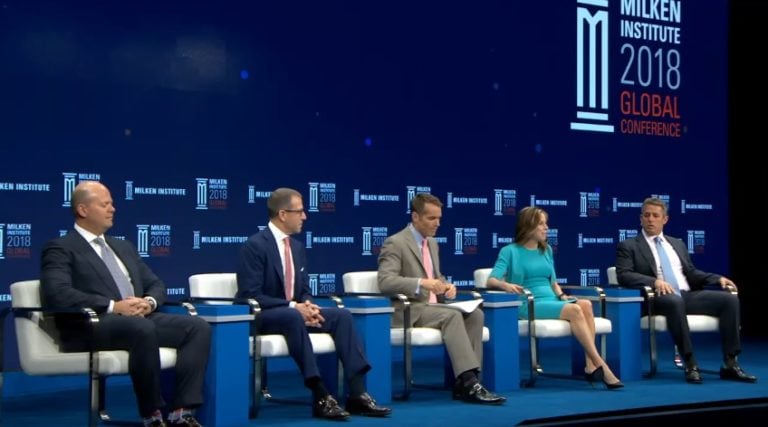 Milken chief investment officer panel on managing hedge funds. Hedge funds have had their best start to a year since the financial crisis, when investors pulled out $112 billion. During this change in the tides, what are the latest strategies hedge funds can add to their toolkits? What are specific examples of how new technologies, including data analytics, have transformed strategies? What is the future of fee structures, since managers have implemented new terms for certain clients? And what aspect of hedge funds do managers believe asset owners most frequently misunderstand? How can funds retain and attract top talent?

Q2 hedge fund letters, conference, scoops etc
Moderator
How Value Investors Can Win With Tech And "Fallen" Growth Stocks
Many value investors have given up on their strategy over the last 15 years amid concerns that value investing no longer worked. However, some made small adjustments to their strategy but remained value investors to the core. Now all of the value investors who held fast to their investment philosophy are being rewarded as value Read More
Erik Schatzker - Editor-at-Large, Bloomberg Television
Speakers
Dmitry Balyasny - Managing Partner and Chief Investment Officer, Balyasny Asset Management
Andrew Feldstein - CEO and Chief Investment Officer, BlueMountain Capital Management
Dawn Fitzpatrick - Chief Investment Officer, Soros Fund Management
Ricky Sandler - Founder, CEO and Chief Investment Officer, Eminence Capital
The Evolution Of Hedge Fund Management
Transcript
Good morning everybody and welcome to the evolution of hedge fund management here at the Milken Institute Global Conference 2018. I'm Eric Schatzker. Great to see you here. We're going to have a very interesting I hope provocative conversation today. Instead of introducing our panelists I would say first you can read about them in your program. However the bio's while informative are incomplete and I thought it would make sense to help establish some context and give you a better idea of who's on stage with me for our panelists to introduce themselves and tell you a bit about what they do. Why don't we begin with you Dawn. Sure. My name is Dawn Fitzpatrick and I'm the CIO of Soros Fund Management we run. George Soros family and foundation money. We invest across asset classes and across geographies. About 70 percent of our money is managed directly internally and about 30 percent. We invest through third parties. RICKY Hi Ricky Sandler founder CEO and CEO of eminence capital. We run a 7 billion dollar investment management firm about 5 billion of which is long short equity traditional bottoms up stock pickers a dying breed. But but surviving may be thriving. What I think. I think it's common. That's part of the the evolution of the industry. So put bottoms up stock pickers that run with a healthy balance sheet on both the long and short side globally invested. And we've been in business for twenty years Andrew. Andrew Feldstein the co-founder CEO and CEO of Blue Mountain capital we manage a little over 20 billion dollars.
The vehicles that we manage ranged from hedge funds to opportunities funds that invest in less liquid opportunities. We manage about 10 billion dollars of silos and we manage a number of single investor funds where for large investors we put together all of the pieces that we manage our investing capabilities range from quantitative equities to structured credit to volatility strategies to distressed discretionary equities all the way through to less liquid opportunities in private debt and private equity. And finally Dimitri Dimitra he founded by Vyasa Asset Management in 2001 seems about 300 years ago and hedge fund. We have about 10 billion and 600 people spread around the globe. We started in long short equity and have expanded over time into macro fixed income Commodities Credit and quantitative strategies. Most of the strategies are market neutral or close to market neutral and we focus on uncorrelated consistent performance. So as you can see and as you've heard there was an extraordinary range of expertise and depth of experience on this panel to give you a sense of what we hope to accomplish over the next hour. We're going to explore the pressures and demands on hedge fund managers and try to give you a sense of how the industry is going to respond and what opportunities might emerge as those things evolve. A question I'd like to begin with which I think will help us flush out all of the key issues is this one is the hedge fund model broken Don you've been an insider in the hedge fund industry. Now you are of sorts an outsider given that you you're at Soros you're also a client of the hedge fund industry. What do you think.
I don't think it's broken but I think there's two and 20 fits all model definitely is behind us. I think investors have gotten way more sophisticated in terms of separating out kind of simple beta from an excess return that's differentiated. And I think they're also very focused on alignment here. So I think you will see not just fees don't necessarily have to just compress but things like slower crystallization of performance fees management fees that go lower as assets go higher. I think I think things right that will matter more and more. But in terms of you know backdrop and Ricky touched on it you know the access we're seeing in strategies like long short ride here are really interesting as we see a lot of dispersion in stocks and I think as markets become more challenging our skills we've become kind of more in favor. So if John's right and the model is not broken I want to.
Updated on