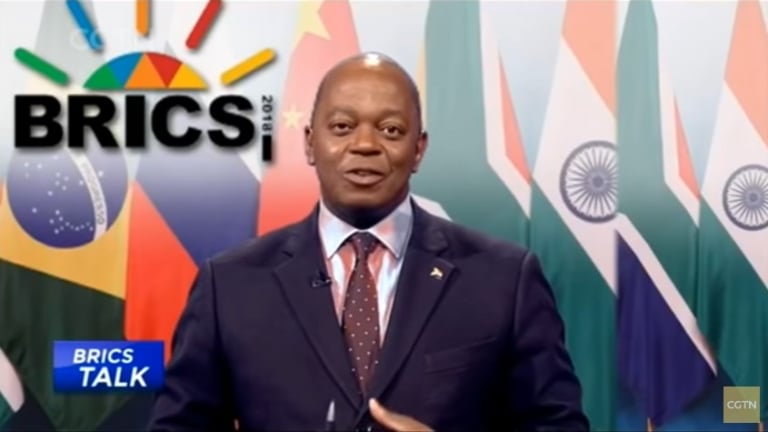 An African proverb says, "If you want to walk fast, walk alone; if you want to walk far, walk together." The five countries that make up BRICS have walked together for a decade and now their 10th summit is being held in Johannesburg, South Africa. Today, guests from all five countries gather together on "The Point with Liu Xin" to talk about how BRICS can unite to fight protectionism and unilateralism, and protect the rules-based economic order; and as we join hands to enter the next decade, what BRICS countries can do to stay focused on promoting economic and social development.
Q2 hedge fund letters, conference, scoops etc
BRICS Talk On How To Protect The Rules-Based Economic Order
Abacab Fund Sees Mispricing In Options As Black-Scholes Has Become "Inadequate"
Abacab Asset Management's flagship investment fund, the Abacab Fund, had a "very strong" 2020, returning 25.9% net, that's according to a copy of the firm's year-end letter to investors, which ValueWalk has been able to review. Commenting on the investment environment last year, the fund manager noted that, due to the accelerated adoption of many Read More
Transcript
From MoscowDr. Andre Kolton off the director general of the Russian International Affairs Council. From New DelhiT.S.A. Runga Cheree former Ambassador of India to Algeria Germany and France. And from BeijingDr. John high research fellow at the Chinese Academy of Social Sciences. And from JohannesburgDr. Salah Tibbett director of cross cultural communication strategies agency that's called Sillah encounters. Me bringing my cohost Peter from South Africa. Hello Peter.
Hello. Thanks very much indeed and welcome from the host city Johannesburg. We're all very excited and that's part of the world for what promises to be quite a summit indeed.
I would love to be there but I cannot be so that's why we're having this here. Tell us a bit about this year's event what are the key words we are talking about.
I think if we take a look at the theme of this summit the key words that are coming to mind is the inclusive growth and shared prosperity as well as the fourth industrial revolution given the global economic challenges that the globe is facing and particularly the developing nations. One of the issues particularly on the continent here in Africa is that of poverty inequality and unemployment particularly around young people. So inclusive growth very very important that nobody gets left behind and that the prosperity of the continent is shared amongst all its citizens. So that's going to be a big issue. And then the fourth industrial revolution of course we're finding ourselves with this technological era that's coming through and this could be a good game changer for the continent because we can leapfrog some of the development processes that developed nations have to go through by embracing this technology. But we also need to scale ourselves.
So conversations around future skills the skills required to embrace the fourth industrial revolution are going to be key I suppose it's also the second time for South Africa to host the summits and it marks the milestone of ten years the first ten years of breaks as a group. What will South Africa bring to the meeting this time.
I think what we'll probably see much more of is a larger African voice. I believe that there'll be as many as nine other African leaders at this year's summit while South Africa is the only permanent member of this grouping. It's quite important that the African voice is heard as part of these discussions so bringing nine African leaders to this meeting is going to be very very important so that Africa feels that it's also part of some of the decisions that are being made by these BRICS nations. And also this year we're celebrating what would have been Nelson Mandela's hundredth birthday. So a great champion in fostering equality. This summit is going to be allowing some kind of celebration of Nelson Mandela. So this is something that we're very excited about.
Great. So we're going to start our panel discussion and I'll lead the first part. And later on I'll be heading back to you Peter. Talk to you in just a moment. And now let's start our first block of panel discussions. The topic for this block of discussion is really how BRICS countries can unite to find protectionism and unilateralism. We know China Brazil Russia India and South Africa have agreed to fight against trade protectionism together after meeting during the Group of 20 summit of finance ministers and central bankers in Buenos Aires. That's according to a statement by the Chinese Ministry of Finance which was posted on their website site most recently. The statement says braches should firmly support economic globalization and multiple multilateralism and unequivocally oppose unilateralism and protectionism in any form. That's talk about how BRICS members can tackle will take advantage of this challenge if possible. Ma coming from Brazil as China has been has targeted American soybeans in retaliation.