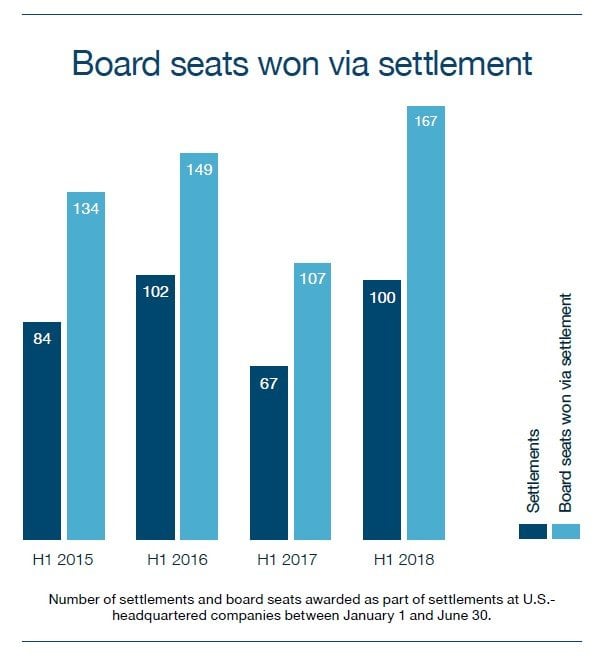 We are delighted to announce that The Activist Investing Half-Year Review 2018 is now available to download. Produced in association with Olshan, the publication contains analysis of the latest trends in activism and activist short selling worldwide, as well as predictions for what is to come.
Q2 hedge fund letters, conference, scoops etc
We look at the steer towards governance and social issues, and the resurgence of activism in the U.S. Plus, our campaign in focus features Cevian Capital and Elliott Management's recent involvement in ThyssenKrupp, and we interview Nathan Miller and Peter O'Malley on their successful proxy contest at Destination Maternity. Our vulnerability report looks at why a shake-up may be needed at Pennsylvania-based PPL. As usual, all the latest news and new investments for activism are contained within.
Ray Dalio At Robin Hood 2021: The Market Is Not In A Bubble
At this year's annual Robin Hood conference, which was held virtually, the founder of the world's largest hedge fund, Ray Dalio, talked about asset bubbles and how investors could detect as well as deal with bubbles in the marketplace. Q1 2021 hedge fund letters, conferences and more Dalio believes that by studying past market cycles Read More
---
Galvanizing good governance
The market is increasingly recognizing that activists have important things to say and are catalyzing positive changes at companies that benefit all stakeholders, say Steve Wolosky and Andrew Freedman, co-chairs of Olshan Frome Wolosky's Shareholder Activism & Engagement Practice Group.
Proxy season 2018 has been a good one for shareholder activists with numerous success stories and significant legal and procedural developments in the space. Recognizing that the unreceptive and defensive approach taken by target companies that led to so many large proxy fights in 2017 was unproductive and in many cases antagonistic to investors, companies this year have been settling with activists in far greater numbers.
Separately, at Taubman Centers, our client Land and Buildings overcame a 30% insider share of the vote to win election to the board in its second go-round there. Two companies facing contested elections unilaterally adopted universal proxy cards – a development we certainly have not seen the last of and will continue to monitor closely. In New York, a court resurrected a 25-year old Delaware decision forcing Xerox to reopen its nomination window as a result of material changes in circumstances following the original nomination deadline.
Developments
The unilateral use of universal ballots in proxy contests this year raises questions about how manipulation of the voting process can be avoided under a one-card regime and could rekindle deliberations at the Securities and Exchange Commission (SEC) around adopting a rule that would level the playing field. Allowing companies, and to some extent shareholders, to dictate the design of each of their universal proxy cards makes universal cards a misnomer.
Separately, the New York State Supreme Court decision enjoining Xerox from enforcing its original nomination deadline because of a "series of very significant decisions and disclosures" by the company thereafter represents a monumental victory for shareholder activists. While the verdict was highly case-specific, it may provide an opportunity for shareholders to pursue avenues to reopen nomination periods at companies incorporated in other parts of the country. Notably, New York has become the first state outside of Delaware to apply the Hubbard standard on this issue.
What to expect
In connection with increasingly sophisticated approaches to board composition, activists now have an opportunity to make the most of the high-quality nominees they have been able to attract to their slates. As many institutional investors adopt explicit expectations for the kinds of diversity they expect to see on a board, including skill-based, ethnic and gender diversity, activists can improve the quality of a board's composition by suggesting diverse candidates using networks that extend beyond narrow sectors where
companies struggle to identify the right talent.
Withhold campaigns could continue to flourish, spurred largely by "reluctavists" and newcomer activists. Ever since our client H Partners' seminal withhold campaign at Tempur Sealy in 2015, investors have made good use of "vote against" campaigns to unseat directors and register protests against boards, and these campaigns were again prominent in proxy season 2018. While there are different types of withhold campaigns, involving different levels of company engagement, shareholder outreach and expense, we continue to view these campaigns as a highly-effective strategy in certain situations.
No companies – regardless of jurisdiction, size or ownership structure – are beyond an activist campaign. Since many undervalued opportunities lie with companies that have either remained under the radar or are so entrenched that activists have steered clear, investors now realize putting a spotlight directly on a company and its numerous shortcomings, governance or otherwise can compel the company to action. Even if the results are not the full extent of what the activist is seeking, they can be enough to catalyze improved performance and accountability.
Back In The Groove
Merger madness, flush balance sheets and the integration of environmental, social, and governance (ESG) issues into mainstream activism in the first half of the year mean 2018 should be set for record levels of activism.
Activism looks poised for another record year in 2018. By the end of June, 610 companies worldwide had been publicly subjected to activist demands year-to-date, driven by record activity in North America. Indeed, the U.S. may be on course for over 500 companies to face financial or governance demands from shareholders by the end of 2018, while Canadian basic materials activism has returned with a vengeance.
"A surprise trend in 2018 has been the flurry of withhold campaigns by activists."
Asia has also experienced a bout of shareholder restlessness in the first six months of 2018, with a 25% increase in companies targeted compared to the first half of 2017. Three proxy contests in Japan for Oasis Management, ValueAct Capital Partners' engagement with Olympus, and Elliott Management's campaign against the restructuring plan put forward by South Korea's Hyundai Motors signal that the region remains popular with hedge funds.
Outside of the U.K., Europe has seen a slight lull in the first half of 2018 despite a high-profile proxy contest at Telecom Italia, where Elliott emerged with a reputation-burnishing victory that saw it win over domestic investors and the Italian government, both of which had tired of French interloper Vivendi.
Yet with the first quarter of 2018 seeing the largest amount invested by U.S. activists in European companies since at least 2013, European corporations are starting to take notice. Now that global bank Barclays is in the spotlight and Whitbread has been prevailed on to spin off cafe chain Costa Coffee, both excitement and concern are growing.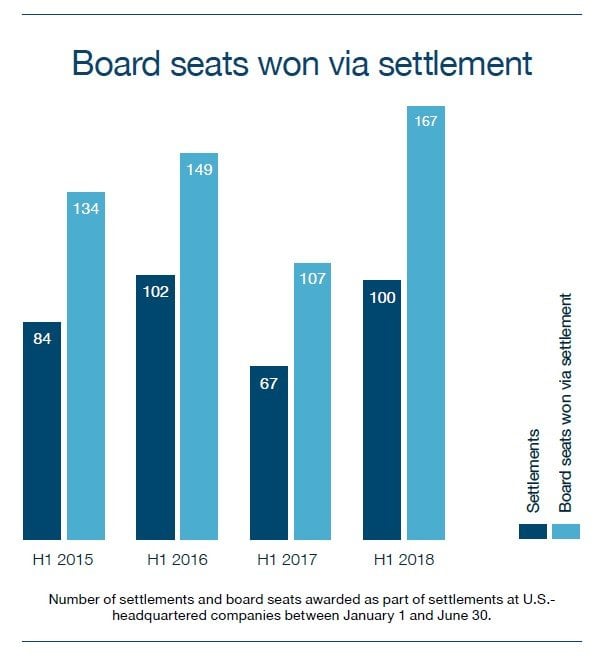 A few firsts and a finale
In a sign that activists have developed a less syncopated rhythm, some funds have laid low during the past six months while others picked up the slack. After a quiet 2017, Carl Icahn has made new demands at four companies, while Starboard Value has matched its haul of eight companies publicly subjected to demands from H1 2014. The gamechanger, however, has been Elliott Management. The New York-based fund has more than tripled its number of yearto- date targets over the past four years to 16 companies, extending beyond merger arbitrage and the technology sector to utilities and corporate restructurings, including three members of the Hyundai Group.
Moreover, with 524 activists making public demands worldwide so far this year, including first-timers Mudrick Capital Management, Nathan Miller and Peter O'Malley -– who joined late-2017 newcomers Blackwells Capital and Roaring Blue Lion – there is no longer a guarantee that the next campaign will be from a dedicated activist hedge fund.
To prove the point, Appaloosa Management and Senator Investment Group dialed up the heat on Allergan between April and June, while T. Rowe Price said it would no longer issue a "request for activist" if frustrated with a company, preferring to make its views heard more plainly.
Quick and not dirty?
With traditional value-focused activists Jana Partners and ValueAct Capital Partners launching side funds emphasizing the contribution of environmental and social goals for companies, the tools utilized by activists continue to broaden. Jana has so far been the more vocal of the two, partnering with the California State Teachers' Retirement System (CalSTRS) under retiring corporate governance chief Anne Sheehan to ask Apple to implement more stringent parental controls on its iPhones. ValueAct appears to be focused on investing in companies with an advantage over peers in their sustainability, likely a less confrontational approach.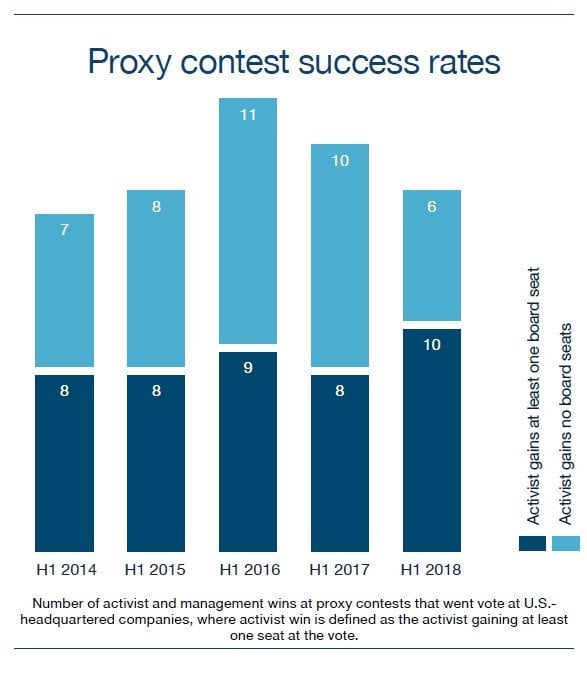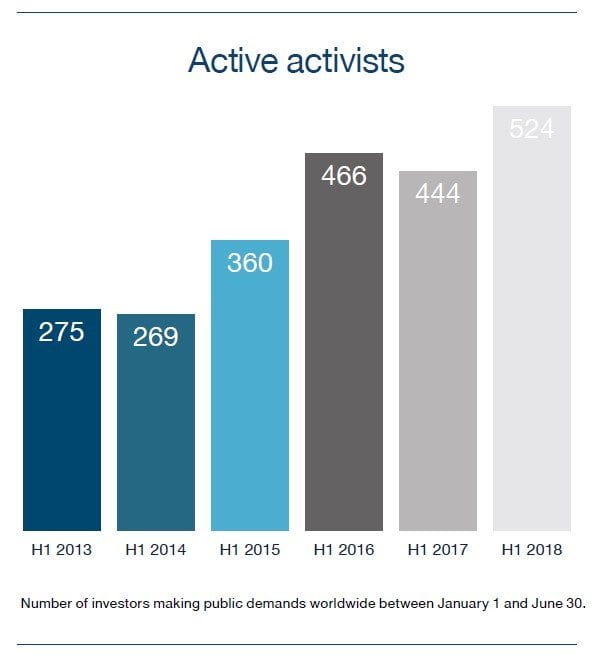 Article by Activist Insight, read the full article here.