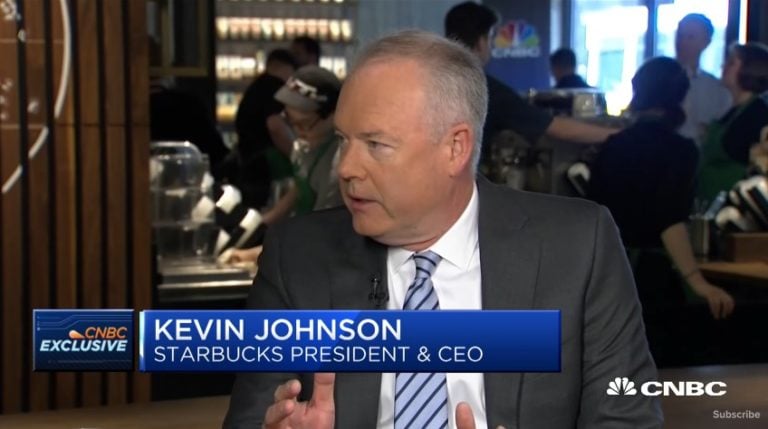 Starbucks CEO Kevin Johnson speaks with CNBC's "Squawk on the Street" about the company's growth plans and recent slowdown.
Q1 hedge fund letters, conference, scoops etc, Also read Lear Capital: Financial Products You Should Avoid?
CNBC's Exclusive Interview With Starbucks CEO Kevin Johnson
Transcript
Consistency is what makes the top 50 best-performing hedge funds so strong
Every month and quarter, multiple reports on average hedge fund returns are released from several sources. However, it can be difficult to sift through the many returns to uncover the most consistent hedge funds. The good news is that Eric Uhlfelder recently released his "2022 Survey of the Top 50 Hedge Funds," which ranks the Read More
Well David first of all welcome to Starbucks. It's great to have you here this morning. You know what we talked about yesterday was really something that we have been working on over the last year which is fundamentally streamlining the company over this last year so that we can focus on the most important priorities and those priorities are going to allow us to really transition into a phase that I call growth at scale. When we look at Starbucks was founded in 1971 and so over the last 47 years we have built an iconic global brand. 77 countries 28000 stores around the world serving nearly 100 million customers a week. And so now at our scale I think we've got to be much more disciplined in in setting our priorities. We've got to be more data driven in terms of how we're allocating resources and tuning the model. And we've got to be much more agile as innovators. And so what we did yesterday was set the stage for that transition to a company that's really focused on growth at scale and the set of initiatives that help scale mean not the growth that Starbucks and Starbucks investors had come to expect previously. Well look we you know our growth has slowed in the last two or three years but when there's more Starbucks than there are McDonald's in this country there's 20.
It's not slow while the 20000 stores around the world certainly you know in the U.S. We're going to continue to build 400 new company operated stores a year talked about yesterday was the fact that typically we close about 50 stores a year in the U.S. as just part of our normal pruning of stores. And this year we're going to prune 150 but we're still going to build 400 new stores in the U.S.. But if you look on a global basis the three priorities that we set. Number one was growing our retail business in the U.S. and China. Now the U.S. and China are in two very different stages. China is in a build stage. You know we just increased the number of new stores we're building in China to 600 new stores a year with 3300 stores. Now I've heard you say you build one every 15 hours a new Starbucks opens there although to the point on China and what is giving some people pause this morning same store sales comps went from I think 8 percent to zero in China. Now it's only 10 percent of your income I believe at this point but to your point it's a growth industry growth area for you is should that be a concern. You know you know we focus on growing the number of transactions in China and with all the new stores we're building plus the existing stores. You know this quarter will grow customer transactions something like 15 percent. Now that said you know we continue to grow same store sales in China. This particular quarter with the acceleration of new store builds in the cities that we're building in. There are some cannibalization of existing cannibalization we also talked in Mobile Order hearting deliveries. There was some dislocation there and what's happened is there's been some new entrants in the market competitors that are focused on delivery and they're subsidizing the delivery. Now we have us very very strong mobile.
Updated on