Some of the best performing stocks so far in 2018 are those that have issued buybacks. For example, Apple (AAPL) was already up 11% by the end of May and Facebook (FB) was up 20% following their May 1st and April 25th announcements, just to name a few. In February, I wrote an article  arguing that tax cuts and repatriated cash were setting the stage for $1 trillion in buyback authorizations in 2018. The market is well on its way to meeting that target. And U.S. companies in the technology and health care sectors have led the way thus far.
Q1 hedge fund letters, conference, scoops etc, Also read Lear Capital
As of May, there were $460 billion in buyback authorizations announced in 2018. The enormity of this should not be overlooked. To put this into perspective, 9% of the $5 trillion in buyback authorizations since January 2009 were accumulated in the first five months of 2018. Nine percent of an almost 10-year timeframe accumulated in just five months.
Canyon Profits On Covid Crisis Refinancings
Canyon Partners' Canyon Balanced Funds returned -0.91% in October, net of fees and expenses, bringing the year-to-date return to -13.01%. However, according to a copy of the firm's investor correspondence, which ValueWalk has been able to review, the fund quickly bounced back in November, adding 7.3% for the month. Net of fees, the letter reported, Read More
2018 is still on track to be the first year where U.S. companies authorize $1 trillion in buybacks.
Source: Bloomberg LP and Catalyst Capital Advisors LLC
Technology and healthcare companies account for a significant portion of these buybacks. There are a few reasons for this. Technology companies have been beneficiaries of tax reform and have significant oversees cash. This repatriated cash is filtering into buybacks concurrently with investment. In many cases, technology companies with large stockpiles of overseas cash are simply not capital intensive (e.g., Cisco Systems), and the buyback authorization gives the companies the flexibility, but not the obligation, to return cash to shareholders over the coming years.
Technology and Health Care sectors have led the way in buybacks this year.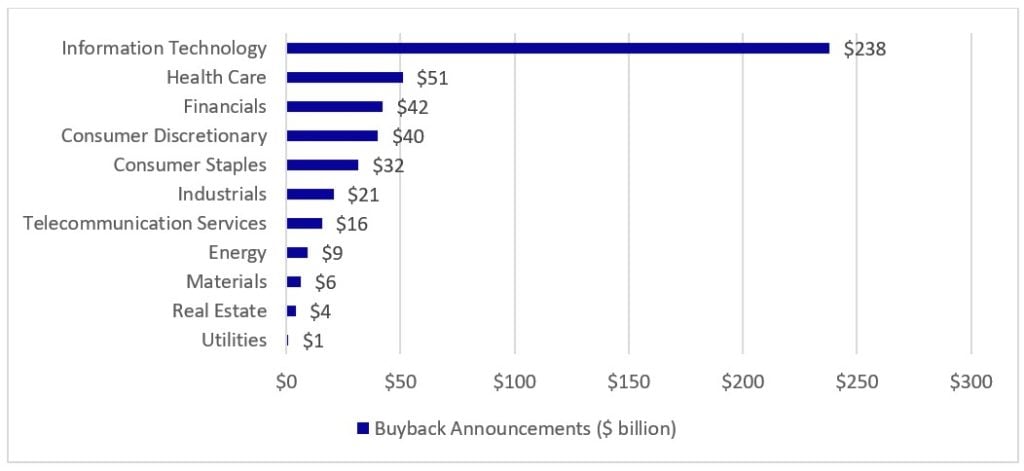 So far, technology companies have announced $238 billion in buybacks. This includes Apple's (AAPL) $100 billion buyback announcement, which was the largest ever by any company in terms of dollar value. Under the tax reform, Apple (AAPL) can repatriate its $250 billion in profits held overseas at a significantly lower tax rate. The company has made its intentions clear with plans to become cash neutral, meaning additional large buyback programs could follow concurrently with more investment. Facebook (FB) also announced a share repurchase authorization totaling $9 billion. Facebook (FB) leveraged the stock's pullback to 2018 lows following negative headlines to announce the $9 billion buyback.
The market has responded well to these announcements. For instance, considering only the buyback announcements that occurred in May 2018 alone, the average return for technology companies was 6.91% following the announcement, as of May 31st. The performance ranged from -0.66% (QRVO) to 25.00% (ZNGA). For comparison, the S&P 500 Index returned 2.16% in the month of May and had a range of 3.94%, based on closing prices.
Likewise, health care companies have benefited from tax reform and significant cash positions. This sector has put this extra cash to work in both investments and buyback authorizations. In February, AbbVie (ABBV) announced a $10 billion buyback shortly after issuing guidance for a 9% tax rate that would significantly increase free cash flow. As of May 31st, health care companies have announced $51 billion in buybacks. On June 6th, UnitedHealth Group (UNH) significantly boosted this number to over $74 billion with a $23.5 billion repurchase authorization. In terms of dollar value, UNH's buyback is the third largest of 2018, trailing only Apple's (AAPL) $100 billion buyback (the largest ever in terms of dollar value) and Cisco System's (CSCO) $25 billion buyback. This announcement is so large that it ranks in the top 15 announcements since 2009.
As companies react to the tax reform and begin to repatriate cash, we expect additional buybacks from technology and health care companies to continue.
Buyback numbers have remained at a record high despite a dip in the number of buybacks in Q2. When I first made the $1 trillion prediction, media attention on buybacks picked up significantly. This negative media attention likely slowed buyback announcements in March and April despite recent research from Harvard Business Review and AQR concluding that record buybacks are occurring with record levels of investment and that buybacks and investment are correlated (i.e., contradicting the headlines).
Negative media attention likely slowed buybacks in March, which is historically slow, and April.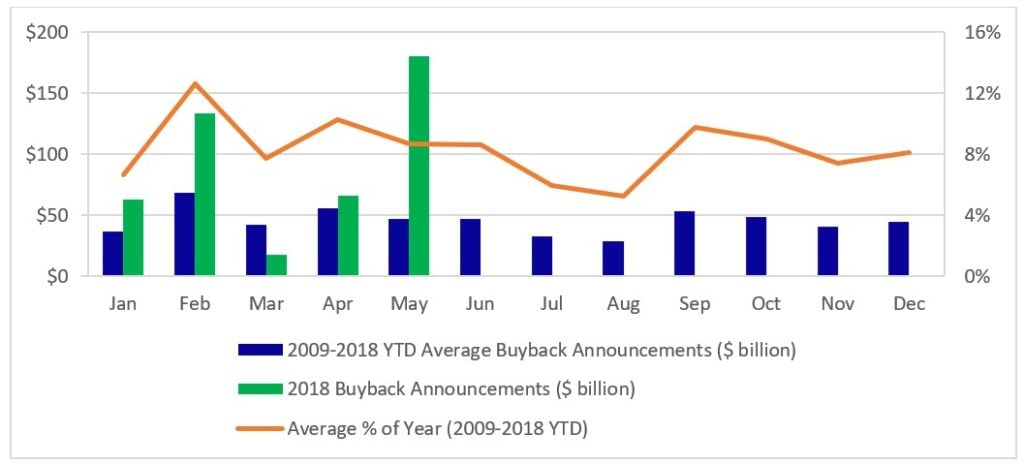 Source: Bloomberg LP and Catalyst Capital Advisors LLC
With support from both regulatory and economic factors, there are a number of U.S. companies that still stand to benefit from buyback authorizations. A buyback is typically initiated when a company believes its stock is undervalued in the marketplace. Tim Cook made this point clear when Apple (AAPL) authorized its record buyback program. Buyback authorizations are also a way to provide an opportunity to put excess cash to good use and return it to the hands of investors, if other more compelling opportunities do not arise. The power of a buyback should not be underestimated, and neither should the continued rate of authorizations we're seeing in 2018.
Article by Michael Schoonover
Michael Schoonover is COO at Catalyst Funds and serves as portfolio manager for the Catalyst Buyback Strategy Fund (BUYIX).