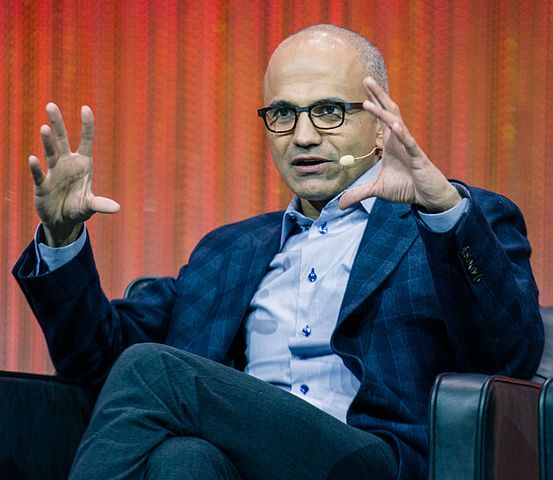 Microsoft CEO Satya Nadella speaks to "Squawk Alley" about the acquisition of GitHub, data security and the outlook for new M&A opportunities.
Q1 hedge fund letters, conference, scoops etc, Also read Lear Capital: Financial Products You Should Avoid?
Transcript
Seth Klarman Describes His Approach In Rare Harvard Interview
In a rare interview with Harvard Business School that was published online earlier this month, (it has since been taken down) value investor Seth Klarman spoke at length about his investment process, philosophy and the changes value investors have had to overcome during the past decade. Klarman's hedge fund, the Boston-based Baupost has one of Read More
Yeah the first thing John is when you think about what's happening in the broader world. Every business is a software business it's a digital business whether it's precision medicine or precision agriculture personalized educational personalized banking. He's being built by developers. In fact there's a piece of data from LinkedIn which says that a non tech hiring of software development is growing steadily at double digit 25 percent greater than software engineer growth in. So that speaks to the workload that's going to be there going forward from a secular basis. Developers are going to be required everywhere. It's kind of like what maybe in the early 90s was a cube knowledge workers with tools and services or what it was even in the 2000s to build sassed services for sales professionals developers SAS is going to be at the center of the digital economy and that's the real strategic rationale for it. It's a secular growth market. And Microsoft has heritage. We want to develop tools company first and now of course we are all lean on open source and that's what really brings us together with good Hobb. And we're going to operate it as an open platform for any language any framework any platform whether it's the cloud or on the client and really serve the developers with a SAS service that everyone requires just like we do for knowledge workers with Office 365 business applications with dynamics right.
So how quickly are you guys Microsoft and the leadership that you're putting in place going to be able to make visible changes to get hub improvements that might bolster developers confidence in what you're going to do with the platform because rivals including lab are already trying to take advantage of this acquisition and get developers to export their projects from good hub into get lab of their tool that shows those imports is down is getting so much traffic. How quickly you're going to be able to show how Microsoft is going to run this in a way that's going to perhaps make developers happy. Yeah no I mean it's the most important thing. The community asset like good hobby is to stay true to the core ethos of developer first that get help is always high on that. Friedman who's going to be the CEO post close came to Microsoft from Xamarin. He's someone who's a veteran of open sourcing. He's going to lead the company. Chris slews the CEO of a good job and I discussed a lot about the fundamental ethos of the company going forward will remain the same real operated independently. It will be an open platform. And I think most developers out there will judges by our recent actions and our actions going forward and we will have to earn the trust every day. And so we're very committed to it but we're excited.
Updated on