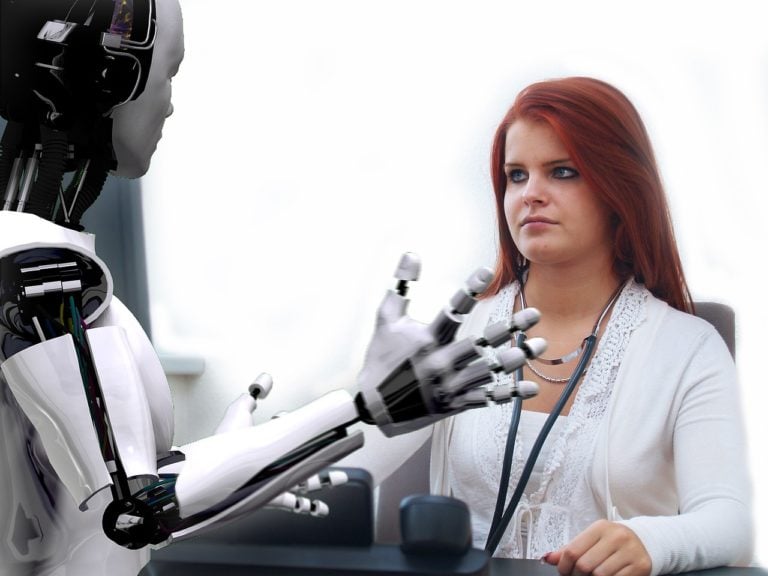 As work becomes increasingly automated, conversations are swirling about whether machines are taking over. We talk to Google Cloud AI chief scientist Fei-Fei Li, as well as Sharan Burrow of the International Trade Union Confederation, Sinovation Ventures CEO Kai-Fu Lee and Nobel laureate Sir Christopher Pissarides to delve into whether it's time to worry about future job security.
Q1 hedge fund letters, conference, scoops etc, Also read Lear Capital: Financial Products You Should Avoid?
Will You Lose Your Job To Automation?
Transcript
Crypto Hedge Fund Three Arrows Blows Up, Others Could Follow
A few years ago, crypto hedge funds were all the rage. As cryptocurrencies rose in value, hundreds of hedge funds specializing in digital assets launched to try and capitalize on investor demand. Some of these funds recorded double-digit gains in 2020 and 2021 as cryptocurrencies surged in value. However, this year, cryptocurrencies have been under Read More
For the last two or three centuries there is always this fear. The machines are taking over. I don't think anyone can irresponsibly say oh don't worry nothing will happen to Dobbs this time. It might be true. The world people say they're not overly anxious about technology that the polling data says about jobs will impact jobs. But we don't know what's going to come we don't you know with new inventions are going to be to reinvent yourself when you're 20. It's difficult but you do it to do it again at 30 at 40 or 50. That's very high levels. So what are we left to do then. What are we left to do then. It's easy to imagine that predicted 66 million people poised to lose their jobs to machines muttering the same refrain. The early CD the intergovernmental organization that came up with that figure estimates that 14 percent of jobs could be automated in industrialized countries. And though machines almost immediately coming after manufacturing and agricultural drops even work requiring more specialized skills could increasingly fall to automation. Goldman Sachs is chief financial officer reported that their U.S. cash equities trading desk employed some 600 traders back in 2000 but two of those positions have become automated by 2017. In these increasingly uncertain times we ask the experts what jobs will be created. Jobs Will Disappear. There will be some disintegration and some creation of jobs. Fifty years ago we could not have thought of software engineering as a job. Today the whole circle is full of the labor force. First obviously it will create jobs right.
People who are programming people will fix robots. But in terms of quantity is a very very small quantity. We will see jobs more related to interaction with intelligent machines where it's symbiotic between the man and machine the human can do things that the machine cannot do and that together they do a better freeing labor from dangerous repetitive work. I suggest every professional whether you're a lawyer or accountant. Think about rules that emerge and how that makes you two three four times stronger better and richer for that matter. People talk so much about replacing humans but I think the goals of AI machines should be actually more assistive but to be really honest professional jobs are still a small proportion of the total jobs. To a large extent blue collar jobs will be replaceable machinery bank teller receptionists customer service drivers and even radiologists relatively high and more complex jobs are going to eventually get replaced over the next 15 to 20 years. But routine job replacement is huge. Humanity has seen this over and over again. Every industrial revolution is a huge disruption of jobs. I think it easily accounts for half of our jobs. Different people have different views about whether these half the jobs will take 10 years or maybe 30 years or 40 years to be replaced. But even 40 years is faster than industrial revolution. The experts agree that new technology has disrupted the nature of work in the past. At no point in history has the transformation been so rapid and extensive and that speed means workers must stay nimble and continue learning new skills throughout their working lives. I think that there will be new jobs.
The big question is whether people will be able to reinvent themselves to fill these jobs. But what if they can't stay nimble and keep learning. The difficulty would be if you're in the same routine type of environment for 20 25 years and suddenly you're told it's not available anymore unless I'm telling you what that's the case. It's the most difficult case. That's where governments have an important role to play. If a job is going to be lost what's the support for the worker to make sure they have skills and re deploying that support you need to provide the kind of training program. And the question is who pays for these training program and who provides the provision company level funding share by the company and the state. Full employment is still at the heart of our communities the dignity of work the cohesion that brings social stability. And we need to plan for that because if we don't do that half the people losing their jobs where there's over 10 or 30 years is going to create a large number of unhappy people who face not only a loss of income of also loss of meaning. I think.
Updated on