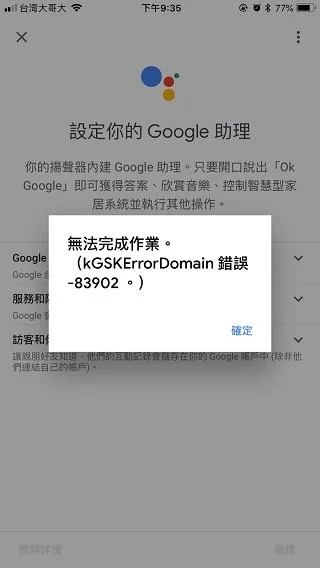 Google Home and Home Mini users have reported a new setup-related kGSKErrorDomain error while configuring their devices.
KGSKErrorDomain Error
The KGSKErrorDomain error pops up during the configuration of the Google Home and Home mini, and primarily affects users with iOS devices. The issue seems to be widespread, and is being reported across the Google Home help forum, as well as the Google Search and Assistant help forum.
In addition to the KGSKErrorDomain error, other problems are popping up like notifications that "the operation could not be completed" and multiple variations of the original error mentioned above such as "0" and "83902"
Far View Adds 34.4% In 2020, Revisits Strategy After Missing Opportunities; like this Nordic "Amazon" style stock
Far View Partners generated a return of 34.4% net of all fees and expenses in 2020, that's according to a copy of the firm's annual investor letter, which ValueWalk has been able to review. Since its inception on July 1, 2011, Far View Partners has generated a cumulative net return of 255.8%, a 14.3% CAGR. Read More
Included below are multiple posts from affected users regarding the KGSKError Domain error that they're running into with their Google Home and Google Home Mini.
"I have a issue configuring google home mini. the configuration stops after connecting the wifi and choosing the location (livingroom for instance). I get the message kGSKErrorDomain-0 for the first time then -83902 for the next times."
"Hello, I received a google home mini less than a month ago. Having changed boxes I had to reconfigure on our new internet access. but the golds of the configuration arrive at "before using the google assistant" I receive this type of message "the operation could not be completed. (kGSKErrorDomain error 0). After clicking on "OK" the application does not answer anymore I am forced to close it (I use it on an iPhone 6S)"
The fact that the problem seems to be focused around the configuration is especially frustrating, as it affects new users that are trying to get their smart speaker up and running. Those looking to change settings are also experiencing the issue, and the internet is awash with complaints that urge Google to do something about the errors. Fortunately, it appears as if a fix is in the works.
A Work In Progress
The KGSKErrorDomain error is already being addressed by Google according to a statement from a top contributor at the Google Product Forums.
"This is a bug that has been reported to the team and they are looking into this."
However, that statement was a little while ago at this point and we haven't really seen any follow up from the company since then. There's no word at this point as to when the error will be fixed, but considering it's making the configuration process next to impossible for iOS users it's likely a major priority for the Google Home team.
For those using languages other than English on their phones, some users have reported that changing the language to English and then setting up the Home device that way solves the issue. You can try that solution, but it's been hit-or-miss overall with a number of people still complaining of the KGSKErrorDomain error.
For those of us with the problem that can't be fixed through our own troubleshooting, we'll be left hoping that Google takes quick action to restore the Google Home and Home Mini configuration process back to normal.