As was expected, Apple announced iOS 12 during WWDC 2018. But how does the new operating system compare to iOS 11? Here's what is different when comparing iOS 12 vs iOS 11 in terms of features, bug fixes, and tweaks.
Apple is approaching development differently from here on out, with a focus on quality rather than quantity when it comes to features and other updates. For a long time, the company's leadership was focused on releasing as much as possible within the shortest period of time, but that led to a lot of bug issues. When comparing iOS 12 vs iOS 11, it's easy to see that there are both a number of features as well as a number of fixes and improvements
One of the biggest improvements we'll see with iOS 12 vs iOS 11 are some general performance upgrades. While iOS is already a pretty smooth operating syste, there's always room for improvement and the addition of new stability updates and streamlining should make for an overall more positive user experience
How Warren Buffett Went From Hating To Loving Banks
Since the financial crisis, Warren Buffett's Berkshire Hathaway has had significant exposure to financial stocks in its portfolio. Q1 2021 hedge fund letters, conferences and more At the end of March this year, Bank of America accounted for nearly 15% of the conglomerate's vast equity portfolio. Until very recently, Wells Fargo was also a prominent Read More
Accompanying these performance upgrades are a number of tweaks and bug fixes, but the easiest way to compare iOS 12 vs iOS 11 is to look at the big changes that are coming with the various applications.
Better AR
One of the most notable change is an update to Augmented Reality features. While AR isn't necessarily an option that the majority of people use on a daily basis, it's a cool perk that will only become more and more useful as time goes on.
AR technology isn't quite to the point where it integrates seamlessly into our daily lives, but when comparing iOS 12 vs iOS 11, it's easy to see that Apple is taking some steps in that direction.
Improved Siri Functionality
Siri is a useful utility that can provide information and perform simple tasks with a simple prompt. Siri on iOS 12 vs iOS 11 is more fully-featured, with improved knowledge of a number of areas including vehicles and culture, as well as support for more accents.
Memoji
One of the biggest changes when comparing iOS 12 vs iOS 11 is the addition of Memoji. This feature allows you to create an avatar with a large amount of customization that will integrate with various apps including Group Facetime calls – a feature we'll discuss below.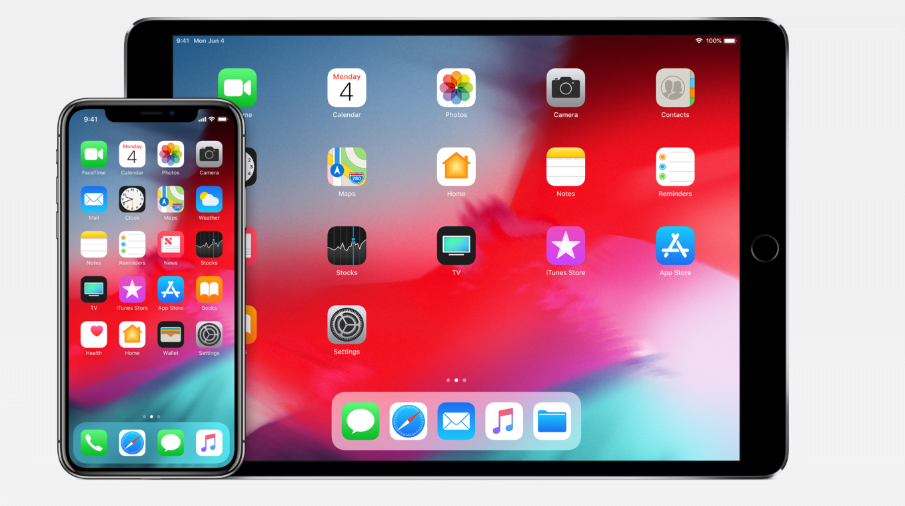 Group Facetime
Being able to add multiple people to a FaceTime call is a feature that has been asked for for years, and Apple is finally implementing new support in iOS 12. With the capability to video chat with over 30 people in a single call and dynamic controls that adjust as needed to allow you to focus on the conversation at hand, it looks to be an elegant solution to a problem many were having with the lack of group support since the introduction with the iPhone 4.
Animoji Upgrades
Animoji are also seeing a revamp with this new operating system, with support for new faces that should add some more fun to this interesting feature.
Notification Grouping
Notification grouping is a feature that has long been desired and was actually present in some form in earlier updates before being axed in favor of chronological sorting. Now you'll be able to see like notifications grouped together for easy access at a glance rather than having to sort through a whole page of separate notifications.
Parental Controls
With how many young people are using iOS devices, the Apple ecosystem was long overdue for more robust parental controls. Parents can now limit the usage of apps on their children's phones in order to ensure they can better monitor technology usage moving forward.
Better Photos App
When comparing iOS 12 vs iOS 11, the Photos app is significantly better in a number of ways. Perhaps most notable about the changes is the ability to more easily search through your pictures – a feature that will be a welcome addition for those of us with a substantial amount of photographs on our phones.
All in all, it's appearing that iOS 12 vs iOS 11 is a notable upgrade. These are just a few of the most prominent features, and there are actually well over 100 different tweaks and features coming with this operating system update. When iOS 12 releases, we should see an operating system that is overall more well-rounded and fully-featured than every before.