Similar to earlier months of 2018, hedge funds were generally positive during the month of May, but there were segments of the industry meaningfully impacted to the downside by notable events.
Q1 hedge fund letters, conference, scoops etc, Also read Lear Capital: Financial Products You Should Avoid?
In May, the re-emergence of European sovereign debt issues caused segmented losses which dragged down both macro and fixed income/credit segments. Despite the reverberation through some strategies' exposures, the majority of the industry chugged along like it had for much of 2017.
Charlie Munger: Invert And Use "Disconfirming Evidence"
Charlie Munger is considered to be one of the best investors and thinkers alive today. His thoughts and statements on investment research, investment psychology, and general rational behavior are often incredibly insightful. Anyone can learn something from this billionaire investor and philosopher. Q2 2020 hedge fund letters, conferences and more If you're looking for value Read More
While much of 2017 was spent benefiting from strong markets with many warning of impending negativity, what was missing from 2017 were the events giving substance to the unease. While industry-wide returns in 2018 are below last year's pace (mostly), it is not for lack of evidence of a difficult marketplace.
Highlights
Hedge funds returned an average of +0.65% in May, and are now +0.84% in 2018.
Long/short equity rebounded in May, taking over as the industry-leading strategy.
Managed futures posted a third decline in the last four months, now leading the industry to the downside.
EM returns were mixed, but negative. China surged, Brazil and India were down again.
Developed Equities and Vol Strategies Outperformed in May, Macro and Managed Futures Produced Losses
Hedge funds returned an average of +0.65% in May, and are +0.84% in 2018. Mixed returns were led by those with developed market equity exposures, while market declines in India, Brazil, and Italy hurt EM strategies and macro funds.
Key Points
Broadly positive returns belie segmented elevated losses. Outside of those with exposure to events in Europe, and certain EM countries, May looked like many of the positive months of 2017. Nearly 63% of reporting products were positive in May, but the difference between the average positive and average negative returns was the largest in nearly two years.
European sovereign issues show in macro/fixed income returns. It's important to note that losses were not widespread, but some large losses likely related to volatility in European bond markets dragged down overall macro and fixed income/credit strategies in May. For credit strategies, nearly ¾ of reporting products were positive during the month, but the average return of -0.76% was the lowest since January 2016.
Managed futures losses continue. Aggregate returns showed a third loss in the last four months for managed futures funds, resulting in strategy-leading losses in 2018. Along with underperforming in 2017 (though the largest products did better), and losses in 2016, it is clear that the set of factors impacting global markets are very difficult for many quantitative-driven, trend-influenced approaches to succeed. While this theme is not universal across the strategy, only 30% of reporting products have been able to maintain positive returns this year.
Long/short equity strategies back into industry lead in 2018. Long/short equity strategies have rebounded meaningfully after losses in February and March, the strategy's first consecutive monthly decline since Jan/Feb 2016. As a leading asset gainer in 2017, the strategy has thus far performed well in 2018.
Quantitative equity strategies illustrate where quant is working in 2018. In contrast to losses from many managed futures products this year, many of the largest quantitative equity strategies are performing reasonably well in 2018, even before the strong gains seen aggregately in May.
Emerging Market Losses Continue Into Fourth Month, Majority of Products Now Negative for the Year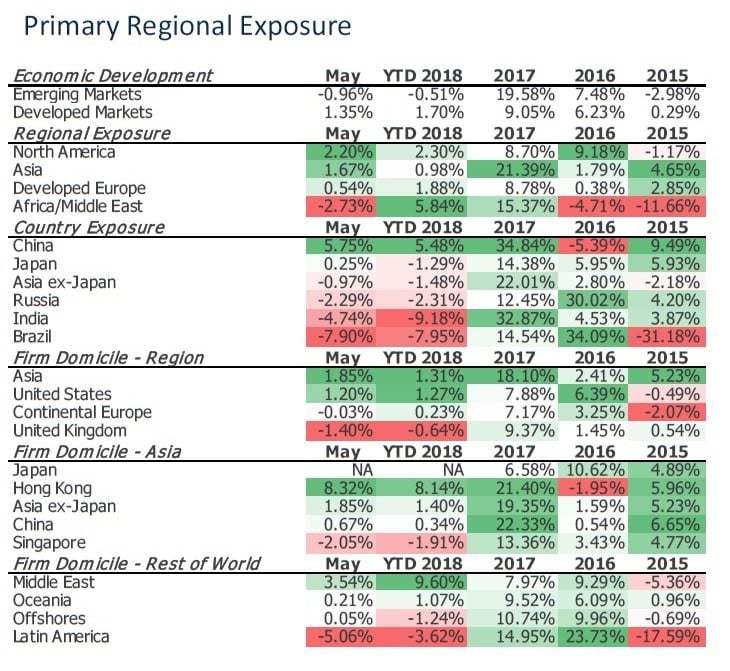 Key Points
EM losses continued, led by exposure to Brazil. Brazil-focused funds posted their largest losses since November 2016. The decline drags the group deep into negative territory for the year, though the group is still outperforming local equity markets.
India now the worst performing segment of the hedge fund industry in 2018. Only five months again, India-focused funds were crowned the leading segment of the hedge fund industry, for 2017. Losses in May have pushed the group's average returns to near -10% for 2018.
Middle East/Africa strategies see first hiccup of 2018. Losses in May have not knocked MENA exposure down from their industry leading position for 2018, but it was the group's first loss of 2018. Performance seems more related to Africa exposure than to the Middle East, however.
Big gains for China-focused funds return the group to positive territory for 2018. After a string of three consecutive monthly losses, China-focused funds performed very well given return from country-specific equity indices. May's gains put the universe back near the top of the industry, which is notable given declines across many other emerging markets.
Article by eVestment