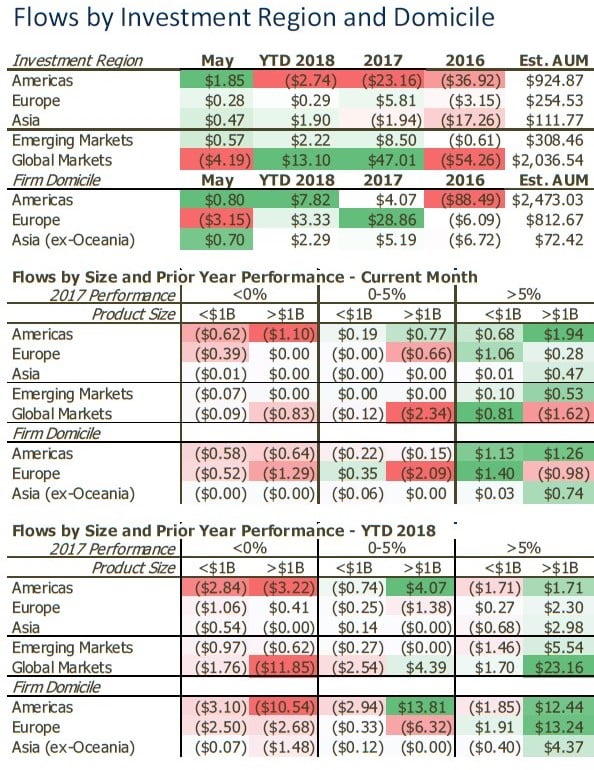 For a second consecutive month, net flows for hedge funds were near flat, but with noticeably different underlying themes than in prior months of 2018. While most of the year had been defined by larger allocations to a targeted group of strategies and funds, in the last two months we've seen this trend reverse. Some elevated losses within managed futures strategies, and a string of declines for macro managers, have resulted in some investors removing capital. The outlook between the two, however, is quite different.
Q1 hedge fund letters, conference, scoops etc, Also read Lear Capital: Financial Products You Should Avoid?
Despite the visible negativity, there are still many products gaining assets, and segments broadly performing well. As mentioned in prior months, the strong should survive and prosper for the greater long- term health of the pack, and this appears to be exactly what is happening in 2018.
Dan Sundheim Founder Of D1 At Sohn 2021 On His Favorite Stock
At this year's Sohn Investment Conference, Dan Sundheim, the founder and CIO of D1 Capital Partners, spoke with John Collison, the co-founder of Stripe. Q1 2021 hedge fund letters, conferences and more D1 manages $20 billion. Of this, $10 billion is invested in fast-growing private businesses such as Stripe. Stripe is currently valued at around Read More
Highlights
Investor flows were again near flat in May, but negative. Product-by-product data indicate net outflows were driven by large, targeted redemptions.
Managed futures funds continued to face redemption pressures for a third consecutive month following February's large losses.
Macro fund flows were negative in May after three consecutive performance declines.
Equity flows shifted back to positive, led by market neutral and quant strategies.
Macro & Managed Futures Had Elevated Outflows in May
Investor flows accounted for a net outflow of an estimated $1.59 billion from hedge funds in May. The net level of redemption in May was light, but there were some meaningful themes at the strategy level. For the year, investors have allocated an estimated net $12.51 billion into the industry.
Key Points
In the last two months, there has been a shift in flow concentration trends. Prior to April, there had been a multi-month streak where the concentration of allocations within top asset gainers was either greater than, or similar to that of the concentration of redemptions within the largest asset losers. To create that scenario, typically, large allocations are being made to a targeted group of funds while redemptions are more broad. In April, and now again in May, the reverse happened. This new scenario indicates large redemptions are being made from targeted groups while allocations are more broad.
Managed futures redemption pressures continue for a third consecutive month. If April's redemptions from managed futures were a broad wave, May's redemptions were, while still broad compared to other universes, a more targeted process. About 63% of reporting managed futures products experienced redemptions in May, bringing the proportion losing assets YTD up to 60%. Managed futures products' flows are now firmly negative for 2018, and it appears mainly due to the historic monthly losses produced in February, which reversed a five-month string of positive investor sentiment.
Investors appear to have reacted to recent macro product losses. In the last four months, net flows for the macro universe have gone from positive to negative, repeatedly. Net redemptions in May came after three consecutive months of asset-weighted performance declines from the universe. Macro funds have performed noticeably different, and mostly better, than their more quant-focused managed futures relatives, including a reverse of recent losses to (asset-weighted) gains in May. With over $9 billion allocated to macro strategies in 2018, and with mixed, but generally positive results from larger products, the outlook for the segment appears positive.
Equity allocations resumed in May, but with a preference for less market exposure, or quant approaches. Both long/short and market neutral equity products have been having a good year for inflows, following what was a good, rebound year in 2017. In May, however, the majority of new allocations went into market neutral strategies, or quantitative directional strategies. For the latter, those attracting the most new assets recently have been somewhat underperforming their 2017 performance results. This hasn't slowed investor interest yet, however.
Multi-strategy flows reversed in May, but allocations highly targeted. Multi-strategy hedge fund flows have not been net positive thus far in 2018. It hasn't been an overwhelmingly difficult asset-raising environment for the products, however, as roughly half of reporting managers have had inflows this year. In May, flows were positive, but mostly due to a small handful of new, larger allocations within the universe.
Allocations Continued to Emerging Markets in May, to the Benefit of a Broader Group of Products than in April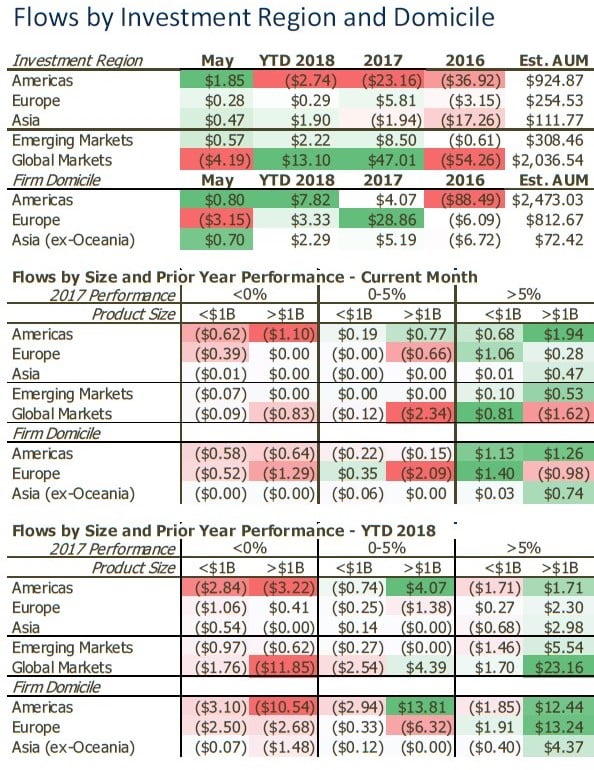 Key Points
Half of EM managers had positive flows in May, and more than half are positive YTD. EM fund flows were positive in May, continuing a return to positivity in April, but with different underlying characteristics that are more positive toward EM fund flows overall.In April, there was a relatively low proportion of managers within flows. Net flow was positive because of some larger, targeted allocations. In May, however, the underlying theme was more positive. Net flows were a bit lower than April, but much more widespread.
Fixed income exposure continues to be of high interest to EM hedge fund investors. The largest new allocation made to an EM product in May was to a fixed income/credit-focused manager. Unlike in April when the five largest new allocations to emerging market strategies went to fixed income/credit focused funds, these strategies didn't dominate inflows, but strong interest remains evident.
Credit and Managed Futures strategies caused Europe fund flows to fall. The European-domiciled managers facing the largest redemption pressures in May have been underperforming significantly in 2018. Among the ten largest redemptions in May, there were credit managers that are down more than 5% this year (and more in the last three months), and managed futures products producing similar returns. Average YTD returns from the ten largest asset losers and largest asset gainers in May were -4.29% and +1.23%, respectively.
Article by eVestment