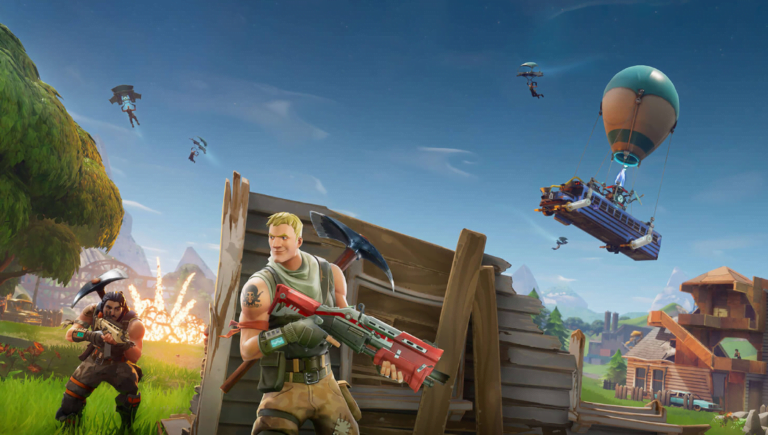 Epic Games released the Week 5 Season 4 challenge list for Fortnite: Battle Royale on Thursday. One of the most surprising challenges added to the Battle Pass is: Dance with others to raise the Disco Ball by Loot Lake. The dance challenge was not part of the leaked Fortnite challenges that surfaced last weekend. The Week 5 challenges were supposed to release on Tuesday, but the developer had to delay it to Thursday for some reason.
If you dance with others to raise the Disco Ball by Loot Lake successfully, you'll net a reward of five Battle Stars. The dance challenge builds on something that people thought Epic Games had patched into it as an Easter egg. You won't be able to complete the challenge solo because it's name itself says Dance with others to raise the Disco Ball by Loot Lake. You'll have to convince three other people to join you, which shouldn't be difficult considering most players want to.
How to dance with others to raise the Disco Ball by Loot Lake
Only Battle Pass holders will be able to undertake this challenge. To complete the challenge, you'll first have to identify where the Disco Ball by Loot Lake is. Loot Lake is a large area. There is a small group of buildings on the west coast of the lake. Head towards the group of buildings and enter the north-most one. That's where the Disco Ball is.
Bedford Park Opportunities Fund Q2 Letter: Long Converge Technology Solutions
The Bedford Park Opportunities Fund returned 13.5% net of all fees and expenses in the second quarter of 2021, bringing its year-to-date return to 27.6%. Q2 2021 hedge fund letters, conferences and more   In the fund's second-quarter investor letter, which ValueWalk has been able to review, Jordan Zinberg, the President and CEO of Bedford Read More
Once inside the building, you'll see a large room on the ground floor with dance floors in each corner and a disco ball in the middle. The four of you (others might be strangers) will have to stand on these dance floors and use a dance emote. The dance floor will light up and send 'energy' to the disco ball in the center, which in turn will raise up. After about ten seconds, the ball will rise to the top and you'll see an explosion of fireworks. The challenge is now marked as completed.
It sounds pretty easy, but you'll encounter a few challenges in accomplishing it. You'll have to find three other players, each to occupy one of the four corners in the room. Also, you'll have to bring the dance emote with you. Other emotes might also work, but the dance emote is the best for the task.
Another major difficulty will be co-operation. Some players might struggle to find people interested in joining in. The strangers you approach might try to take you down. Even if you successfully persuade people to get on the dance floor, they might turn on each other the moment the challenge is complete. If a bunch of teams reach the dance room at the same time, it could well turn into a massacre.
Other Week 5 challenges in Fortnite: Battle Royale
Challenges in the Week 5 are a little easier than those in the Week 4. Here they are:
Search Chests in Dusty Divot: Dusty Divot is a new location in the game, where you will be looking for two chests in warehouses, the central research facility, and in trucks.
Deal damage with SMGs to opponents: You can use silenced or tactical SMGs at short range to target your opponents.
Follow the treasure map found in Greasy Grove
Use a Vending Machine: Vending machines are scattered all over the map. You can find and use them easily.
Minigun or Light Machine Gun Eliminations: Light machine guns have a large magazine and a quick firing rate, which you can use to your benefit. Minigun is also a capable weapon, but it's a bit difficult to move around while firing it.
Eliminate opponents in Lucky Landing: Most players don't visit Lucky Landing that often, but the Week 5 challenge will be sending a lot of players there this week.