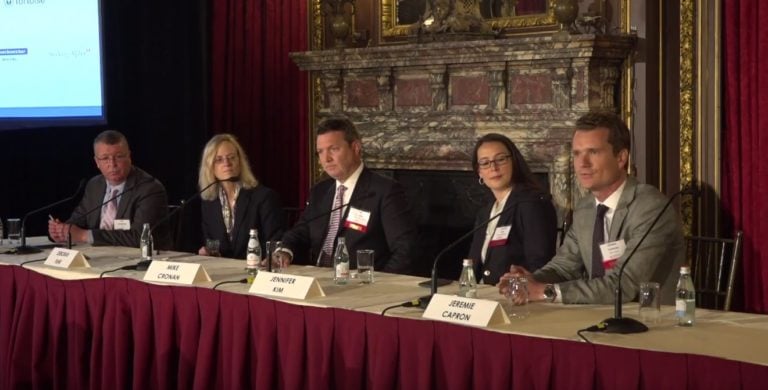 ETF industry roundtable discussion with moderator Tom Champion, Director – NYSE, from the 2018 Closed-End Funds & Global ETFs Forum.
Q1 hedge fund letters, conference, scoops etc, Also read Lear Capital: Financial Products You Should Avoid?
ETF Industry Roundtable - 2018 Closed-End Funds & Global ETFs Forum
Transcript
Crypto Hedge Fund Three Arrows Blows Up, Others Could Follow
A few years ago, crypto hedge funds were all the rage. As cryptocurrencies rose in value, hundreds of hedge funds specializing in digital assets launched to try and capitalize on investor demand. Some of these funds recorded double-digit gains in 2020 and 2021 as cryptocurrencies surged in value. However, this year, cryptocurrencies have been under Read More
Jennifer Kim from Invesco PowerShares one of the largest and most well established providers in the industry. And then next to Jennifer we have Jeremy from Wrobel global who is an index provider that has one dramatic product in the market that they work with ATC on. So that being said I'll turn it over to Debbie and we can go on the panel. So Debbie. Good morning everyone it's nice to be here. I've covered the ETF industry since 1997. Spent 11 years at Morgan Stanley three years at Beihai BlackRock and then six and a half years ago set up ETF Jihae an independent research and consulting firm. So we're based in London. I've lived over there for 24 years but as you can tell from the US originally Mike Cronin and with ATC here were one of the largest white label providers for ETF. And I worked at ETF dot com where I got to know Debbies data quite well and about three and a half years ago I started a marketing consultancy company. And then about a year ago I joined DTC. Once we realized that our clients were mostly similar so we help companies you know basically market themselves and build a home and it's been a sort of a great ride and it looks like I'm always doing startups which is a lot of fun. Hi Jennifer Kampmann go form our soon to be formally PowerShares. As Tom mentioned we are the fourth largest ETF provider globally with regards to assets. We have products both in the fixed income domestic equity international equity commodity currency space here and globally.
I actually started my career as an ETF trader on the American Stock Exchange as an ETF specialist and I'm now obviously part of the PowerShares family at the Invesco family and the capital markets. Everyone I'm Jeremy Capron director of research with Robow global we are the creator of the first index to track the robotics and AI revolution for investors. Five years ago we put together a team of investment professionals and industry experts including some of the most renowned roboticists and researchers around the world to tackle this investment opportunity. And today we provide the intelligence behind a variety of investment products primarily ETF. The largest ones the largest one being Robow DECS with UTC here in the U.S.. We also advise on active strategies for four Asian clients before joining Robow. I was a investor and researcher in robotics and factory automation worked as a cell research analyst in Asia and most recently here on Wall Street thank you. And just for the record I'm Tom Champion from the New York Stock Exchange. I am part of the ETF group. At the exchange we list a majority of the sort. And including Tiens and other structures here in the U.S.. OK. So I guess let's kick it off. There's different representation here. There's a white label there's a large ETF issuer there's an index provider. Maybe we can talk a little bit about how each one is different and how they view the industry differently and maybe we'll kick off with with Jen being a more established ETF provider. We like to focus on kind of complementing what can we provide our clients. So it's a more well-rounded experience.
We come with a whole infrastructure of capital markets marketing compliance. So as great as we agreed our clients we want to make sure that they're comfortable especially the new entrants to the ETF space. I think this audience is. I mean I guess from a show of hands how many in the audience are ETF users currently. Okay. It's hard to see what the lights glaring but it looks like. Okay great. So I think as an established ETF issue sure I think we have the luxury of really supporting our infrastructure. So what that means for me from the capital markets perspective how do clients experience. Yes for the first time are they do they have a good trading experience.
Updated on