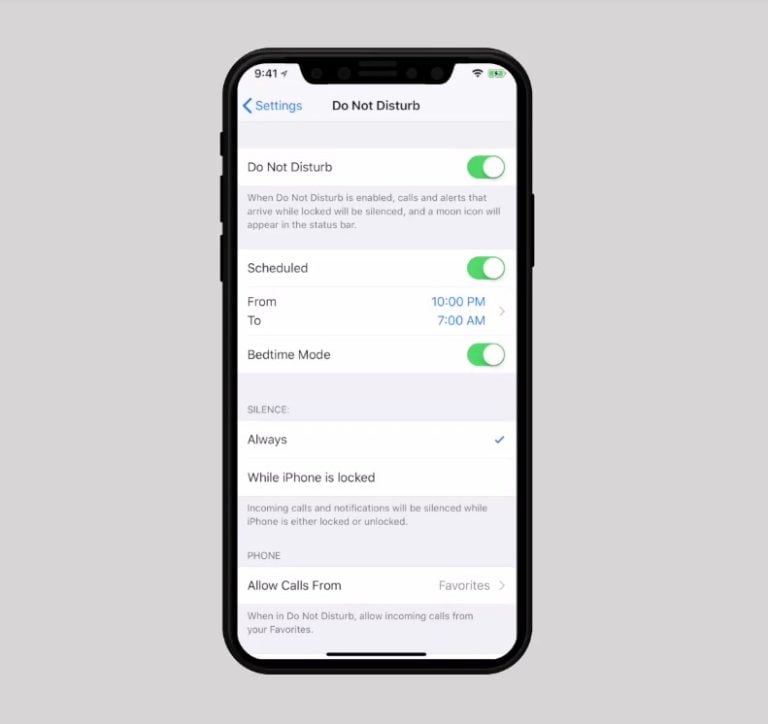 While there were a number of announcements for Apple's product ecosystem, the primary focus of the conference was the new mobile operating system — iOS 12. The introduction of iOS 12 bedtime mode is one of several features coming with the upcoming update that are focused around limiting the amount of time people spend on devices.
A New Philosophy
It seems counterintuitive that Apple would be striving to help people spend less time on their phone as they have a vested interest in keeping people engaged with their operating system, but for one reason or another the company has added features like the iOS 12 bedtime mode that give customers greater control over how they interact with their device.
With features ranging from more robust parental controls to improved Do Not Disturb capabilities, Apple has put the control of the iPhone in the hands of the user. Many were worried that the iOS 12 update would lack exciting features due to the company's renewed focus on quality over quantity, but the operating system is shaping up to be a significant improvement all around.
Alluvial Fund May 2021 Performance Update
Alluvial Fund performance update for the month ended May 2021. Q1 2021 hedge fund letters, conferences and more Dear Partners and Colleagues, Alluvial Fund, LP returned 5.4% in May, compared to 0.2% for the Russell 2000 and 1.0% for the MSCI World Small+MicroCap . . . SORRY! This content is exclusively for paying members. SIGN UP Read More
What Is iOS 12 Bedtime Mode?
The main goal of Bedtime Mode is intended to give device owners a better way to stay away from their devices at night time. In order to accomplish this lofty goal, it limits what can and can't be seen on their devices during the evening without any additional effort from the user.
When using iOS 12 bedtime mode, important information will still be displayed on the screen, but extraneous and distracting information is hidden away — a major step by Apple that helps ensure a positive phone-life balance.
How To Enable iOS 12 Bedtime Mode
Step 1: In order to take advantage of iOS 12 Bedtime Mode, you'll have to have the latest beta build installed. Keep in mind that these builds still have their issues, and that you should install at your own risk.
Step 2: Once the iOS 12 update is involved, launch the Settings app and then select the Do Not Disturb feature.
Step 3: You'll now be able to set a scheduled time within the Do Not Disturb menu. This involves setting a time for the iOS 12 bedtime mode to become active, as well as a time in which it will deactivate. You should choose the rough time you'll go to bed, as well as the time you'll wake up in the morning respectively.
Step 4: Once these Do Not Disturb features are set, a new toggle for iOS 12 bedtime mode will appear. Switch it into the On position in order to activate the new mode.
Step 5: Once you've activated iOS 12 bedtime mode, the iPhone will not show notifications or information on the lock screen on the device other than the time, date, and the local weather in the morning. This minimalistic approach to information will be activate during the Do Not Disturb window you set previously.
While Do Not Disturb has been a part of iOS for several updates at this point and generally works quite well, the iOS 12 bedtime mode takes the capabilities to the next level and ensures that no audible or light-up notifications will be displayed, and that no distracting information will be displayed on the lock screen.
While opening the phone will give you access to your notifications, the iOS 12 bedtime mode makes it easier to keep your mind focused on sleep rather than being pulled out of relaxation by the numerous notifications we deal with on a daily basis.