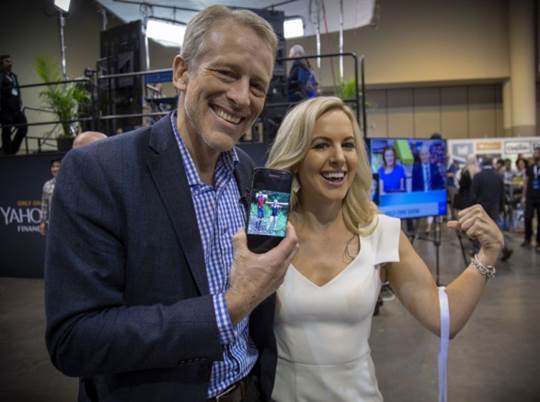 Excerpted fvrom Whitney Tilson's latest email to investors.
Also see
Whitney Tilson Launches A $3,000 Financial Literacy Course For High Schoolers https://t.co/OkBxs8p9bA

Lessons From Charlie Munger's Partnership

Charlie Munger, Warren Buffett's right-hand man today, is an accomplished investor in his own right. Just like Buffett, Munger had his own investment partnership (he was convinced to go into investing by Buffett, leaving behind a career in law) before coming to Berkshire Hathaway.  However, unlike Buffett who followed a deep value investing strategy as Read More

— ValueWalk (@valuewalk) May 13, 2018
I got back a week ago Sunday night from my 21st consecutive Berkshire Hathaway annual meeting and, as usual, had a blast – I recharged my value investing batteries and caught up with countless old friends and made many new ones, both during the meeting as well as during the five events Glenn and I hosted.
Q1 hedge fund letters, conference, scoops etc, Also read Lear Capital:
Buffett (age 87) and Munger (94) are getting older and slowing down physically of course, but mentally they are sharper than ever and continue to be learning machines, which is truly remarkable – and Berkshire is just going gangbusters (see below)!
1) An updated (and completely reformatted) version of our 42-page slide deck, An Analysis of Berkshire Hathaway, is here: www.tilsonfunds.com/TilsonBRK.pdf.
We peg Berkshire's intrinsic value at $343,000/A share, 15% above today's levels. At this price, we're not pounding the table on the stock, but if you want to sleep well at night and have a very good chance of beating the S&P over time, especially if the market does poorly, then Berkshire is a great addition to a conservative portfolio.
2) Adam Blum posted his excellent notes from the meeting here: https://seekingalpha.com/article/4170440-berkshire-hathaway-2018-annual-meeting-depth-notes (19 pages)
3) Here's a three-minute video from the weekend that our videographer did, https://youtu.be/OkWSysdYLD4, and here is a pic of Glenn and me outside the CenturyLink Center where the meeting is held (further pictures are at the end of this email):
4) A really nice bonus of the weekend for me was the kind (and unexpected) testimonial by my friend and mentor, Chris Stavrou of Stavrou Partners, who first bought Berkshire at $211 (the A shares!) and was attending his 33rd consecutive annual meeting. Here's a 40-second clip of what he said: https://youtu.be/Nq6lGFyI9zw. Excerpt:
"The greatest teacher of investing was Benjamin Graham. He was followed by Warren Buffett and Charlie Munger. Believe me, the third person is Whitney Tilson…He's a natural teacher."
I think what we're teaching is unique and we get better at it all the time, but comparing me to Graham, Buffett and Munger is quite a stretch – but thank you Chris! (As you can see at the end of the video, I try to slip him a Benjamin – LOL!)
Here's a picture of us: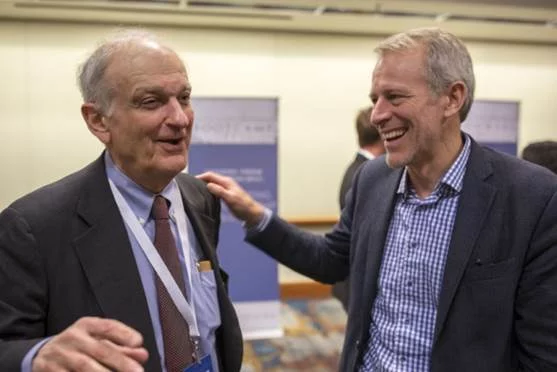 5) His remarks were at the end of a 15-minute welcome I gave at one of our cocktail parties, in which I described my early experiences coming to the Berkshire meeting, the rise and fall of Kase Capital, and what we're doing with Kase Learning. You can watch it here: https://youtu.be/Xx8oSzyzN-U
Here's a picture of the room during my talk: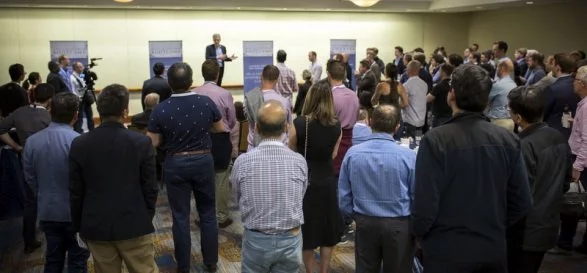 6) In addition to the four public events, we hosted a private dinner for ~100 friends on Saturday night at which I gave a presentation (posted at: www.tilsonfunds.com/TilsonOmahapresentation.pdf) on Kase Capital and Kase Learning, some highlights of the book I'm writing, which will be out in August, Beyond Value Investing: Life Lessons from Warren Buffett, Charlie Munger (and me), and then concluded with some key slides from our Berkshire presentation.
I then moderated a discussion on Berkshire with Kai Pan, the analyst who covers Berkshire for Morgan Stanley, and Andy Serwer, the editor-in-chief of Yahoo Finance – here's a picture of us: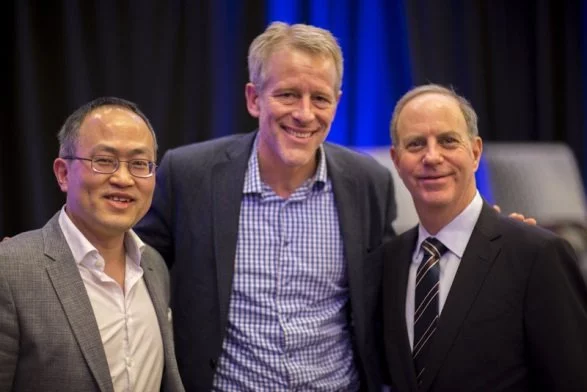 5) Yahoo Finance livestreamed the meeting – see: https://finance.yahoo.com/brklivestream (7.5 hours). During the lunch break, Julia La Roche interviewed me for five minutes (starting at 3:41:28), in which I commented on:
- Why the headlines regarding Berkshire's Q1 earnings – a net loss of $1.1 billion vs. a $4.1 billion profit in Q1 '17 – were totally misleading and why it was, in fact, a blowout quarter, with operating earnings up an astonishing 49%
- Why I keep coming back to meeting after meeting (primary answer: Buffett and Munger have been great role models and made a big difference in my life outside of investing)
- Why I wish they'd bought Google rather than adding $12 billion to their Apple position
ASlso see
Klarman On
 the danger of Chinese leverage
Discipline while value investing in bubby times
Here are some pics: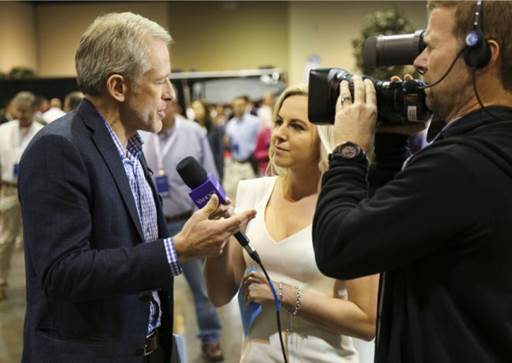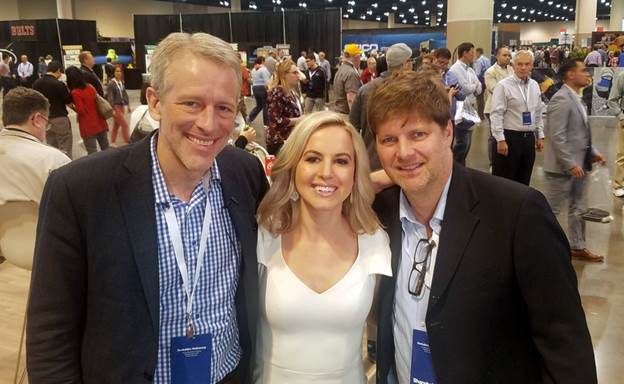 Guy Spier came over and she interviewed him afterward.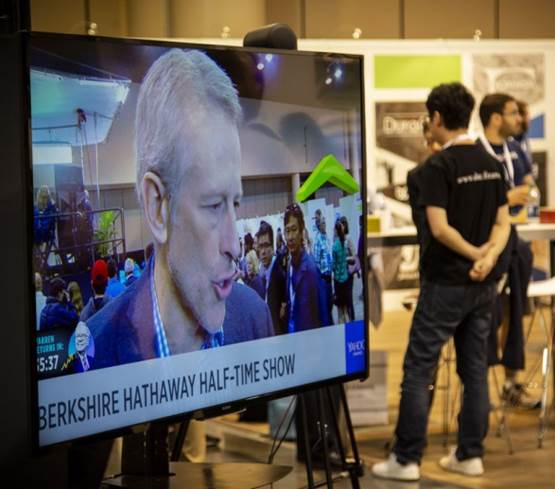 I had no idea that the interview was being broadcast live in the CenturyLink Center!
Julia is an old friend – she even joined me for a second lap of a Spartan race in NJ a couple of years ago, so I pulled out a picture from that day on my phone and we took this funny shot: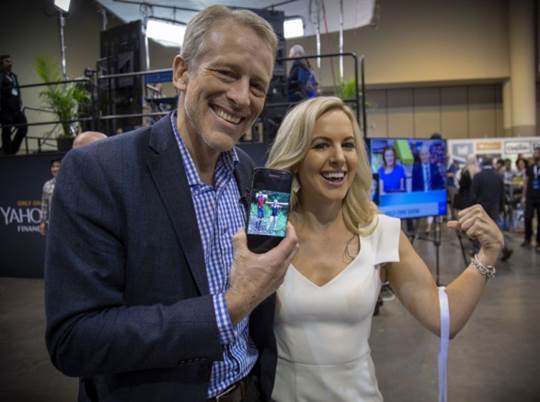 Here's the full-size picture: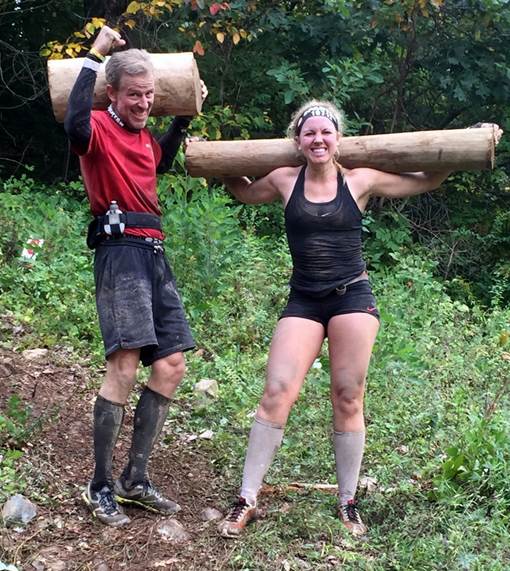 PS—Here's an interview Julia did with me in January about Kase Learning, Whitney Tilson wants to help tomorrow's hedge fund managers avoid his mistakes: https://finance.yahoo.com/news/whitney-tilson-wants-help-tomorrows-hedge-fund-managers-avoid-mistakes-175504640.html
6) CNBC has posted a Buffett archive here (https://buffett.cnbc.com/), which includes:
25 full Berkshire Hathaway annual meetings, going back to 1994, with a highlight reel for each year
130 hours of searchable video, synchronized to 2800 pages of transcripts
500 video clips covering scores of subjects
CNBC interviews, a Buffett Timeline, and a Berkshire Portfolio Tracker
It was such a blast from the past typing in my name and hearing the nine questions I've asked over the years (2003, 04, 05, 07, 11, 12, 14, 15 and 17) plus my wife's question in 2013! If anyone else has asked even half the number of questions over this period, I'd be surprised.
7) I was a contributor to Lawrence Cunningham's new book, The Warren Buffett Shareholder: Stories from inside the Berkshire Hathaway Annual Meeting. Here I am with two dozen of the other contributors outside the CenturyLink Center on Saturday: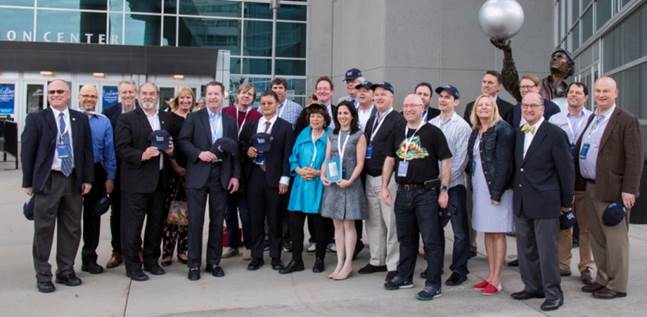 My chapter in the book is posted at: www.tilsonfunds.com/TilsonReceptionforall.pdf
8) Two final pictures: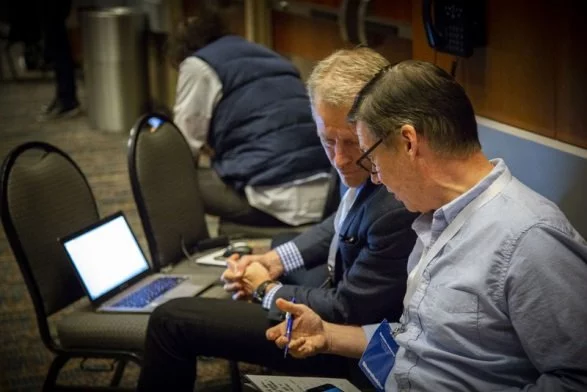 I spent most of the meeting upstairs in the overflow room, working with Glenn on our presentation for the dinner (I never actually saw Buffett or Munger live the entire weekend!). This was the closest I came: