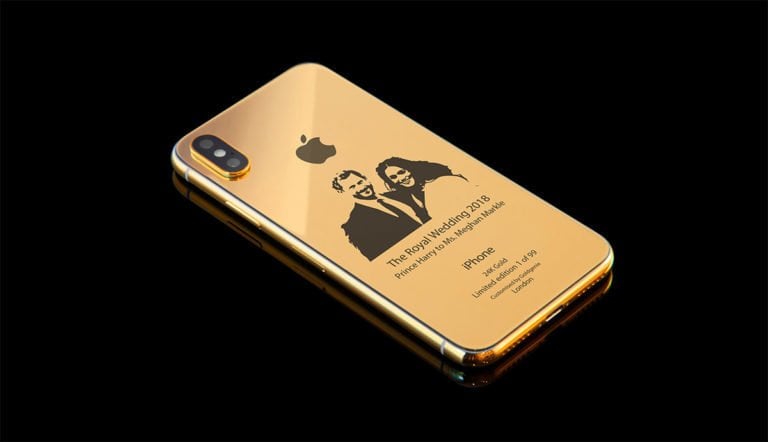 People around the globe, and especially those from the U.S. and the UK, enjoyed the hype of the Royal Wedding event that occurred during the weekend. Some people have already grown tired of hearing about every single detail about the wedding. However, some other people can't get enough of the event and they could be the target group that Goldgenie was looking for when announcing the Royal Wedding edition gold iPhone X.
The special Royal Wedding edition iPhone X is covered in 24k gold. Moreover, its rear is decorated by a commemorative engraving of the royal couple. That way, people who can't get enough of the wedding can also have the Royal Wedding edition gold iPhone X, a perfect combination if you're in love with both Apple products and the royal couple.
Nevertheless, as expected, the device with the beautiful engraving won't be available to just anyone with deep pockets. There are only 99 devices that are going to be available on the market. Those who have the "ordinary" iPhone X, won't miss anything as the royal edition has device functions the same as any other iPhone on the planet, other than the fact that the Royal Wedding edition gold iPhone X comes only as a 256GB storage option.
David Abrams Explains How To Value Stocks
Continued from part one... Q1 hedge fund letters, conference, scoops etc Abrams and his team want to understand the fundamental economics of every opportunity because, "It is easy to tell what has been, and it is easy to tell what is today, but the biggest deal for the investor is to . . . SORRY! Read More
The $3964 iPhone X will also come with a pair of white Earpods, a charging cable and the 5-watt USB power adapter, packed inside a lovely, luxury cherry oak box. Goldgenie will also install Total Armor Protection so that the $4000 iPhone will remain just as glimmering as it was sold, on the day of the couple's first wedding anniversary. Those who want to have it can order it at goldgenie.com.
The phone will also be unlocked for any SIM-card, which will be great for every user who has gotten frustrated every time he or she has had to go to their carrier to unlock their device.
For those looking for even more luxury, Goldgenie also made a special diamond covered version, available for $4604.18, also available in 99 units. Furthermore, the site will accept the cryptocurrency payment method, for those who can't afford it in dollars or any other regular currency.