Rockstar has released a new Red Dead Redemption 2 trailer that gives us a better look at what's coming with this hotly anticipated open-world title.
The official description of the video reads, "America, 1899. The end of the wild west era has begun as lawmen hunt down the last remaining outlaw gangs. Those who will not surrender or succumb are killed…After a robbery goes badly wrong in the western town of Blackwater, Arthur Morgan and the Van der Linde gang are forced to flee…With federal agents and the best bounty hunters in the nation massing on their heels, the gang must rob, steal and fight their way across the rugged heartland of America in order to survive. As deepening internal divisions threaten to tear the gang apart, Arthur must make a choice between his own ideals and loyalty to the gang who raised him…Red Dead Redemption 2 is an epic tale of life in America at the dawn of the modern age."
The Red Dead Redemption 2 trailer is equally as impressive as the description, giving us a close look at the sort of gameplay we might be able to experience when the game hits shelves later this year.
A Look Back At Warren Buffett's Legendary Washington Post Investment
Throughout his long investment career, Warren Buffett has made thousands of investors and bought tens of businesses. However, a couple of examples really stand out. Q1 2020 hedge fund letters, conferences and more These companies stand out for a range of reasons. The Nebraska Furniture Mart, for example, stands out because it was such a Read More
As suggested by the description, the trailer truly feels like outlaws are starting to die out. A group of people discusses Dutch, the leader of the Van der Linde gang and the antagonist of the first game. John Marston, the protagonist of the original Red Dead Redemption, also makes an appearance in the Red Dead Redemption 2 trailer – much to the delight of fans who were hoping he'd make at least some sort of comeback. While you won't be controlling Marston in the upcoming title, it's still nice to know that he's a presence in the title – however small it may be.
Red Dead Redemption 2 is the "story of outlaw Arthur Morgan and the Van der Linde gang as they rob, fight and steal their way across the vast and rugged heart of America in order to survive."
We also get a glimpse at a few other scenes from the game in the Red Dead Redemption 2 trailer, getting a peek at a train robbery as well as the hijacking of a horse and carriage. You can watch the entire trailer included below.
While this Red Dead Redemption 2 trailer is the latest news to come out of Rockstar regarding their upcoming title, we've seen two previous trailers release as well. The previous trailer released on September 28, 2017 and gave us a much more brief look into the story, combat, and characters. This trailer is much more robust – perhaps reflecting the further development of the game as we get closer and closer to the eventual release this fall.
Rockstar plans to release Red Dead Redemption 2 on October 26, 2018, and the title will be available for both PS4 and Xbox One. Take-Two, the parent company of Rockstar Games, has said that they are "confident" that the release won't be pushed back any further – driving home the fact that development is going well and we should see the full game sooner rather than later.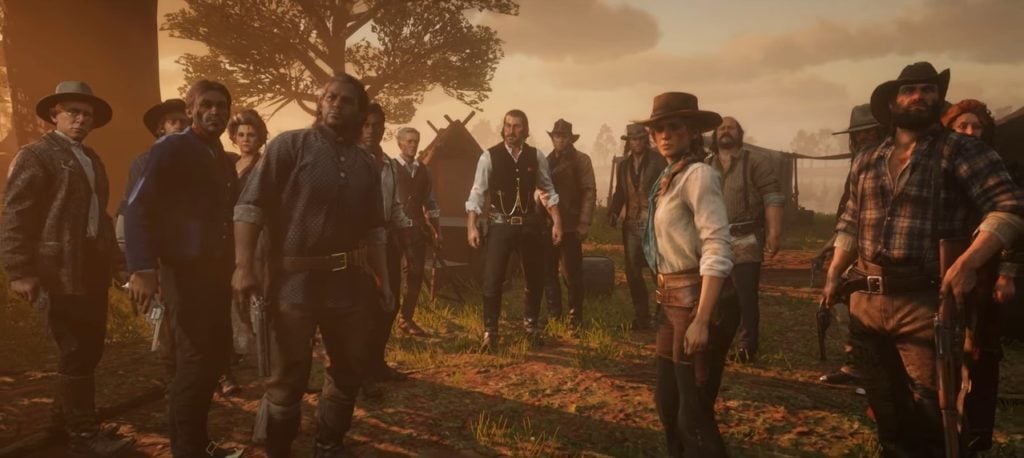 In an earnings call back in February, CEO Strauss Zelnick stated that "The entire focus of this organisation is on delivering the highest quality entertainment experiences of any kind…More often than not, we feel proud that we're able to do that. All of our labels are focused on releasing a title when they reach that apex of effort and perfection. And in this instance, Rockstar Games felt more polish was required, and naturally we are in favour of that decision. The date of October 26 is set, and I am confident that will be the release date. We are incredibly excited about it."
As for further information we have outside of this Red Dead Redemption 2 trailer, recent leaks have suggested that there will be an online mode similar to what we saw with Grand Theft Auto Online – one of Rockstar's most successful endeavors to date that made GTA 5 one of the most profitable titles of all time. The world will also reportedly be much bigger than what we saw with the original Red Dead Redemption.
The Red Dead Redemption 2 trailer only gives us another glimpse of the content, but we're still basically half a year away from release. As we get closer to the launch, we should receive more and more information about what is coming from the most hotly anticipated title of this year.