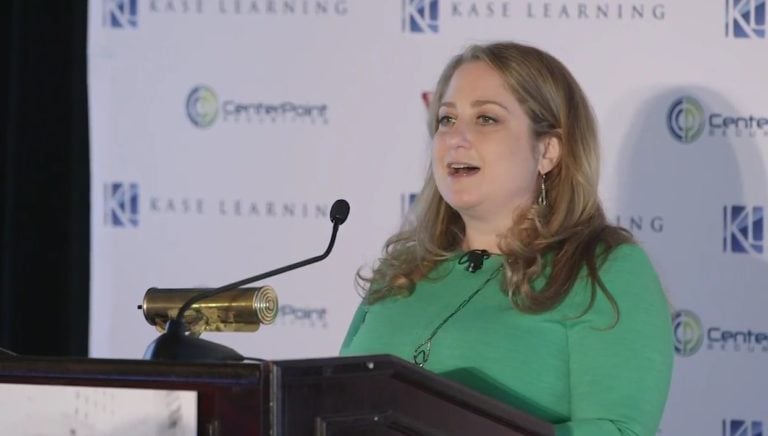 Berna Barshay's presentation on Ralph Lauren (RL) at the Kase Learning conference on short selling, 5/3/18.
Q1 hedge fund letters, conference, scoops etc, Also read Lear Capital: Financial Products You Should Avoid?
Berna Barshay's Presentation On Ralph Lauren Corp (RL)
Transcript
ValueWalk's August 2021 Hedge Fund Update: Point72 Suffers Loss; Hedge Fund Assets Hit $4 Trillion
Welcome to our latest issue of ValueWalk's hedge fund update. Below subscribers can find an excerpt in text and the full issue in PDF format. Please send us your feedback! Featuring Point72 Asset Management losing about 10% in January, Millennium Management on a hiring spree, and hedge fund industry's assets under management swell to nearly Read More
Good afternoon. Thanks Whitney and Glenn for having me here today. It's been really interesting. Great set of presentations I've enjoyed a lot. This is the page my lawyers made me put up. So a little bit about me and viola Capital Management. OK. You probably haven't heard of it because it's new. Well the company is new. I am not. I've been on the buy side for 20 years and I've been a consumer specialist for over ten years. It's a very interesting time for the sector I focus on because unprecedented disruption is creating a lot of opportunity both long and short. And the other thing about this sector is that I like to remind people of is that 80 percent of household purchase decisions are made by women. Yet over 90 percent of investment decisions are made by men. So while I have shorted my share of frauds in bankruptcies and other wipe outs in my career the bulk of my shorting is actually much less dramatic. It's fundamental analysis with a much less extreme end game. Sometimes I and I start out looking at companies the potential long and then I realize it's a short. And that's how I get there. Other times there are good companies but it's the wrong time for the company and it's just better time to be short a good company than long. So sometimes it can consumer very high quality companies can be good. Schwartz and this is because of cycles or economic cycles fashion cycles weather cycles and then the more secular shorts are sometimes drastic changes in consumer preferences and behavior create shorts.
So an example of a good company being a short of one point is here. Here's a consumer sock that worked very well short it was a bit down about 25 percent in a year and I doubt anyone would guess Wittstock this was surprise. It's Nike arguably the most iconic American brand of all time and one of the best consumer stocks ever. That short period I showed you on the left side is just the little blip in an otherwise up and to the right long term chart. And this is a very healthy company. But but it brings me to that and we will talk about today which is equally iconic as an American company and that company is Ralph Lauren which is in the middle of an attempted turnaround. So let's take a look at what's happened to Ralph Lauren in the last three years. They've lost 19 percent of their sales 37 percent of their operating income and company wide comps have been solidly negative in the mid to high single digits. It's a little bleak. So why did this happen. While Ralph Lauren has historically positioned itself as an upscale prestige brand they over distributed it was simply available to many places which led to discounting and margin pressure. Brand extensions confuse the customer and then the departure of longtime very talented CEO Roger Fehr led to a lot of disruption within the company as well as voluntary involuntary turnover much of which was set off by the very short tenure of a failed outsider CEO named Stefan Larsen. So what did they plan to do now to fix this. Full details will be revealed in an Investor Day next month.
But what is leaked out so far revolves around elevating the brand by reducing distribution points and pulling back on promotions. They also want to upgrade their product and marketing to help them reach a new customer. Presumably a younger one. They're hoping that these efforts to prop up their brand will help them return to growth in their larger more mature businesses as well as accelerate growth in their smaller businesses like e-commerce in Asia. So how realistic is this plan. Clearly some people on Wall Street think it's going to be really easy because the stock has moved 70 percent in the last nine months. I remain more skeptical my comments today are going to focus on the North American business of Ralph Lauren and that's because that business still dominates in the fiscal year ending March 2017. North America with 57 percent of sales and 59 percent of operating income in the first three quarters of 2018 the year ends March 1st 2018. And we'll get the full year soon. The results were that operating income was down nine and a half percent on a company level. So when 60 percent of your homes are in North America but when 60 percent of your business is down 10 percent it's very hard to get the whole company to grow without turning that 60 percent. That's why I'm focusing here. It's a huge headwind. And while people will point to American brands that have thrived abroad while floundering at home most notably Ralph Lauren's competitor Tommy Hilfiger did very well in Europe in the early aughts while stumbling domestically. I believe that this may be a strategy from another era.
There was a time when an American brand could control its distribution and its editorial coverage. So for example they could decide they were selling at Harrods and placed great articles in British Vogue and effectively control its international narrative. But in the age of Instagram I don't think brands can control their story that way anymore and I would argue so goes Ralph in the U.S. so goes Ralph and the world. So let's look at North America and look what they plan to do here. First they're going to trim distribution and this makes sense. Everybody knows that department stores are in secular decline and it's impossible to control their discounting. And everybody loves a turnaround and the coach of corps turnarounds have worked out pretty well stock wise. Maybe their coach this week but in general it's worked. And hope springs eternal that Ralph can just take a page right out of their playbook and increase their financial results by reducing points of distribution like they did. So can they. Well Ralph has a 170 factory outlet stores in North America versus only 46 full price stores. So that ratio of outlets to full price stores is three point seven times for Ralph Lauren versus less than one times for coach and Coors. So the ratio of outlets to full price stores just seems out of whack for Ralph Lauren. And it's a challenge to elevating the brand. The other challenge to brand elevation is that Ralph Lauren is omnipresent in the off price channel. So Ralph Lauren has created lots of channel conflict by leaning hard on T.J. Maxx and Marshall's. You can understand why they did it.
Read the full article here.