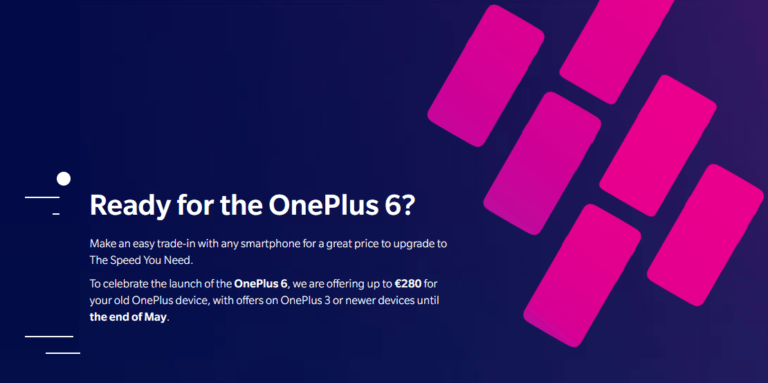 OnePlus phones are quite affordable compared to other flagship devices in the market. But the upcoming OnePlus 6 is rumored to be slightly more expensive than its predecessor. It means a lot of loyal OnePlus fans might be reluctant to upgrade to the new model when it goes on sale later this month. Fortunately, the Chinese company has launched a OnePlus 6 trade-in program in European markets to make it easier for customers to upgrade.
The OnePlus 6 will be unveiled in London on May 16, and will go on sale in select markets on May 21. Ahead of the launch, the company has updated its OnePlus 6 trade-in program landing page. The deal is only for the existing OnePlus customers. So, you are out of luck if you own an Apple, Samsung or another device. The maximum trade-in amount is €280 ($330) depending on the model and your phone's condition.
The Chinese company says on its website that it will accept the OnePlus 3, 3T, and OnePlus 5 in exchange for a voucher that you can use towards your OnePlus 6 purchase from OnePlus.com. Interestingly, the company is not accepting the OnePlus 5T trade-ins. The voucher won't be valid in the company's pop-up stores. You can sign up for the OnePlus 6 trade-in program here. You will receive a voucher worth up to €280 within two weeks of sending off your old phone. The deal is valid through the end of May.
Hedge fund managers present their best ideas at Robinhood [In-Depth]
The latest Robinhood Investors Conference is in the books, and some hedge funds made an appearance at the conference. In a panel on hedge funds moderated by Maverick Capital's Lee Ainslie, Ricky Sandler of Eminence Capital, Gaurav Kapadia of XN and Glen Kacher of Light Street discussed their own hedge funds and various aspects of Read More
The above method seems a bit weird considering you'll have to live without a phone for a couple of weeks. OnePlus has another option as well, but it hasn't gone live because the phone is not available yet. If you want to use this option, you have to buy a OnePlus 6 by paying the full amount. You can transfer data from your old phone to the new one, and then trade-in your old OnePlus here using your order ID. You'll receive a cashback of up to €280 within two weeks.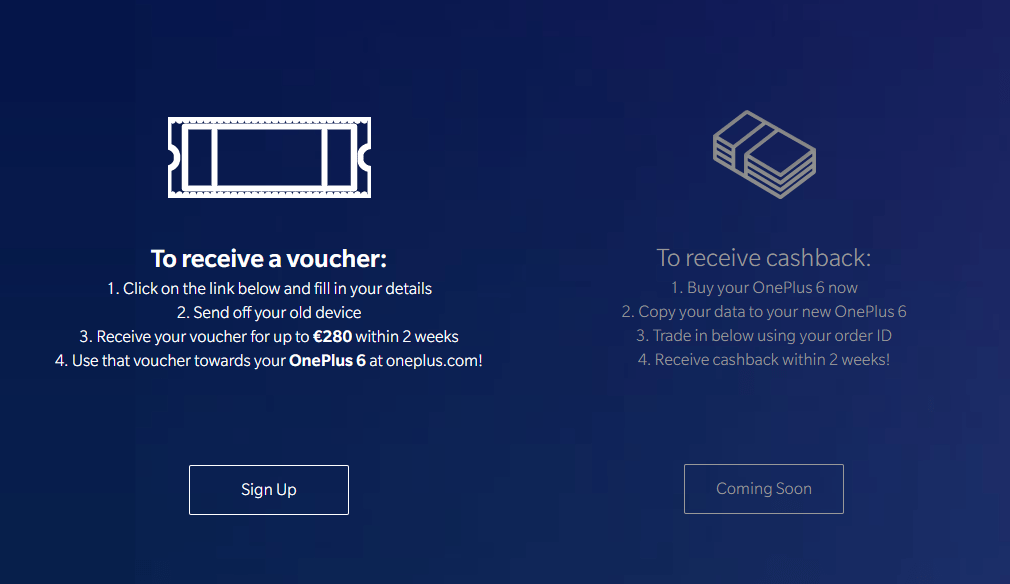 The OnePlus 6 trade-in program will be available only for people in the UK and Europe. Provided your phone is in good condition, the 8GB RAM variant of OnePlus 5 will fetch you 264 euros (245 British pounds). The OnePlus 3T will net you 201 euros towards the OnePlus 6. The trade-in value will fall dramatically if your phone is not in good condition.
The Chinese company also warns that the trade-in value could change depending on how many trade-ins it receives. For instance, if it receives too many OnePlus 5 units, the model would not attract a high price. OnePlus already has a similar buyback program in India, where it has partnered with Cashify to allow customers to trade-in their older models for newer phones. I just filled in the details of my 8-month-old OnePlus 5 on Cashify and found that it is worth Rs. 17,599 ($261) under the buyback program.
The OnePlus 6 trade-in program is not available in the US at the time of writing.
Separately, OnePlus India has announced that customers can reserve their OnePlus 6 units ahead of launch with "added benefits." They will get their phones on the very first day of sale. The company will hold a "Fast AF" sale (where AF stands for And First) on Amazon India between May 13 and May 16. Interested customers will be able to buy a OnePlus 6 Amazon.in e-Gift card worth Rs. 1,000.
The gift card can be used to purchase the OnePlus 6 on May 21 and May 22. You'll receive a complimentary cashback of Rs. 1,000 as Amazon Pay balance for redeeming the gift card. In short, the Rs. 1,000 gift card will give you a value of Rs. 2,000. Buyers participating in the Fast AF sale will also get an additional 3-month warranty above the existing one year warranty on their smartphones.
A few days ago, OnePlus India brand ambassador Amitabh Bachchan accidentally shared a picture of OnePlus 6 in black and white colors. The device is also said to be available in a new shade of blue. It would have a glass back to support wireless charging. The phone will retain the 3.5mm headphone jack and the rear-mounted fingerprint sensor. The OnePlus 6 will have a vertically-aligned dual camera system on the back, consisting of a 20MP and a 16MP lens. The front-facing camera is expected to be 16-megapixel.
Recent leaks suggest the OnePlus 6 will have a 6.28-inch Full HD+ display with a top cutout similar to the iPhone X. Users will have the option to hide the notch via software. OnePlus has relocated the Alert Slider to the right side of the phone above the power button. The volume rockers and the dual-SIM tray will be on the left side. It will be powered by Qualcomm's Snapdragon 845 chipset and up to 8GB RAM. It would offer up to 256GB of internal storage, and run Android Oreo-based OxygenOS.