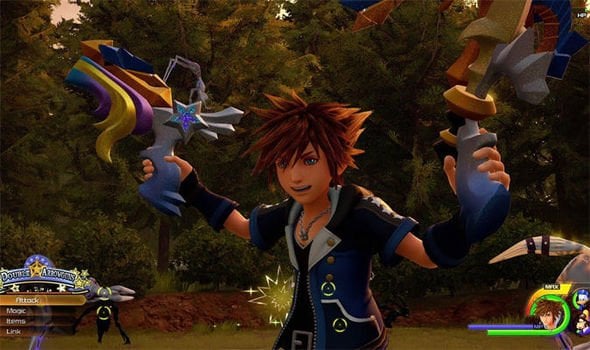 Kingdom Hearts 2 came out almost 12 years ago. Kingdom Hearts 3 was announced at E3 2013 and although we got to play several spin offs, the Kingdom Hearts 3 release date was never announced. Nevertheless, the game is expected to finally come out this year. Here are some news and rumors about the Disney crossover.
As Square Enix confirmed back in 2013, the game would revolve around the story of Sora and his close friends, Donald and Goofy. Back then, the first teaser trailer emerged followed by another trailer and some interesting details at E3 in 2014, the trailer also showed the stage for the game's main story.
A Look Back At Warren Buffett's Legendary Washington Post Investment
Throughout his long investment career, Warren Buffett has made thousands of investors and bought tens of businesses. However, a couple of examples really stand out. Q1 2020 hedge fund letters, conferences and more These companies stand out for a range of reasons. The Nebraska Furniture Mart, for example, stands out because it was such a Read More
A more detailed trailer came out at E3 in 2015. People who are looking forward to the Kingdom Hearts 3 release date, could get to see what the new game location will look like. It is the exterior of a tower from the animated film Tangled, belonging to Rapunzel. Another trailer was released at JumpFesta in 2016 and it gave insight into the combat system the game will feature as well as special abilities and how the in-game environment will affect the combat system. The trailer from last year, however, shows the footage from the Hercules level of the game.
The latest trailer comes from Disney's D23 Expo in Japan. The trailer lasts four minutes and gives an insight into the new Monsters Inc. World with Boo, Mike and Sully. Prior to the Japan event there was another trailer which featured a new Toy Story world. There is undoubtedly going to be a lot of fun for those looking forward to when Final Fantasy meets Disney.
The fifth trailer at D23 announced that the game would come out in 2018. However, no certain Kingdom Hearts 3 release date has ever been announced, except to allow fans to look forward to the new title coming out this year. The game's director Tetsuya Nomura explained the reason game production took so long in an interview at D23, pointing out that the last main story game was released 12 years ago, while the new sequel was announced back in 2013.
He pointed out that it "hurts" to hear accusations on why the game was taking so long, especially because during the first year of development, designers decided to move onto Unreal Engine 4. The change, perhaps, seemed inevitable, but it caused a lot of delays which weren't helped by timing and resourcing challenges by Square Enix.
"It's kind of out of my hands" he said at D23.
That being said, the Kingdom Hearts 3 release date hasn't been specified, except that the game will come out this year.
News
Square Enix has finally announced that the press conference of its own will be held at E3 2018. Fans of the long anticipated game will be able to watch the "special video presentation" in English and Japanese on June 11. The announcement, however, doesn't provide information about the Kingdom Hearts 3 release date. However, most likely the presentation is going to talk about the two upcoming games Shadow of Tomb Raider and Kingdom Hearts 3.
Right now, the upcoming game is going to run on PS4 and Xbox One. However, last year, in an interview with Famitsu, Nomura said that Square Enix is going to bring the game onto other platforms after the initial game is released on PS4 and Xbox One.
According to Nomura, the development team is working on those two versions at the moment, and after they are out on the two platforms, Square Enix will put other platforms into consideration. Nomura didn't give any specifications regarding the platforms, but it's safe to assume that it will most likely be Nintendo Switch and PC.
"They misinterpreted the word 'considering' as to 'it is possible to release' and it spread out. 'Other hardware' is not limited to the Nintendo switch, and we will consider all of them after the release of the PS4 and Xbox One versions," he told Famitsu.
The game is powered by Unreal Engine 4, which means that a PC version is theoretically most likely easy to realize, unlike the PC version of Final Fantasy XV, which was using Square Enix's own Luminous Engine.
The game will also feature Utada Hikaru's soundtrack. Her seventh studio album titled Hatsukoi is going to go live next month, featuring full track for Kingdom Hearts 3. According to KH Insider, the song titled "Chikai" will appear in the new Kingdom Hearts game, while the album altogether features 11 songs. "Chikai" means oath or vow in English. The track was originally shared in February, when Square Enix dropped a teaser for the single. The English version of the song was also tested and fans got to learn that internationally, it would be called "Don't Think Twice."
When the album comes out, fans looking forward to the Kingdom Hearts 3 release date and game in particular will get to hear the full Japanese title, while in no time the song will probably be translated. Hikaru has already done the games' last two theme songs, which makes anticipation for "Chikai" even greater. The J-pop legend is going to publish her new album on June 27.
Trailer
Rumors
At the end of 2017, we saw a massive Kingdom Hearts 3 leak that was anonymously published on Imgur, shared by a newly-registered member on KHI Insider. He posted a lot of file listings from an FTP server, which is supposedly a secondary server from a contracted studio. Although the files were soon removed, sharp-eyed and curious fans quickly noted all the leaks.
The file listings, which didn't have the world lists in full, featured a Frozen world, a Jungle Book world, Twilight Town, Mysterious Tower, 100 Acre Woods, Disney Castle and Land of Departure. The listings contained the first mention of a Monster Inc. World, which turned out to be true.
We are looking forward to the Square Enix press event at E3 and possible Kingdom Hearts 3 release date, and you?