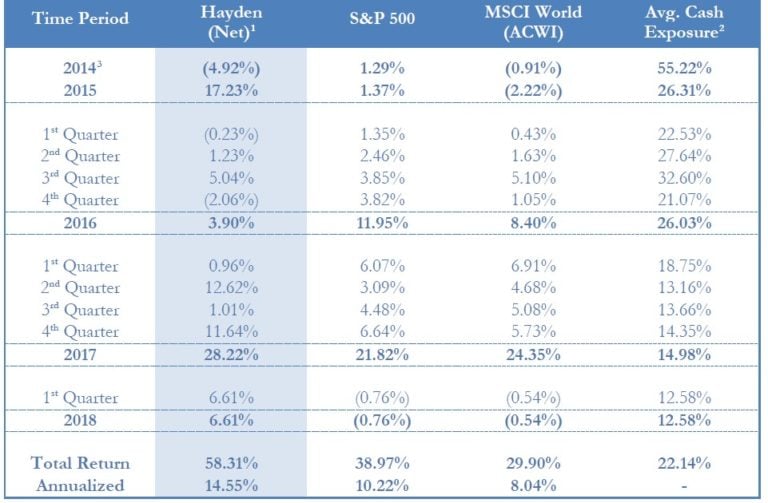 It has been claimed that value investing is dead, and the value principles that helped make Warren Buffett his first $1 million, no longer apply.
Q1 hedge fund letters, conference, scoops etc, Also read Lear Capital: Financial Products You Should Avoid?
Off Best Quarter In Its History, Maverick Capital Announces Changes To Short Strategy [Exclusive]
Maverick Fund was up 49.9% for the first quarter, while Maverick Levered gained 52.5%, and Maverick Long Enhanced gained 1.7%. Maverick Long gained 6.3%, while MFQ Neutral was down 5.1%. Q1 2021 hedge fund letters, conferences and more The first quarter was the Maverick Fund's strongest quarter ever, driven mostly by the performance of Coupang, Read More
This conclusion couldn't be further from the truth. There is still plenty of value out there to be found, you just need to know where to look.
Indeed, there are many small value-focused hedge funds and partnerships in existence today, all of which are trying to emulate the success of Buffett's early partnerships by finding hidden value.
The Hidden Value Stocks newsletter was set up to try and discover the best opportunities from this community.
Published every quarter, each issue of Hidden Value Stocks contains two interviews with under the radar fund managers. In the interviews, these managers discuss their process for finding value and highlight two of their favorite stocks each.
As well as the four value stock ideas profiled in each issue, subscribers get access to the quarterly investment updates published by each fund for no extra cost. These updates could provide a virtually unlimited stream of value ideas.
As a taster of what Hidden Value Stocks has to offer, here's a teaser copy of the Q4 2017 issue. The issue contains an interview with Fred Liu, CFA the founder and portfolio manager of Hayden Capital, and Avenir Capital a global equities investment manager, majority owned by its staff.
Teaser copy of the Q4 2017 issue
Fred Liu's stock picks are Credit Acceptance Corp (CACC), Zooplus (ZO1) the European online pet food retailer, and Interactive Brokers (IBKR). While Avenir picked BBX Capital (BBX) and some other international plays.
Since the issue was published, these companies have returned between 7.8% and 48%!
Overall, the average stock profiled in Hidden Value Stocks has returned 24% over rolling 12-month periods. This is not a backtest; these are real stock picks from real value managers.
If you're interested in discovering more about Hidden Value Stocks, click here.
If you're interested in buying the latest issue or signing up, click here.
There are quarterly as well as yearly payment plans for subscribers. And with the average stock profiled up 24%, the subscription could pay for itself in just a few months even with a relatively small position.