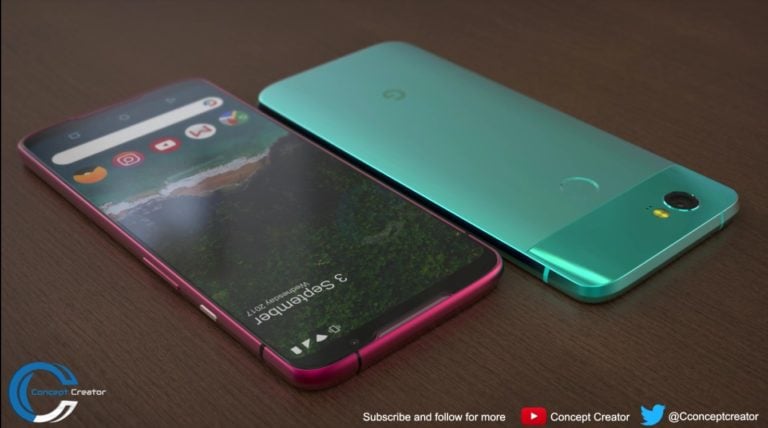 Google's Pixel smartphones aren't known for their revolutionary hardware design. The original Pixel had a pretty ordinary design, and the Pixel 2 is only a few months old but seems outdated. We expect the Google Pixel 3 to move towards a bezel-less design to keep up with the rivals, but it is unlikely to be a trendsetter in terms of design. Google has always focused on software to enhance the user experience on its phones. And the Google Pixel 3 is expected to take it to a whole new level.
The search engine giant recently made the Android P public beta available on almost a dozen smartphones. The Google Pixel 3 will likely be the first smartphone to run the new software. At its I/O conference earlier this year, Google sent a clear signal that its new software will make life easier for users. It will minimize the digital distraction, redesign the navigation, and get you what you want faster than before.
Google is using AI and machine learning in almost every aspect of its mobile software that will reduce the number of steps it takes to perform different actions. In short, it will minimize your interaction with the handset. The company said it was "getting better at understanding" how to apply machine learning to the problems it's good at. The AI in Android P will keep an eye on your habits to learn and automatically adjust the adaptive brightness for you.
Alluvial Fund May 2021 Performance Update
Alluvial Fund performance update for the month ended May 2021. Q1 2021 hedge fund letters, conferences and more Dear Partners and Colleagues, Alluvial Fund, LP returned 5.4% in May, compared to 0.2% for the Russell 2000 and 1.0% for the MSCI World Small+MicroCap . . . SORRY! This content is exclusively for paying members. SIGN UP Read More
It will also use AI in battery management to monitor the apps you launch and how likely you are to launch a particular app again soon. If you are unlikely to re-launch an app soon, Android P will shut it down in the background to save battery life. But the biggest user-facing feature in Google Pixel 3 would be the 'Actions' and 'Slices' that the company has added to Android P.
Actions are deep links within apps that can also appear in other parts of the platform, while Slices show you an app's native UI when you type a global search on your phone. How will they make your life easier? If you search for the Lyft app in the global search, it will bring up the functionality to book a cab without having to open the app. Actions will analyze your behavior and bring up content such as music or photos based on your behavior.
In short, the Google Pixel 3 will require fewer steps to perform different tasks, reducing the screen time. The search engine giant is taking things a step further with 'Digital Well Being.' Android P will have a new Digital Well Being dashboard to address the problem of smartphone addiction. The dashboard will show you how often, when, and for how long you use each app.
It will also allow you to set time limits on different apps. For example, you can limit daily Instagram use to just 30 minutes. When you are about to run out of time, it will show a pop-up warning. And when your 30 minutes are up, the app will be "paused" for the day. There is no option to "unpause" it in the Android P public beta.
Google has also added a "Wind Down" feature in Android P that will disable all notifications and turn on the Do Not Disturb mode when you go to bed. Yes, you'll have to set your bedtime first. If you want, you can still use the phone past bedtime, but it will warn you that you are breaking your own promise to yourself.
In terms of hardware, the Google Pixel 3 is rumored to have at least 4GB RAM and 64GB of internal storage. Just like other flagship Android devices of this year, the Pixel 3 will likely be powered by Qualcomm's octa-core Snapdragon 845 processor. It is expected to use the P-OLED display supplied by LG Display.
The Android P public beta has added native support for the iPhone X-like notch, but it's no guarantee that the Google Pixel 3 would launch with a top cutout. Google might try to minimize the top and bottom bezels without adopting the notch. So far, over a dozen of Android vendors have shamelessly copied the iPhone X notch.
The search engine giant is expected to finally offer a dual camera system with the Google Pixel 3. The Android P beta has added native support for dual cameras. The company executives have also discussed how a secondary camera on the back could help in the zoom feature. Huawei has raised the bar in smartphone photography with the P20 Pro's triple camera system, and Google will need to keep up with the competition.
Among other things, the Google Pixel 3 is expected to have wireless charging and an IP68 rating for water- and dust-resistance. The Pixel 3 will be a premium smartphone, and the lack of these features would not go down well with people spending more than $600 on a smartphone.
Reliable tipster Evan Blass recently said that Google was preparing to launch Pixel 3 and Pixel 3 XL alongside the second-gen Pixel Buds and a new Pixel-branded smartwatch at its fall hardware event. The company tends to refresh its Pixel smartphone line in October. So, we expect the new Pixel phones to debut sometime in October this year.