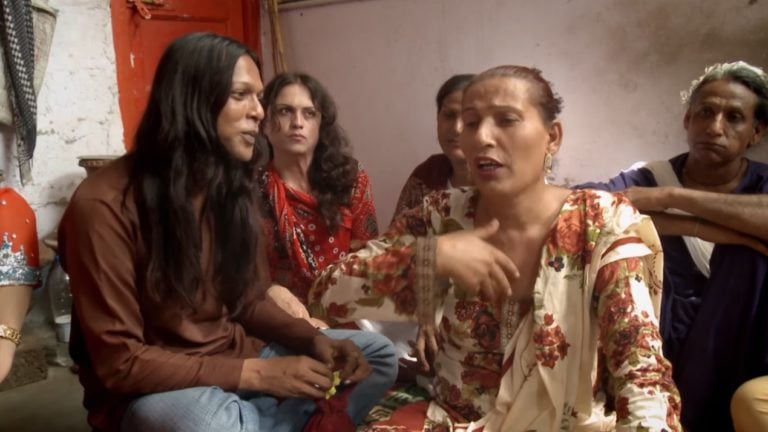 Tuesday, Pakistan's parliament passed a bill to guarantee basic human rights to transgender citizens. The Transgender Person (Protection of Rights) Act protects the transgender community from discrimination from privately owned businesses and employers. Although it has won the support of parliament, the bill must still be signed into law by Prime Minister Mamnoon Hussain. The bill protecting transgender rights in Pakistan has been called historic.
According to Pakistan's 2017 census, there are 10,418 transgender citizens living in the South Asian country. This number has been disputed by transgender organizations and members of the community. One advocacy group, Trans Action, estimates that there are at least 500,000 transgender individuals in Pakistan.
Activist Mehlab Jameel told NPR, "I heard about this yesterday morning and I was in a state of shock because I never thought something like this could happen within my own life in Pakistan." She described the bill as historic, saying, "This kind of development is not only unprecedented in Pakistani history, but it's one of the most progressive laws in the whole world."
Gator Financial Partners 1H2022 Performance Update
Gator Financial Partners letter to investors for the first half of the year ended June 30, 2022. Q2 2022 hedge fund letters, conferences and more Dear Gator Financial Partners:  We are pleased to provide you with Gator Financial Partners, LLC's (the "Fund" or "GFP") 1st Half 2022 investor letter. This letter reviews the Fund's 1st Read More
Transgender Life in Pakistan
Although the newly passed bill is a huge step in the right direction for transgender rights in Pakistan, life for Pakistan's transgender community has not been easy.
Because of the stigma surrounding gender norms in Pakistan, trans individuals are often disinherited and disowned by their families from a young age. Marvia Malik, Pakistan's first transgender news anchor, was disowned by her parents at age 16. Later, trans citizens are shunned and denied work opportunities, forcing them into begging and sex work.
Transgender individuals in Pakistan often face sexual harassment, rape, and other forms of abuse. Police are likewise prejudice against the transgender community.
Jameel, who was involved in drafting the legislation, explained to Al Jazeera, "The majority of people in the community never want to report sexual violence, rape or harassment, because they are worried that they could be blamed by the police."
Despite the dire circumstance transgender individuals often find themselves in, transgender women have historically been recognized in Pakistan and South Asia. In Pakistan, these people are known as khawaja sira and their recognition dates back to ancient times.
Traditionally, khawaja sira were venerated and seen as being able to impart blessings on others. The khawaja sira generally served as sex workers or would sing at weddings. Sometimes they would even beg on the streets in exchange for their blessings. This historical position in society has forced many of today's transgender Pakistanis into the same same circumstances.
Right to Self Identify
The bill grants a wide ranging definition of "transgender." It considers intersex individuals, or khunsa, eunuchs, khawaja sira, and self-identified transgender men & women, to fall under the protections of the new law.
The bill defines a transgender man or woman as "any person whose gender identity and/or expression differs from the social norms and cultural expectations based on the sex they were assigned at the time of their birth."
The Transgender Person (Protection of Rights) Act, guarantees all citizens the right to self-identify their gender, even on legal documents. Transgender Pakistanis will have the right to choose male, female, or a combination of both as their gender on all official documents including passports, driver's licenses, and national identification cards.
Prohibition Against Discrimination & Harassment
The bill defines nine kinds of discrimination against transgender Pakistani that will become illegal if the bill is signed into law. These nine points mainly protect transgender citizens in the realms of education, employment, healthcare, and their dealings with the government. Transgender activists are especially pleased that the bill also protects their right to an inheritance and their right to run for public office.
Harassment is also expressly forbidden. The bill defines harassment as "sexual, physical, mental, or psychological. Sexual harassment is defined not only as not only as coercion, intimidation, and unwelcome advances, but also as "sexually demeaning attitudes."
Government Obligations
The bill stipulates that the government must not only protect transgender rights in Pakistan, it must also establish protection centers and safe houses. These center will provide "medical facilities, psychological care, counseling and adult education to Transgender persons."
One major issue for transgender citizens living in Pakistan is their inability to support themselves financially. One noted advocate for transgender rights in Pakistan, Bindiya Rana, explained, "We have been considered only fit to sing and dance at weddings, and that's it. We have been facing human rights violations in that we are denied jobs based on our status."
One of the obligations of the government under the new bill is to provide loans and grants to transgender individuals. The loans are intended to help transgender Pakistanis start their own small businesses. The government must also provide vocational training opportunities.
Rana has also pointed out discrimination from civil servants, like police officers. "Police will not file cases if someone has committed a crime against us." The Transgender Person (Protection of Rights) Act stipulates that the government must provide "periodic sensitization and awareness" training for public servants, including law enforcement officials.
One issue that has often been raised in the US in the question of which prison a transgender individual should be assigned to. This bill requires the government to establish separate prisons and jails for transgender persons.
Concerns
Although the bill is seen as a positive change, transgender activists are not without their concerns. For one, they do not see how the government can be held accountable to enforce the laws and follow through on their promises. Activists are also concerned that while the bill makes harassment and discrimination against transgender citizens illegal, it does not discuss the penalties for such actions.
Another concern is government corruption. Activists worry the laws will not be upheld due to corruption in Pakistan. Pakistani-Danish activist Munir Saadat told NPR, "You have to look at Pakistan as a country. Even though there are rules, even basic rules in Pakistan are not implemented correctly because of corruption."
While the bill protects transgender rights in Pakistan, it does not protect lesbian, gay, and bisexual Pakistanis.
Updated on