I am one of the 43 contributors to the "Warren Buffett Shareholder" by Lawrence Cunningham and Stephanie Cuba.
Q1 hedge fund letters, conference, scoops etc, Also read Lear Capital
---
The Warren Buffett Shareholder - Book Review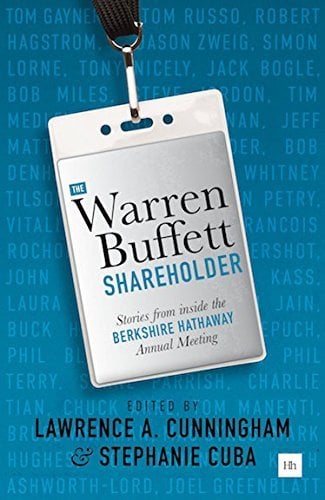 The Warren Buffett Shareholder: Stories from inside the Berkshire Hathaway Annual Meeting by Lawrence A. Cunningham
In this engaging collection of stories, 43 veterans of the Berkshire Hathaway Annual Meeting explain why throngs attend year after year. Beyond the highlights of Warren's wisdom displayed on stage in his day-long Q&A with vice chairman Charlie Munger, these experts reveal the Berkshire meeting as a community gathering of fun, fellowship, and learning.
The contributors, who include a dozen best-selling authors and many famous investors, whisk readers through the exciting events surrounding the Meeting--book signings, panel discussions, and social gatherings--and share the pulse of this distinctive corporate culture. Spanning decades, the book offers glimpses of the past and ideas on what lies ahead.
To learn about what makes Buffett's shareholders tick and what happens at the Berkshire meeting, or to reminisce about past Meetings, make this delightful book your companion.
Review
"Larry Cunningham and Stephanie Cuba have composed The Playbill to the greatest Business Show on Broadway--make that Omaha--namely, the Berkshire Hathaway annual meetings. Don't even think of attending without it." --Roger Lowenstein, author of Buffett: The Making of an American Capitalist
"Oh to be in Omaha come the first weekend of May! This smart and engaging book gives you 44 expert opinions as to why you simply need to get there." --Carol Loomis, retired Senior Editor-at-Large, Fortune Magazine
"An amazing collaboration. We know of no other company whose shareholders have teamed up to write a book about the experience." --Mario J. Gabelli, Chairman and Chief Executive Officer, GAMCO Investors, Inc.
"A wonderful, readable book -- and great fun -- all about the greatest annual meeting in the world." --Andrew Kilpatrick, Author, Of Permanent Value: The Story of Warren Buffett
---
My chapter is shown below:
Article by Dr. David Kass
Like Us On Facebook - For Business And General News: ValueWalk - For Tech And Science News: ValueWalk Tech - For Tech Insights, Technical Questions and Queries: Follow Our COO, Sheeraz Raza.