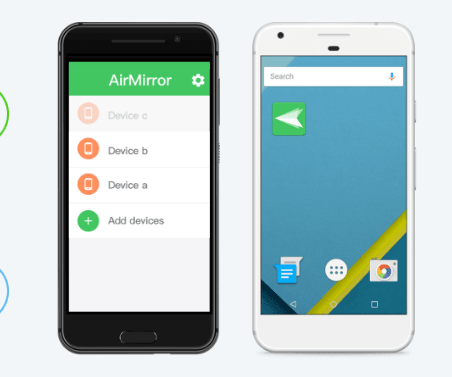 Android and iOS are two arch rivals, and bringing them to work alongside each other is a next to impossible task. AirDroid app developer, Sand Studio, however, has been successful in making both work together. The maker of the popular tool for managing Android devices from a desktop is coming up with a new AirMirror app that allows users to control an Android device using an iPhone.
Sand Studio's AirDroid is one of the most popular productivity tools. The app allows users to control their Android phone from a Mac or a Windows PC. However, users nowadays are spending comparatively less time on PCs; rather they own several mobile devices, like a tablet and smartphone.
Research by Sand Studio found that an average mobile user has two to four devices. Similar research by market research firm Statista, estimates that by 2020, an average user would have more than 6.5 connected devices. So to keep up with the latest trend, Sand Studio has come up with a new solution called the AirMirror app to allow users to control an Android device using an iPhone.
Gator Financial Partners 1H2022 Performance Update
Gator Financial Partners letter to investors for the first half of the year ended June 30, 2022. Q2 2022 hedge fund letters, conferences and more Dear Gator Financial Partners:  We are pleased to provide you with Gator Financial Partners, LLC's (the "Fund" or "GFP") 1st Half 2022 investor letter. This letter reviews the Fund's 1st Read More
"No matter it's local or remote network, you can use AirMirror to take complete control of your Android devices. The View Only Mode allows you to present your device screen, doing game live streaming and demonstrating apps, etc," the developer says.
The Mirroring concept is not a new thing. Apple already offers AirPlay support for the iOS, macOS, and tvOS, while Android has a feature that allows users to mirror their screen on a TV.  However, controlling a mobile device from another mobile device and that too being between rival platforms is a new concept, and thus, the AirMirror app must be applauded for this. Now, you can easily control your Pixel phone or a Galaxy S9 with an Apple device.
However, to control an Android device using an iPhone, a user is required to have a rooted Android device. Also, the AirMirror app will work if the remote access is enabled by connecting the device to a computer and following a few steps. Though setting things up could be a bit complicated, the end result is truly worth all that.
Sand Studio has detailed all the things that a user can do remotely after the set-up is done. According to the developer, the AirMirror app will allow device-to-device control including control of an Android device using an iPhone. Further, users will be able to easily switch between the controlled devices using one single screen while on the go. Also, users get the full Android interface including back, menu and home buttons.
Apart from these, the AirMirror app also supports functions like volume control, Lock/unlock and even gesture controls such as Swipe Up and Swipe Down. Also, users get remote keyboard support (AirIME) for better sync actions. Further, users also get the ability to adjust the "quality and operational fluency."
Sand Studio's AirMirror app has a few limitations as well when a user avails the version to control an Android device using an iPhone. One big limitation is that the iOS devices will only serve as clients, and not hosts. Meaning, you can use the AirMirror app to control an Android device using an iPhone, but not vice-versa. Also, as mentioned above, to use the app on the host Android device, a user either needs to be rooted, or perform a slightly complicated un-rooted, tethered setup procedure.
Another potential issue could be security concerns. In the past, AirDroid's remote management software has been questioned due to its potential security concerns. However, there haven't been any problems since 2016. But, security is something that should always be given attention to, especially if it involves remote management.
Nevertheless, the AirMirror app still appears to be a productivity app that could help you save time and boost your efficiency. The app is available for both Android devices and iOS devices. The Android version is already available for download, while the iOS version, which allows you to control an Android device using an iPhone would be available soon. Both of the versions are free.
Separately, talking of other apps that control one android cellphone from another, Teamviewer is surely at the top of the list. It has a user-friendly interface with ID and password support. Further, along with accessing one android mobile to another, it also allows access from one PC to another.
Updated on