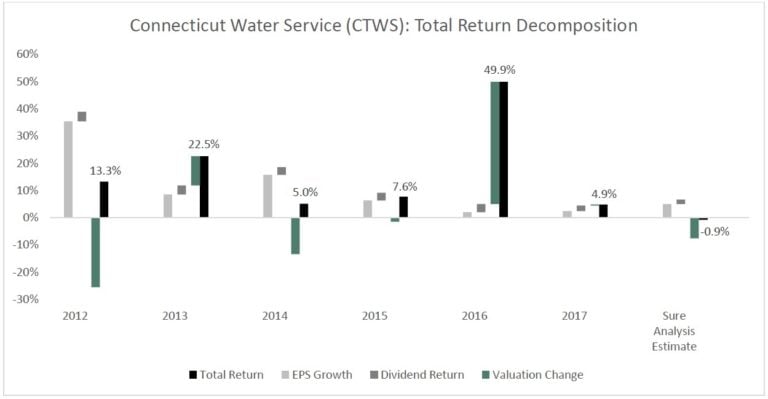 Key Metrics

Q1 hedge fund letters, conference, scoops etc, Also read Lear Capital: Financial Products You Should Avoid?
ValueWalk readers can click here to instantly access an exclusive $100 discount on Sure Dividend's premium online course Invest Like The Best, which contains a case-study-based investigation of how 6 of the world's best investors beat the market over time.
Fund Manager Profile: Zhang Hui Of China's Southern Asset Management
Historically, the Chinese market has been relatively isolated from international investors, but much is changing there now, making China virtually impossible for the diversified investor to ignore. Earlier this year, CNBC pointed to signs that Chinese regulators may start easing up on their scrutiny of companies after months of clamping down on tech firms. That Read More
Overview & Current Events
Connecticut Water Service is a holding company, with six wholly-owned subsidiary companies. The original company was founded in 1956. Today, approximately 95% of the company's profit is generated by its four regulated water companies, Connecticut Water, The Heritage Village Water, The Avon Water Company, and The Maine Water Company. As of the end of 2017, the companies supplied water to over 135,000 customers, as well as 3,000 wastewater customers, in 80 municipalities across Connecticut and Maine. In addition, Connecticut Water Service owns two unregulated companies, which contribute approximately 5% of the company's profits. These are Chester Realty, a real estate company in Connecticut, and New England Water Utility Service, which provides contract water and sewer operations.
On 3/15/18, Connecticut Water Service announced fourth-quarter and full-year financial results. In 2017, revenue and earnings-per-share each rose by 8%. Contributing to the growth last year was a combination of acquisitions and rate increases. In 2017, Connecticut Water Service acquired The Heritage Village Water Company, and the Avon Water Company. Earnings also benefited from the recovery of costs for completed infrastructure replacement projects, and higher rates.
Per-Share Growth

Utilities do not typically generate high growth, but Connecticut Water Service has done a good job growing earnings for many years. In the past 10 years, it has increased earnings-per-share by approximately 6.7% per year. This growth has been accomplished through a combination of customer additions through acquisitions, and rate increases. As a regulated utility, Connecticut Water Service receives regulatory approval to raise rates, to ensure the financial health of the business. We expect future growth to slow somewhat, to 5% per year over the next five years. This is a reasonable growth estimate for a utility. Dividends are expected to increase at the same rate moving forward.
Valuation Analysis

Connecticut Water Service's share price rose significantly in the years since the Great Recession ended, far above the rate of earnings growth. The end result is that the valuation has expanded to alarmingly high levels. With a price-to-earnings ratio above 30, we believe the stock is very overvalued here. In the past 10 years, the stock held an average price-to-earnings ratio of 20.7, which we believe is a much fairer valuation for a utility stock. As a result, contraction of the price-to-earnings ratio is expected to result in significant negative returns moving forward, which will be only partly offset by earnings growth and dividends.
If it takes five years for Connecticut Water Service shares to return to our estimate of fair value, the declining valuation would reduce total returns by nearly 8% per year. Even assuming 4%-6% earnings growth and a current dividend yield of 1.7%, total annual returns would be negative going forward, at -0.9% per year.
Safety, Quality, Competitive Advantage, & Recession Resiliency

Connecticut Water Service is a safe dividend stock, thanks to its reliable business model. The company scores very well across many safety and quality related financial metrics. It has comfortable interest coverage and a dividend payout ratio below 50%. In addition, Connecticut Water Service possesses durable competitive advantages.
Put simply, people cannot live without water. This virtually ensures a steady stream of profits for Connecticut Water Service. Water is vital for human survival, and since the industry is heavily regulated, there is little risk of a new competitor entering the industry and taking market share from Connecticut Water Service. As a result, Connecticut Water Service was barely affected by the Great Recession of 2007-2010. Earnings-per-share rose each year from 2007 to 2009, which indicates the recession resiliency of the water utility industry.
Final Thoughts & Recommendation
Water utilities like Connecticut Water Service are highly stable, with consistent profitability that allows them to pay rising dividends over time. That said, the water utility space has become highly overvalued. Share prices have risen considerably in recent years, due to investors' unquenchable thirst for safe dividend income. As a result, valuations are dangerously high. Investors should avoid Connecticut Water Service, due to overvaluation and negative returns projected over the next five years. This stock is a sell at current prices.
Total Return Breakdown by Year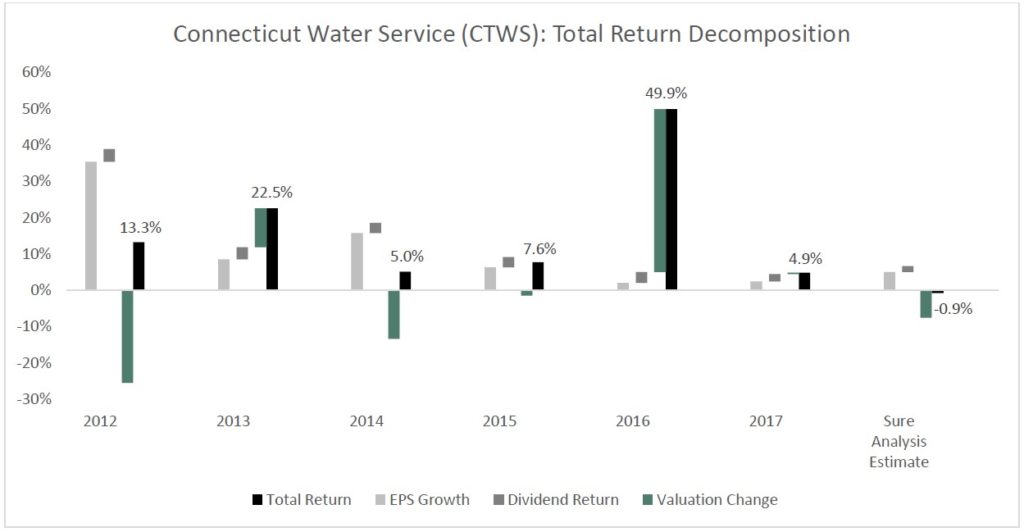 Article by Bob Ciura, Sure Dividend
ValueWalk readers can click here to instantly access an exclusive $100 discount on Sure Dividend's premium online course Invest Like The Best, which contains a case-study-based investigation of how 6 of the world's best investors beat the market over time.
Updated on