Article by RCM Alternatives
Don't look now, but commodities continue to lead the asset class scoreboard in 2018, as rising crude prices and a bounce in the US Dollar Index lead the charge. This comes as Goldman Sachs is announcing to investors there's no reason to fear commodities anymore as rising interest rates could make the rally in commodities prices last.
[REITs]
Q2 Hedge Funds Resource Page Now LIVE!!! Lives, Conferences, Slides And More [UPDATED 7/3 17:55 EST]
Simply click the menu below to perform sorting functions. This page was just created on 7/1/2020 we will be updating it on a very frequent basis over the next three months (usually at LEAST daily), please come back or bookmark the page. As always we REALLY really appreciate legal letters and tips on hedge funds Read More
Q1 hedge fund letters, conference, scoops etc
The remainder of 2018 is shaping up to be a bountiful scenario for commodity investments and commodity trading advisors. A bounce in the U.S. dollar means the value of all the commodities increase, as those markets are based in dollars. A good number of commodity markets are now in backwardation, which could allow investors to take advantage of a positive roll yield by simply being long a market. Rising interest rates are good for Managed Futures programs as it allows the ability to go short bond prices (rates up) and the ability to earn a higher interest rate "on the side," so to speak, via investments in T-Bills, bonds, and other notes with their excess cash (read how that works here).
The month-end numbers for the rest of the asset classes were mum, with no asset class making or losing 1% in April. Despite numerous 1% daily moves and one day with a 2% move in the S&P 500, the moves virtually canceled each other out to finish up 52 basis points in April.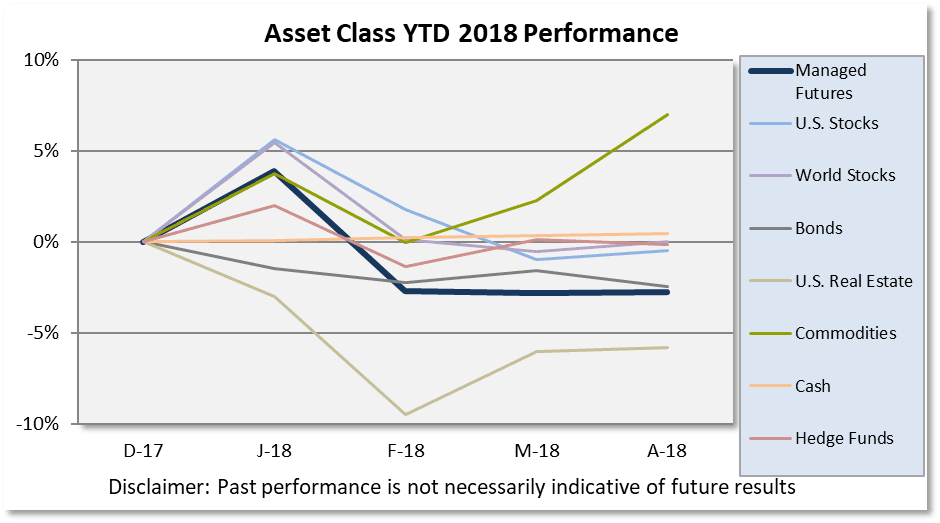 Source: All ETF performance data from Morningstar.com
Sources: Managed Futures = SocGen CTA Index, Cash = 13 week T-Bill rate,
Bonds = Vanguard Total Bond Market ETF (BND),
Hedge Funds= IQ Hedge Multi-Strategy (QAI)
Commodities = iShares GSCI ETF (GSG);
Real Estate = iShares DJ Real Estate ETF (IYR);
World Stocks = iShares MSCI ACWI ex US Index Fund ETF (ACWX);
US Stocks = SPDR S&P 500 ETF (SPY)