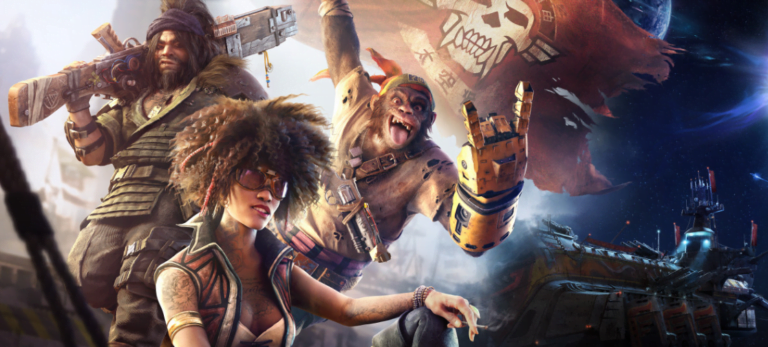 The original Beyond Good and Evil was released back in 2003 on Xbox, PlayStation, GameCube, and PC. Developer Ubisoft Montpellier announced its successor Beyond Good and Evil 2 in 2008, but the game is yet to see the light of the day. Ubisoft acknowledged that it was working on the new title in 2014 and again in 2016, without specifying when Beyond Good and Evil 2 will be released.
What the teaser tells us
The 2003 title went on to become a cult classic, and is still loved by fans. The developers showed off Beyond Good and Evil 2 at the E3 show last year, promising a whole new level of galactic experience. Earlier this month, Ubisoft released a short teaser to offer a sneak peek into the gameplay footage including combat and ship maneuvering. The gameplay was merely 45 seconds long, and it was from an early build of Beyond Good and Evil 2.
Alkeon: Big Tech Is Only Just Getting Started
The ACAP Strategic Fund's managers see a "significant scarcity of attractive asset allocation choices globally," but also a strong environment for fundamental stock picking. Q2 2021 hedge fund letters, conferences and more According to a copy of the fund's second-quarter investor update, which ValueWalk has been able to review, its managers currently hold a balanced Read More
Ubisoft Montpellier clarified that the footage was from a "pre-alpha" version of the game. During the livestream, creative director Michel Ancel added that it was still a work in progress. The teaser footage shows that the combat system will be varied and flexible. Players will be able to move seamlessly from the interior to exterior environments. You'll also have the freedom to choose whether to engage enemies in aerial dogfights or jump out of your ship to battle them out using a staff.
Players will also be able to keep track of their friends while playing together online. Exploration is going to be an important part of the gameplay as you look for the best crew of pirates to staff your ship. You'll be playing your own custom character rather than a specific individual in the Beyond Good and Evil 2.
Beyond Google and Evil 2: The storyline
The 2003 classic was about a photojournalist named Jade who works with a resistance to find an alien conspiracy in a world dominated by human-animal hybrids. Ubisoft has confirmed that the new game will be a prequel to the original one. It is set on the System 3 shortly after Jade was born. System 3 is one of the star systems humans have colonized after leaving Earth.
Beyond Good and Evil 2 will offer new details about Jade, DomZ, and the creation of human-animal hybrids. The developers have also teased a mysterious Moshka Door, which was originally built for the 2003 Beyond Good and Evil. The new game will involve battles between giant airships, dogfights, and sword combat.
Unlike the original title, the new one will allow you to get into the role of your own custom space pirate, who can be of any gender, race, or species. You shall have crew members with specific responsibilities such as medics, spies, and engineers. Pirates will be able to own multiple ships and increase their crew size. Once they acquire a large enough ship, they will be able to store the small dogfighting vessels inside it.
The developers also revealed the timeline of events prior to the game. The Earth enters a Golden Age of technology in 2040, but experiences a massive crisis as AI revolted in 2063. The first talking human-animal hybrids appear in 2086, and humanity leaves Earth to colonize other solar systems in 2108.
Subsequently, Ganesha City was founded in 2225. People live in peace until a widespread massacre in 2314 leads humanity into the Golden Age of space piracy in 2360. Jade was born after that.
Beyond Good and Evil 2: The technical aspects
Michel Ancel has told fans that Ubisoft will bring back the camera mechanic from the original game in the form of a spyglass. It will allow you to scan the environment, take pictures, and scan objects for more information. Ancel has also indicated that the Beyond Good and Evil 2 will be playable online, without specifying how it would work. It will help Ubisoft enhance user engagement.
Ubisoft has been working on a new game engine called Voyager for the last three years to power the Beyond Good and Evil 2. The developer has created a program called "Space Monkey Program" to get the community involved in the creative process. Ubisoft wants fans to express their views on what the game world should look like and what kind of pirates they would want to be. The Space Monkey Program members will be the first to play and test the creative and gameplay elements, said Ubisoft.
Release date
Ubisoft hasn't firmed up a release date yet, but it has promised to provide more information about the game at the E3 show next month. It seems like the development is in full swing. Ubisoft Montpellier has more than 120 people working on the project, with further support from other Ubisoft studios. It is unclear which platforms the game will be available on. We expect it to arrive on the PlayStation, Xbox, as well as PC.