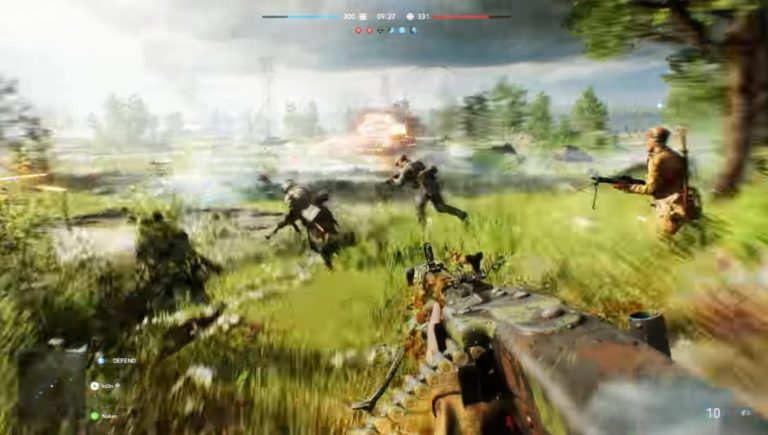 Yesterday, Battlefield 5 held its reveal event which featured some of the game's information, gameplay and a quite confusing reveal trailer. The game features a World War 2 environment, which is something gamers already saw in other games. That being said, Battlefield 5 could likely have a tough time and rather be rivaled by games like Red Dead Redemption 2 and Call Of Duty: Black Ops 4.
The war simulator was developed by EA and DICE, and it seems like they didn't take the opportunity to present Battlefield 5 in the best light, as new games surrounded by other rivaling games usually get only one chance to show off and grab gamers' attention and hype long enough until it comes out. The game got featured right after Call of Duty: Black Ops 4 and before Red Dead Redemption 2, which makes it easy to be lost and forgotten.
Even though the event seems like a bunch of information is just being confusingly thrown around, there are a lot of interesting things within Battlefield 5 happening. The game brings more organization which could seize the chaotic battles occurring in Battlefield 1. Also, the game adds a co-op mode as well as the idea of telling months-long stories using the Tides of War system.
Hayden Capital 2Q22 Performance Update
Hayden Capital's performance update for the second quarter ended June 30, 2022. Q2 2021 hedge fund letters, conferences and more Dear Partners and Friends, The markets continued to sell-off in the second quarter, especially for internet-based businesses.  This year continues to be the toughest stretch for us, since the Hayden's inception.  Inflation concerns and the Read More
Moreover, as in the case with many movies and games, especially those revolving around the war and World Wars in particular, there is some sexist rant going around on Twitter under the hashtag of #notmybattlefield. Apparently, many gamers think that the new title is going to kill the gaming spirit because "having a woman and a man of color (black in particular) is historically inaccurate." Unfortunately, those people fail to note that many women took part in WW2 as well as men of color, whether they were on the battlefield itself as part of special and resistance forces or serving in hospitals to aid injured people.
Unfortunately, the situation is not much better on the game's subreddit as well as YouTube, where the video's official reveal trailer has been revealed, calling it "Genderfield V." It's funny to call women in a war game "historically inaccurate" especially when hardly any war-based game nowadays is historically accurate at all.
When the Battlefield 1 launch trailer came, everyone was impressed because setting such a powerful game in World War 1 is something that hadn't yet been seen on such a large scale. People liked it because it was different compared to the sci-fi setting that Call of Duty was throwing at players. Unlike Battlefield 1, Battlefield 5 comes in a WW2 setting, which has been seen many times in games. Given that Call of Duty: WW2 came last year, players had more than enough time to play and learn about that time, enough to maybe be bored with what Battlefield 5 is bringing.
Red Dead Redemption 2 brings the settings that players have waited for for a long time, which raises the hype before its release and it's likely that people will be hyped long after its debut as well. Compared to the two, Call of Duty has a larger player base and even though the included battle royale mode just looks like Call Of Duty: Black Ops 4 and it is just relying on the previous games, it's still a smart move.
Nevertheless, the game has a good chance of taking wings and exceeding the expectations of many people who were disappointed with the reveal event and trailer, despite the confusing message the event sent and bad timing for releasing the game, as well as those who were more leaning towards Red Dead Redemption 2 and Call Of Duty: Black Ops 4.
What do you think? In case you haven't checked the trailer yet, you can watch it below.
Updated on