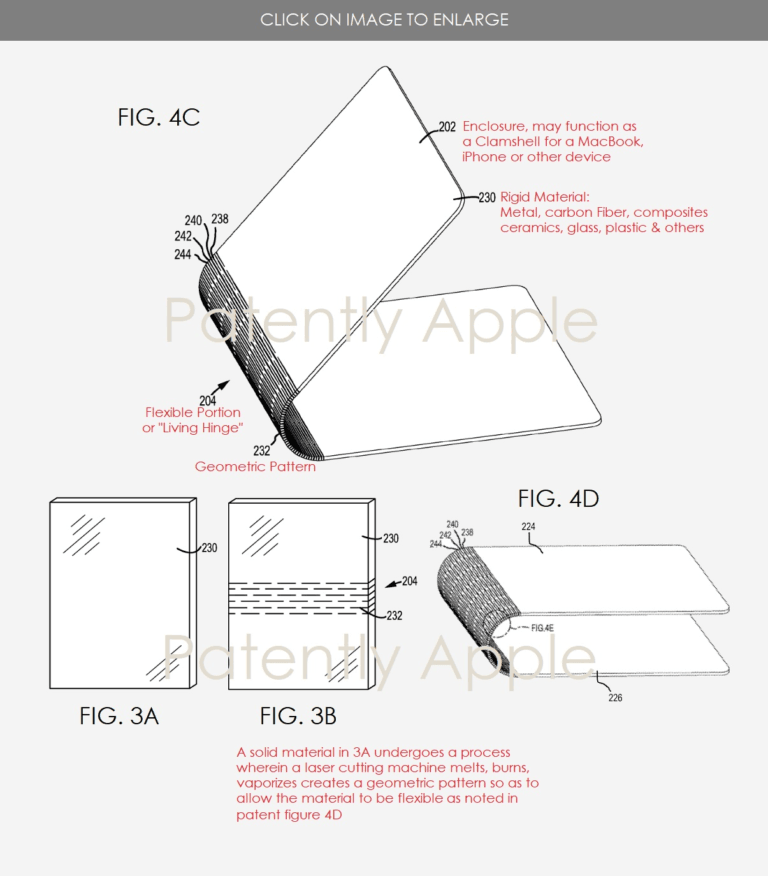 Whenever Apple gets innovative about some new product, Patently Apple makes sure to spot those innovations and post them. The latest patent that came out of the European Patent Office suggests that Apple is designing a laptop equipped with a flexible enclosure, which will allow the laptop to be folded, making the laptop act like a "clamshell."
Here's what Apple's Foldable Laptop Patent possibly looks like. Compared to the innovative design of Microsoft's Surface book, Apple's foldable laptop patent doesn't look to be too much different. The patent describes the hinge in which "a top portion may support a display screen and a bottom portion may support a keyboard, trackpad, and the like, while an interior defined by sidewalls of the rigid material may house a variety of electronic components… In this manner, the enclosure (or a portion thereof) may be created from a single rigid material, while still providing flexibility and bending for the enclosure."
Microsoft uses a "dynamic fulcrum hinge" for its Microsoft Surface convertible notebooks. Apple, on the other hand, refers to its innovation as a "living hinge." The living hinge will allow a MacBook enclosure to be equipped with only a single piece of material, instead of the many different parts that it's built of nowadays.
Ray Dalio At Robin Hood 2021: The Market Is Not In A Bubble
At this year's annual Robin Hood conference, which was held virtually, the founder of the world's largest hedge fund, Ray Dalio, talked about asset bubbles and how investors could detect as well as deal with bubbles in the marketplace. Q1 2021 hedge fund letters, conferences and more Dalio believes that by studying past market cycles Read More
Now that Apple's foldable patent appeared on Patently, it's questionable if Apple is really working on such a model at the moment, given that Apple tends to look for ways to reduce the costs in the manufacturing process. However, it's worth noting that this patent would enable a new generation of MacBooks to be built equipped with just a single, solid component, thus possibly saving manufacturing costs.
"Apple's patent application EP3324265 titled "Interlocking Flexible Segments formed from a Rigid Material" was published by the European Patent Office on Wednesday May 23, 2018. Considering that this is a patent application, the timing of such a product to market is unknown at this time," Patently Apple wrote.
Also, it's worth mentioning that not every Apple patent that emerges online eventually becomes a product. This patent comes from 2013, which means it is not certain whether, or if at all, Apple will work on turning a foldable MacBook into reality as a consumer product.