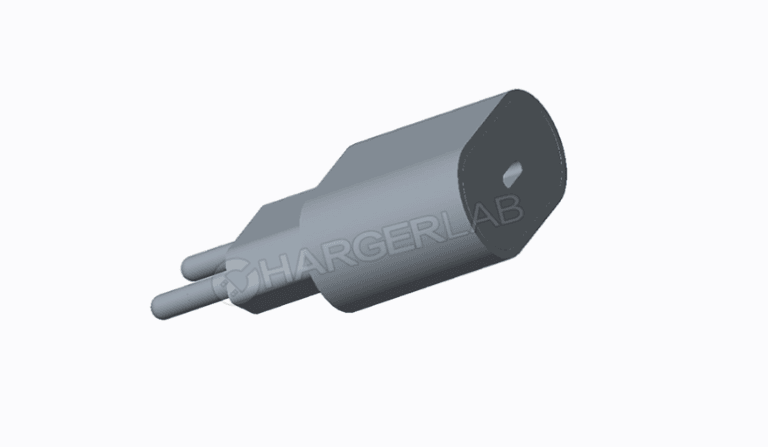 Last year, Apple added USB Type-C fast charging capability to the iPhone 8, 8 Plus, and iPhone X. But the company included the years-old 5W power adapter and USB-A cable in the box with those phones. What a weird thing to do. If the iPhone 8 or iPhone X users wanted to take advantage of fast charging, they would have to buy ridiculously expensive accessories from Apple itself or third-parties. A new report suggests that Apple could fix the problem with this year's flagship iPhones. Apple will likely ship the 2018 iPhones with an 18W fast charger and USB-C to Lightning cable in the box.
Folks at ChargerLab have obtained 3D renders of Apple's 18W fast charger that will be included in the box with this year's models. The render appears to show the European version of the charger, which has received a design overhaul. The new 18W fast charger will also enable faster data transfer and allow you to connect your iPhones with Apple laptops. It has a USB Type-C port, indicating that it will ship with a USB-C to Lighting cable.
The US and UK versions of the charger are likely to look similar to the European version, but they would have different pin configurations depending on the country where they are sold. The render shows that Apple's new 18W fast charger will be oval-shaped rather than the square-shaped 5W charger that ships with the current iPhones. The 18W fast charger will enable much faster charging than the 5W adapter for the existing iPhones and 10W and 12W power adapters that Apple offers with various iPads.
Financial Planning and Taxes with Van Leeuwen & Company's Kenneth Van Leeuwen
ValueWalk's Raul Panganiban interviews Kenneth Van Leeuwen, CFP, founder of Van Leeuwen & Company, and discuss his approach to investing, financial planning, and taxes. Q1 2021 hedge fund letters, conferences and more The following is a computer generated transcript and may contain some errors. Interview with Van Leeuwen & Company's Kenneth Van Leeuwen
The 18W charger should charge an iPhone at least twice as fast as the 5W adapter. Apple should have offered it with last year's iPhones, too. ChargerLab says the new charger's design is thinner and not in Apple's traditional square-shaped white cube form factor. It also appears to be smaller than Apple's current range of USB-C charge bricks. The tech giant needs to make it as small as possible to ensure that it fits in the same box as the 2018 iPhones.
ChargerLab's report corroborates with a Weibo post that appeared a few weeks ago. Citing sources from 'inside the production line,' the Weibo tipster claimed the 2018 iPhones would come with an 18W fast charger and a USB-C to Lightning cable in the box. It also included drawings of the charger's North American version. Currently, you can buy 18W power adapters from third-parties, but Apple doesn't allow third-party entities to make USB-C to Lightning cables yet.
Last year, folks at MacRumors tested the iPhone X with different third-party 18W adapters. They found that it could charge the iPhone X from 0 to 50% in only about 30 minutes and to 79% within an hour. By comparison, the current 5W charger delivers only 39% charge in an hour. If the iPhone X or iPhone 8 owners want fast charging, they will have to buy a USB-C power adapter (priced at $49) and a USB-C to Lighting cable (priced at $25).
Apple is expected to bring the same 18W fast charger to the upcoming iPad Pro models. It would be a huge gain for iPhone and iPad users. Most flagship Android devices already offer fast charging. More importantly, they include the fast charger in the box with the phone, unlike Apple which sells fast charging accessories separately for reasons only Tim Cook knows.
The Cupertino company is preparing to release three iPhones this September. There will be a second-generation iPhone X with a 5.8-inch OLED display, a 6.5-inch iPhone X Plus, and a 6.1-inch LCD iPhone. All three of them will have a bezel-less display with a notch, similar to the iPhone X. The upcoming iPhones will have Face ID for security. They are said to be powered by Apple's next-gen A12 processor, which will be based on the 7nm manufacturing process.
Since the LCD iPhone will be priced much lower ($550-$750) than the second-gen iPhone X and iPhone X Plus, Apple will remove a few features such as 3D Touch from the device. It will also get only a single camera on the back and 3GB RAM, claims KGI Securities analyst Ming-Chi Kuo. The other two models would offer a dual camera and 4GB RAM.