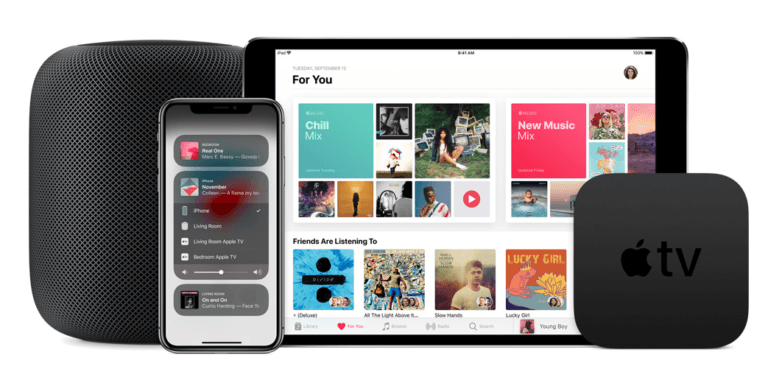 Apple had originally introduced AirPlay on iOS devices back in 2010 as AirTunes. It was available only for audio streaming at the time. It took the tech giant almost eight years to bring the improved AirPlay 2 protocol. Apple had announced the AirPlay 2 WiFi audio streaming technology at WWDC last year. It has finally become available to the public with the release of iOS 11.4 for compatible iPhones and iPads.
You can download the iOS 11.4 over WiFi via Settings > General > Software Update. Besides AirPlay 2 support, the latest iOS update introduces Messages in iCloud, allowing you to store your messages on iCloud and sync them across devices. It also has ClassKit and Schoolwork for educations users, besides a bunch of bug fixes and performance improvements. Let's take a look at what AirPlay 2 is, what it can do, and which devices would support Apple's new technology.
What is AirPlay 2?
At its core, AirPlay 2 is Apple's proprietary system consisting of a sender device – an iPhone, iPad or Mac – and a receiver device that could be an Apple TV, HomePod, or third-party speaker with an 'AirPlay' badge on it. It requires all the devices to be connected to the same WiFi network to work. It allows you to stream audio or video from a source device to another device through WiFi or wired home network.
These Are John Buckingham's Stock Picks For 2021
The economy remains in distress, although there are signs of recovery underway. John Buckingham of Kovitz, editor of The Prudent Speculator newsletter, has found that value stocks typically outperform coming out of economic downturns. Thus, he argues that this is an excellent time to be a value investor. Q4 2020 hedge fund letters, conferences and Read More
AirPlay 2 delivers better quality audio streaming due to the wider bandwidth provided by WiFi. It brings a whole new world of multi-room streaming capabilities to iPhones and iPads.
What can it do?
With AirPlay 2, you can use your iPhone or iPad running iOS 11.4 to control compatible home audio system and speakers. It adds speaker control to the Home app on iOS, allowing you to individually control your AirPlay 2-compatible speakers. The capability is coming to iPhones and iPads for the first time. MacBook users were already able to do it with iTunes.
You can stream music to multiple speakers simultaneously or move music from one room to another using iPhone, iPad, Apple TV, HomePod, or by asking Siri. Users will also be able to control multiple audio devices from Control Center on iPhones and iPads. You'll be able to choose which speakers the music to send to, and control the volumes of individual speakers right from the Control Center on the iOS device. You can ask Siri to play one song on one speaker and another song in a different room.
AirPlay 2 also enables users to play games or attend a phone call on their iPhone or iPad without interrupting the music playback on the speakers. The tech giant has demoed AirPlay 2 only using Apple Music, but industry experts believe other major streaming services will also work with the new technology.
It also allows multiple users to add songs to a single playlist. It will be particularly useful when you are partying with your friends. They will be able to easily send songs they want played to the source device. The Apple TV will also be able to send audio to speakers around the house. Apple has said that any speaker connected to the Apple TV will automatically become the default AirPlay 2 speaker.
The technology also unlocks the capabilities of HomePod speaker. It allows you to ask Siri on the HomePod to play music on a particular speaker or throughout the house. It also enables stereo pairing, meaning you can use one HomePod as left and another as right speaker.
Which devices support AirPlay 2?
Apple's HomePod speaker is the first device to support AirPlay 2. The Cupertino company lists more than 32 products from half a dozen third-party vendors that will soon become compatible with the new audio streaming technology. These are the devices that will support AirPlay 2:
Sonos One, Sonos Play:5 and Sonos Playbase
Beoplay A6, A9 mk2, M3
Naim Mu-so, Mu-so QB
Naim ND 555 ND5 XS 2, NDX 2
Naim Uniti Nova, Uniti Atom, Uniti Star
BeoSound 1, 1, 35, Core, Essence mk2
BeoVision Eclipse
Libratone Zipp, Zipp Mini
Denon AVR-X3500H, AVR-X4500H, AVR-X6500H
Marantz SR5013, SR6013, SR7013
Marantz AV7705, NA6006, NR1509, NR1609
There are many other vendors that have pledged to support AirPlay 2, but haven't yet announced specific models. They include:
Bose
Bluesound
Definitive Technologies
Dynaudio
Bowers & Wilkins
Polk
McIntosh
Apple is late to the multi-room audio streaming world. It has a lot of catch up to do with Amazon Alexa and Google Chromecast that have been offering the technology since 2017.