Whither Activist Short Selling?
Activist Insight investigates why some activist short campaigns pay off, and others don't.
Q1 hedge fund letters, conference, scoops etc, Also read Lear Capital
Q2 Hedge Funds Resource Page Now LIVE!!! Lives, Conferences, Slides And More [UPDATED 7/3 17:55 EST]
Simply click the menu below to perform sorting functions. This page was just created on 7/1/2020 we will be updating it on a very frequent basis over the next three months (usually at LEAST daily), please come back or bookmark the page. As always we REALLY really appreciate legal letters and tips on hedge funds Read More
In February this year, Bill Ackman's Pershing Square Capital Management exited its longstanding short position in Herbalife due to its major loss in the holding. Ackman placed a $1 billion short position in the nutritional supplements company in 2012, accusing its multilevel marketing strategy of being a pyramid scheme. Yet even with the accusation – which catalyzed a Federal Trade Commission investigation into Herbalife's practices – Ackman still lost the bet. In light of this situation, Activist Insight explores the common threads between successful – and unsuccessful – shorts.
Smaller is better
While some may assume larger companies like $8.5 billion Herbalife have more to lose, Activist Insight Shorts data suggest the smaller the company, the bigger the average campaign return*. Many short sellers already recognize this, given that most short campaigns since 2013 have targeted companies with a market capitalization under $2 billion.
But with liquidity tight on smaller stocks, that may not be an option for all short sellers. Kerrisdale Capital Management's Chief Investment Officer Sahm Adrangi suggests the sweet spot for larger funds may be closer to the mid-cap range of $2 billion. Kerrisdale, which manages about $170 million, does not work on campaigns where companies are too small because they are not profitable. However, Adrangi also warned against companies that are too big because "it's a tough battle" and "it's too difficult for us to get our voice out." So far in 2018, 18 companies with market capitalizations of $250 million to $2 billion have been targeted, 45% of all campaigns year-to-date.
Practicality matters
Some companies may appear to be better targets initially than in hindsight. One-week average campaign returns, taken from the announcement until the end of the period, came out at 18% and 5% respectively for conglomerates and financial firms in the Activist Insight Shorts data. But a year later, the two sectors were the only ones where stocks targeted by activist short sellers actually finished higher on average, perhaps thanks to higher leverage and use of their balance sheets.
"Companies, especially those with good balance sheets and pretty strong cash flows, can pull all sorts of financial engineering levers to make their stock price go up," former short seller Whitney Tilson told Activist Insight. "Herbalife has really run that playbook to almost perfection – they've taken on a bunch of debt, bought back a ton of stock – so much so, in fact, that they've shrunk their share base to the point where there's almost no float left."
Target the company, not the business
Short seller allegations of accounting fraud, major business fraud, and stock promotion have the highest average one week campaign returns, between 11% and 13%. "On a percentage basis, shorting fraudulent stock promotions will always be the best game in town," Richard Pearson told Activist Insight. "I have done basically the same exact short trade on dozens of different fraudulent stock promos and the only thing that really varies [is] when the dump begins."
Major business fraud and stock promotion also yield high returns in the long-term with one-year average campaign returns of 23% and 41% respectively, according to data available on Activist Insight Shorts. However, returns for accounting fraud theses tend to narrow, with an average one-year campaign return of only 2%, perhaps because the target can fix errors or appoint a new auditor.
More generic allegations like industry issues and competitive pressures yield worse results in both the short and long term. Meanwhile the pyramid scheme allegation that Ackman used in his campaign at Herbalife produced an average one-year campaign return of 2%; even with a Federal Trade Commission intervention, Herbalife recently hit a new high.
"I sometimes see a short thesis where, at the end of the day, the argument is primarily rooted in a high valuation and that's never enough for me," said Tilson. "I've had enough bad experience shorting with the valuation shorts. I usually look for multiple catalysts and ideally I'm looking for things that I think have a good chance of being zero."
The drugs don't work
Short sellers also generate profitable results when they accuse a company of producing an ineffective product, yielding an average one-year campaign return of 32%, according to data from Activist Insight Shorts. Adrangi explained that Kerrisdale prefers to use this sort of accusation because it is hard to dispute. "We're very fundamental in terms of arguments," Adrangi explained of Kerrisdale's strategy. "We really target the basic, fundamental valuation of a company – why the technology doesn't work. If there's an element of fraud, then it's minor."
Many of the companies targeted with this sort of campaign are in healthcare, where 40% of all activist short campaigns have been announced year-to-date. Soren Aandahl, research director at Glaucus Research, says the sector is prone to trouble with disclosures and misrepresentation of products, lending short sellers a clear catalyst for a stock price drop. "These sectors rely so much on the credibility of management," Aandahl told Activist Insight. "Instances like that are really prone to stock promotion and poor corporate governance as management tries to sell a poor idea to investors."
Presentation matters
A short seller's presentation can also affect its campaign's success, especially with the rise of social media activity surrounding short investments. According to data from Activist Insight Shorts, anonymous short sellers do better than known short sellers with an average one-year campaign return of 13% compared to 3%. This is perhaps because anonymous short sellers are more inclined to create noise on social media sites. Shares in MiMedx plunged 47% from September, when anonymous short sellers Aurelius
Value and Viceroy Research (which later revealed its identity) began their barrage of social media commentary and reports at the medical equipment company, until the end of March.
However, some short sellers warn against endless Twitter debates and attention-grabbing. "The people that get the most attention aren't necessarily the smartest, they're just blabbing the most," Pearson said. Adrangi mirrored that sentiment, saying, "We try not to create a lot of negative headlines because negative headlines don't mean a company is worth 50% less." Daniel Yu, founder of Gotham City Research, noted that short sellers should not rely on outside attention for success. "People should publicize their opinions on a stock because they think it's a good short," he said. "People should not short stocks thinking that publicizing a report will somehow make it a good short."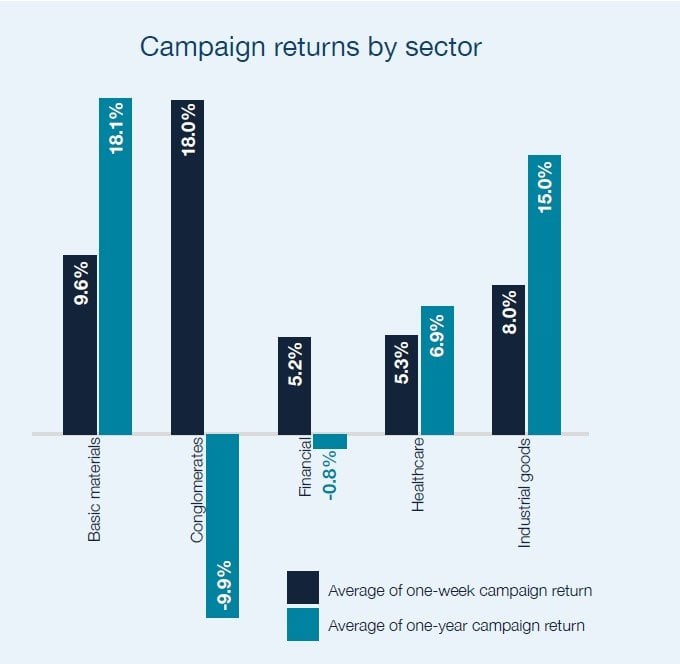 Read the full article here by Activist Insights