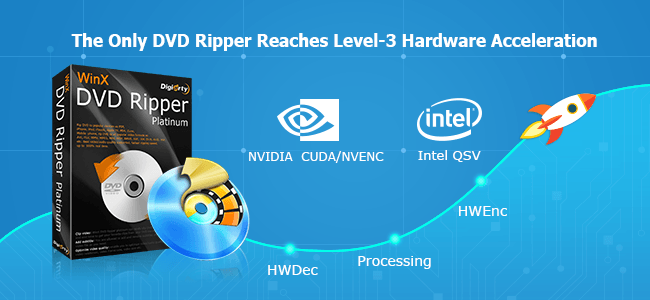 You may have some old classic DVD collection covering dust, but do not want to throw them away. It will be a nice idea to make a digital backup copy for storing on NAS drive, hard drive or playing on media player, mobiles freely. WinX DVD Ripper Platinum is just one of the nice DVD-to-digital software that excels at converting old or new, even 99-title and heavy scratched DVD into various video formats with original quality and fast speed.
Recently, WinX DVD Ripper Platinum 2018 has officially raised the bar for rest of the rippers in the market. The awe-inspiring product has got everything one need from a ripper. This hardware-accelerated DVD ripper has 50% more speed than the previous version of the software. The reason behind the immense speed is that the developers have upgraded the hardware acceleration from level two to three: utilize Intel QSV or NVIDIA CUDA GPU hardware video encoder, processing and decoder to boost DVD conversion speed.
Corsair highlights SPAC FG New America ahead of OppFi merger
Corsair Capital highlighted its investment in a special purpose acquisition company in its first-quarter letter to investors. The Corsair team highlighted FG New America Acquisition Corp, emphasizing that the SPAC presents an exciting opportunity after its agreement to merge with OppFi, a leading fintech platform powered by artificial intelligence. Q1 2021 hedge fund letters, conferences Read More
This windows based software can juggle more than one task. It can rip any DVD or ISO image into MP4, AVI, MPEG, WMV, MOV, M2TS, and H.264.
There is a trial license code of WinX DVD Ripper Platinum for you: AAY53-D37SY-ZP3JK-STUSU Once activate this program, you can use its full functions for 15 days.
Let's discuss all the features of WinX DVD Ripper Platinum.
Level Three Hardware Acceleration
The key plus in the all-new WinX DVD Ripper platinum is its level three hardware acceleration, the current highest level in the market. As for the benefits of hardware accelerated DVD ripper, it not only keep great balance between speed and image quality, but also eases your CPU burden and protects your drive, enables low-end and old computer digitize DVD quickly. Let's also look at the three classes hardware accelerated DVD Ripper:
Level-1 hardware-accelerated DVD ripper only makes use of hardware encoder to cut down processing time.
Level-2 ripper cooperates with both hardware decoder and encoder to save more time.
Level-3 one passes all DVD video decoding, processing and encoding tasks to hardware to attain the maximum speed.
It can rip a DVD into MP4 in no time, a whole DVD into MP4 in 5 minutes at 300-500 FPS, if this isn't fast, enough nothing can be. Below is a test to rip a 132-minute movie DVD on an average Windows OS computer.
Computer Condition: Windows 10 (64-bit); Intel® Core(TM) i7-8700K CPU; 16.0GB RAM
Result: The ripping process of utilizing Nvidia NVENC[4] was completed in 8:45 minutes only, at 385 FPS averagely, as compare to 16.29 minutes at Max 201 FPS when using software-based encoding and decoding, the CPU being Intel® Core(TM) i7-8700K. Let's say, GPU acceleration can reach about 50% speed improvement compared with CPU in DVD ripping.
PS: The results may vary largely when different PC and GPU/CPU were used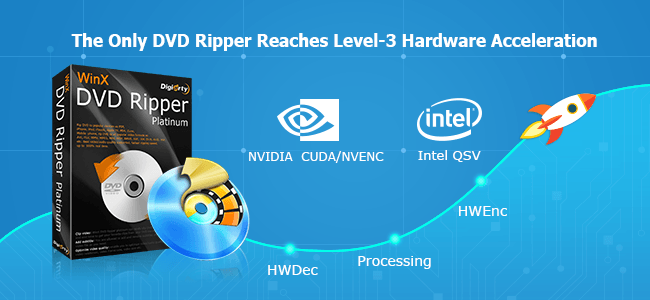 Can Convert A DVD For Playback On Apple/ Android
Apple can be a real pain when it comes to adding or playing something non-apple in it. WinX DVD Ripper platinum makes it easy to play any DVD's content on Apple.
Apple TV, iPad, iPhone and iTunes everything related to apple will play the data converted by the Winx DVD Ripper Platinum.
Android is not so stubborn as apple. Still, the data converted from a DVD can be played on any android loaded platform, Samsung, Huawei, Nexus, Kindle, etc.
The data ripped by this remarkable software will also work on the Microsoft platforms like Xbox, Windows Phones, Surface and Sony too.
Unique Copy Modes and Powerful Output Profiles
WinX DVD ripper Platinum 2018 has more than 350 inbuilt profiles and several primary unique DVD copy modes. It can convert any DVDs to mainstream video formats, e.g. MP4, AVI, MOV, H.264, IOS image, etc. and profiles for NAS streaming, SNS sharing, file compressing, for EVERYTHING.
There is a Clone DVD to ISO image mode, by which you can use to keep a digital copy of any DVD you want. You can also copy a DVD entirely to a multi-track MPEG2 file and that too without losing any of the videos, audios or subtitles from the DVD.
The sonic software has the power to back up a DVD content that can be played at Media Center, Personal computer, Play Station three or four and on the Xbox.
Copy Without Losing Any Quality
This has been a lot of customer's complaint in the past, which most of the rippers when copies a DVD at high speeds, compromises with the quality.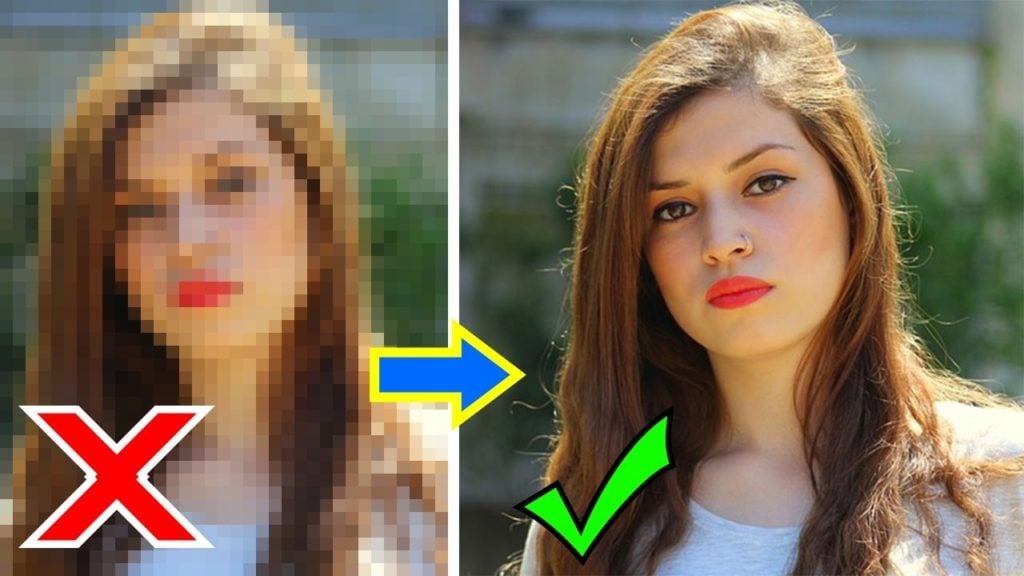 However, it is not the case with the new WinX DVD Ripper Platinum. The De-interlacing Engine in the WinX DVD Ripper 2018 takes care of the audio and video quality.
In addition to that, you can also set file size and quality of the video as per your requirement.
Ending Note
If you still aren't convinced download the trial version using License number: AAY53-D37SY-ZP3JK-STUSU. Once you are registered, you get a free DVD ripper with full functions for 15 days.
So, download the trial version today and check all the impressive features yourself.
Disclosure: ValueWalk received compensation in return for an honest review of the product