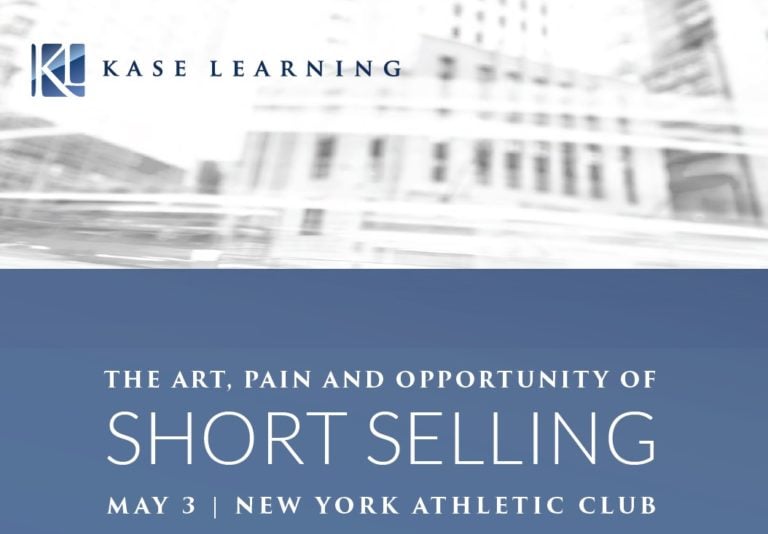 Stay tuned for our coverage from Whitney Tilson's conference this week. Tilson says that this  is the first-ever conference dedicated entirely to shorting, The Art, Pain and Opportunity of Short Selling. Below readers can find a least of speakers and their bios – stay tuned for more


Also check out our Sohn Conference notes right here. We will also be adding much more extensive coverage of the event in coming days for Premium readers in particular.
Also Baupost letter
ValueWalk's June 2022 Hedge Fund Update: Tiger Global's Losses Total 44% In 2022
Welcome to our latest issue of issue of ValueWalk's hedge fund update. Below subscribers can find an excerpt in text and the full issue in PDF format. Please send us your feedback! Featuring Tiger Global's losses total 44% in 2022, Allianz Global's $5.8bn SEC settlement, and commodity funds draw in cash. Q1 2022 hedge fund Read More
Klarman On
 the danger of Chinese leverage
Discipline while value investing in bubby times
Q1 hedge fund letters, conference, scoops etc
We're delighted you're here!
The idea for the conference is rooted in the fact that this long bull market has inflicted absolute carnage among short sellers, and even seasoned veterans are throwing in the towel. This capitulation, however, combined with the increasing level of overvaluation, complacency, hype and even fraud in our markets, spells opportunity for courageous investors, so there is no better time for a conference focused solely on short selling.
This full-day event is the first of its kind dedicated solely to short selling and will feature some of the world's top practitioners who will share their wisdom, lessons learned, and best, actionable short ideas.
A major goal of this conference is to help create a community of serious short sellers to facilitate the sharing of ideas for everyone's greater success. We hope you will take advantage of the networking opportunities during the breaks and the cocktail reception to get to know your fellow investors.
To help make future conferences even better than this one, please complete an evaluation form and turn it in at our registration desk before you leave. Your candid feedback and suggestions are greatly appreciated, and we will make improvements based upon your constructive comments. In the meantime, if there is any way we can assist you, please ask us or a member of our staff.
We hope this conference brings you great ideas, new friends and heightened success. Thank you for coming!
Whitney Tilson
Founder, Kase Learning
7:15 AM Registration and Continental Breakfast
8:00 AM Welcome Remarks
Whitney Tilson, Kase Learning
8:15 AM Ad Fraud Opportunities
Sahm Adrangi, Kerrisdale Capital Management
8:30 AM Social Distortion
Enrique Abeyta Ubillos, Project M Group
8:45 AM Fermilab Versus the Magic Kingdom
Chris Brown, Aristides Capital
9:00 AM Sourcing and Originating Alpha Shorts From the Corporate Action Universe
Jonathan Tunick, Vitalogy Capital Partners Management
9:15 AM Fireside Chat
Mark Roberts, Off Wall Street Consulting Group
9:30 AM Fireside Chat
David Einhorn, Greenlight Capital
10:00 AM Morning Break
10:30 AM Fireside Chat
Claire Gogel, Wildwood Capital
10:45 AM Short the Whole F***ing Thing
Chris Irons, Quoth the Raven Research
11:00 AM A Short Lesson in Pattern Recognition
Anthony Bozza, Lakewood Capital Management
11:15 AM The Wolfpack: Bringing Down the Shorts of Europe
Andrea Benenti and Mark Hiley, The Analyst Research LLP
11:30 AM A New Way to Short
Carson Block, Muddy Waters Capital
11:45 AM Focused on Mendacity
Jillian McIntyre, 221B
12:00 PM The Forensic Research Approach to Short-Selling
Ben Axler, Spruce Point Capital Management
12:15 PM The Best/Worst Short We Ever Had
Soren Aandahl, Glaucus Research Group / Glaucus Investments
12:30 PM Lunch
1:45 PM Not So Charming…
Victoria Hart, Pinnacle View Capital
2:00 PM The Signal Is Getting Spotty, A Telco Short Pitch
Jon Gattman, Cloverdale Capital Management
2:15PM And…It's Gone
Justin Hughes, Philadelphia Financial Management of San Francisco
2:30 PM Tesla Is STILL a Zero
Mark Spiegel, Stanphyl Capital Partners
2:50 PM The Other Greek Parmalat
Gabriel Grego, Quintessential Capital Management
3:10 PM Afternoon Break
3:30 PM Don't Try This at Home
Berna Barshay, Viola Capital Management
3:45 PM Rosebud
J. Carlo Cannell, Cannell Capital
4:00 PM Stericycle: Hazardous Waste
Columbia Business School Contest Winners: Asher Jacobs and Jade Hu
4:15 PM Closing Remarks
4:30 PM Reception
Olympic Suites, 10th Floor
Speakers
Guest Speakers
Featured Speaker DAVID EINHORN
President, Greenlight Capital
Mr. Einhorn is president of Greenlight Capital, Inc., which he co-founded in January 1996. Prior to founding Greenlight, David worked at Donaldson, Lufkin & Jenrette (DLJ) and Siegler, Collery & Co.
David is Chairman of the Boards of Greenlight Capital Re, Ltd. (NASDAQ:GLRE) and Green Brick Partners, Inc. (NASDAQ:GRBK). He is the author of Fooling Some of the People All of the Time: A Long Short Story, published in May 2008. David graduated summa cum laude from Cornell University.
SOREN AANDAHL
Director Of Research, Glaucus Research Group
Mr. Aandahl is the director of research of Glaucus Research Group and the Chief Investment Officer of Glaucus Investments. Founded in 2011, Glaucus Research is a California based premier short activist investor with a proven track record of successful investments in the U.S. and Asia. Glaucus was ranked the #1 activist short seller in the world in 2016, measured by performance and overall market impact. Mr. Aandahl is regularly featured in the Financial Times, New York Times, South China Morning Post, Bloomberg and the Wall Street Journal on various topics including corporate governance, financial fraud and short selling.
Prior to Glaucus, Mr. Aandahl was a securities and M&A attorney with a focus on private equity at the global law firm of Kirkland & Ellis in New York. Mr. Aandahl clerked for the Honorable Judge Algenon L. Marbley of the Southern District Court of Ohio, and in law school interned at the United States Attorney's Office for the Central District of California where he worked with lawyers on the Enron task force. Mr. Aandahl has a JD from Harvard Law School and a BA from the University of Chicago, from which he graduated Phi Beta Kappa.
ENRIQUE ABEYTA UBILLOS
Founder & Chief Operating Officer, Project M Group
Mr. Ubillos is the CEO and Founder of Project M Group, LLC – a digital media platform that focuses on developing media brands in niche areas with a large number of passionate and highly engaged enthusiasts. Prior to founding Project M, Enrique worked as an analyst at Falcon Edge Capital (2012 to present) and was the founder of two long/short equity hedge funds - 360 Global Capital, LLC (2007-2011) and Stadia Capital, LLC (2000-2006). Across his 20-year career on Wall Street he has served as a Portfolio Manager/Analyst, business owner/operator and head of Risk Management and Marketing for various firms. In those various roles, he has built a track record over the last 10 years that has strongly outperformed the S&P 500 across that period and positive returns in the bear markets of 2001/2 and 2008/9. In addition to this he has raised $2bb+ in assets from over 100 institutional, pension, family office and high-net worth investors.
SAHM ADRANGI
Founder & Chief Investment Officer, Kerrisdale Capital Management
Mr. Adrangi is the Founder and Chief Investment Officer of Kerrisdale Capital Management. Mr. Adrangi launched the company with under $1 million and the firm currently manages $150 million. Best known for short selling and publishing research, Mr. Adrangi shares his firm's views on stocks, such as underfollowed longs and overhyped shorts, that are misunderstood by the market. Kerrisdale shares its research on its website, third-party investing-related sites and on Twitter. Adrangi first made a name for himself shorting and exposing fraudulent Chinese companies, and has since focused on U.S.-listed companies, particularly in the biotechnology, natural resources and TMT sectors. He has appeared in interviews on CNBC and Bloomberg and has been featured in major publications, including the Wall Street Journal, the New York Times, the Washington Post, and BusinessWeek. Mr. Adrangi holds a Bachelor of Arts in Economics from Yale University.
BEN AXLER
Founder & Chief Investment Officer, Spruce Point Capital Management
Mr. Axler is the founder of Spruce Point Capital Management, a forensic research-based activist investment manager, and co-founded Prescience Point Research Group (2012-2014), a short-focused research firm. His research has precipitated the departure of nine CEOs of various multibillion dollar corporations. Prior to founding Spruce Point in 2009, Mr. Axler spent eight years as an investment banker with Credit Suisse and Barclays Capital where he structured and executed billions of dollars of financing, derivative risk management, and M&A deals for leading Fortune 500 clients. Mr Axler was also profiled in the book "The Happiness Advantage: The Seven Principles of Positive Psychology That Fuel Success and Performance at Work." Mr. Axler graduated from Yale University with a Master's degree in Statistics, and received both a Bachelor of Arts degree in Statistics and a Bachelor of Science in Marketing and Business Administration from Rutgers College, where he graduated with Summa Cum Laude and Phi Beta Kappa honors.
BERNA BARSHAY
Founder, Viola Capital Management
Ms. Barshay is the founder of the recently formed Viola Capital, and a long/short Consumer specialist. A born skeptic, she finds the pull of shorts perpetually alluring despite the return on time usually being higher on longs. She previously was Founder and Sole Manager of the Ingleside Select Fund and ran the Consumer Book on the Long/Short Prop Desk at Swiss Re. Her highest alpha years as a PM were 2008 and 2002, and investment shorting has a lot to do with her outperformance in down tapes. She has been an equity analyst at Metropolitan Capital, Buckingham Capital, LaGrange Capital, and Sanford Bernstein, and began her career at Goldman Sachs in equity derivatives trading. She has an MBA from Harvard and an AB from Princeton.
ANDREA BENENTI
Analyst, The Analyst Research LLP
Mr. Benenti is an analyst at The Analyst Research LLP, a leading independent research provider in London. Andrea has been instrumental in exposing a number of questionable accounting shorts, terrible corporate governance, and fundamentally broken businesses during the last three years at The Analyst. He is the team's goto man on forensic shorts, and demonstrates a relentless enthusiasm for deep-dive forensic accounting. Andrea has identified and recommended to sell short several corporate governance and financial disasters, including Tecnicas Reunidas in Spain, Tod's in Italy, and Petrofac, Aggreko, and Telit Communications in the UK. Andrea studied Economics and Finance at Bocconi University in Milan and earned a Master's in Finance from IE Business School in Madrid.
CARSON BLOCK
Chief Investment Officer, Muddy Waters Capital
Mr. Block is the Chief Investment Officer of Muddy Waters Capital LLC, an activist investment firm. Muddy Waters conducts extensive due diligence based investment research on companies around the globe. Bloomberg Markets Magazine named
Mr. Block as one of the "50 Most Influential in Global Finance" in 2011. The following year, Muddy Waters received the prestigious Boldness in Business Award from the Financial Times. In September 2015, Mr. Block was featured in the book, The Most Dangerous Trade: How Short Sellers Uncover Fraud, Keep Markets Honest, and Make and Lose Billions, by former Bloomberg writer Richard Teitelbaum. He is also featured in the recently-released The China Hustle. Mr. Block appears frequently as a commentator on Bloomberg Television, CNBC and the BBC. He has written op-eds in the Wall Street Journal, Financial Times, and New York Times on various topics related to improving corporate governance and market transparency. Prior to forming Muddy Waters, Mr. Block was an entrepreneur in China and worked as a lawyer in the Shanghai office of the U.S. law firm Jones Day. In 2007, he co-authored Doing Business in China for Dummies, a primer on doing business in China. He holds a B.S. in business from the University of Southern California and a J.D. from the Chicago-Kent College of Law, where he has also served as an adjunct professor.
ANTHONY BOZZA
Founder & Managing Partner, Lakewood Capital
Mr. Bozza is the Founder and Managing Partner of Lakewood Capital Management, a valueoriented investment partnership dedicated to providing attractive long-term returns with a strict emphasis on capital preservation. Mr. Bozza founded Lakewood in 2007 and the firm currently manages over $5.0 billion in assets. Prior to founding Lakewood, Mr. Bozza was an analyst at SAB Capital Management, a value-oriented hedge fund. Prior to SAB Capital, he was an executive in the New York office of Kohlberg Kravis Roberts & Co., a leading private equity firm. He joined KKR after starting his career as an analyst at Gleacher & Co., a merger and acquisition advisory and private investment boutique. Mr. Bozza graduated summa cum laude from the Wharton School of the University of Pennsylvania where he earned a B.S. in Economics with a concentration in Finance and Accounting. Mr. Bozza is also a member of the Robin Hood Leadership Council.
CHRIS BROWN
Managing Member, Aristides Capital
Mr. Brown is the Managing Member of Aristides Capital LLC, a long/short equity hedge fund management firm. Aristides employs a mix of fundamental investing and catalyst-driven trading, predominantly in U.S. microcaps. Chris holds a B.A. from the College of the University of Chicago, and an M.D. from the University of Kentucky College of Medicine. Prior to founding Aristides Capital LLC in 2008, he served as an active duty officer in the U.S. Air Force medical corps for seven years, including as an Associate Clerkship Director for the Uniformed Services University of the Health Sciences. His background includes winning the National Beta Club Science Contest, a data analysis event at the National Science Olympiad, and the Society of Air Force Physicians Arthur F. Grollman award.
J. CARLO CANNELL
Managing Member, Cannell Capital
Mr. Cannell, 54, enjoys 26 years of investment experience as captain of his own ship, Cannell Capital having been founded in San Francisco in 1992. He is a graduate of Phillips Academy '81 and Princeton University '85 where he was a Senior Writer at The Daily Princetonian and Chairman of the oldest college magazine in the United States, The Tiger. In 1989, Cannell matriculated at New College, Oxford, and studied business at Templeton College. Cannell is the youngest son of Peter B. Cannell, founder of the investment management firm of Peter B. Cannell & Co., Inc. and the youngest grandson of Ferdinand Eberstadt, founder of F. Eberstadt & Co. He enjoys biking, surfing, swimming and skiing. He is a member in good standing of both the Union Club of New York and Brother of the Benevolent Protectorate Order of Elks ("BPOE").
JON GATTMAN
Founder & Managing Partner, Cloverdale Capital
Mr. Gattman founded Cloverdale Capital in October 2014. Prior to its launch, he was a Managing Director at Highside Capital Management, a Dallas-based hedge fund. While at Highside, he analyzed and traded global equities in the technology, business services, healthcare, and consumer sectors. Prior to Highside, Mr. Gattman was an Investment Banking analyst at Alterity Partners, a New York-based, M&A-focused investment bank that was purchased by FTN Financial. At FTN, he covered technology and healthcare M&As and IPOs. Mr. Gattman has a BA in Government from Harvard College.
CLAIRE GOGEL
Founder, Wildwood Capital
Ms. Gogel has been a dedicated short seller for over 20 years. Ms. Gogel is currently managing Wildwood Capital as a small family office. Ms. Gogel is an Independent Director at Crossroads Systems, Inc. Ms. Gogel was an Independent Director and member of the finance and restructuring committee at SunEdison, Inc., and served in that position since 2016 when she was appointed as an independent director by Greenlight Capital. From 2009 to 2014, Ms. Gogel served as a partner and analyst at Greenlight Capital in New York, focused primarily on deep research on short positions. From 2001 to 2009, Ms. Gogel was founder and portfolio manager of Perennial Advisors, a net short hedge fund. Ms. Gogel's professional experience also includes positions as a portfolio manager at Discovery Partners and as a research associate at Cardinal Investment Company. Ms. Gogel is a co-founding Board member and Chair of the Grant Committee for Capital for Kids, and has served in that position since 2005. Ms. Gogel earned a Bachelor of Arts degree with High Honors from The University of Texas at Austin.
GABRIEL GREGO
Managing Partner & Chief Investment Officer, Quintessential Capital
Mr. Grego is the managing partner and CIO of Quintessential Capital, a long/short equity fund based in New York City. Quintessential focuses on value and activist short investing and has built an impressive track record in identifying, investigating and exposing fraud and other serious corporate misbehavior. Among its notable successes, Quintessential shorted and exposed the notorious "Globo Plc", a fraudulent company listed on the London Stock Exchange which completely collapsed only 48 hours following the publication of a detailed report which caused the CEO and CFO to resign and admit all the allegations. Quintessential operates through a so-called "deep due diligence" approach, applying state-of-theart investigative techniques to supplement its more traditional fundamental value analysis.
VICTORIA HART
Portfolio Manager, Pinnacle View Capital
Ms. Hart is the Portfolio Manager of Pinnacle View Capital. Her specialization is in Cyclical sectors (Consumer, Tech, Industrials). Prior to Pinnacle View, she spent four years as a Senior Equity Analyst at East Side Capital, a Sorosbacked and Barron's Top 50 Hedge Fund. Before East Side, she worked for 4 years at Merrill Lynch as a VP in equity research on Institutional Investor ranked teams, where she consistently ranked #1 or #2 in Starmine for EPS accuracy; and she spent five years as an investment banker at Citigroup, Deutsche Bank and DLJ (now CSFB). Her career began in 1996 working for Arthur D. Little in their strategic management consulting practice. Additionally, she is the founder of 7 Degrees in Finance. She received an MBA from Columbia Business School and a BA in Chemistry, with a minor in Economics from Wellesley College.
MARK HILEY
Founder & Managing Partner, The Analyst Research LLP
After graduating in Philosophy, Politics & Economics from St. Anne's College, University of Oxford, Mr. Hiley joined Fidelity International Limited in London in 2001. Time spent at Fidelity – one of the largest financial services groups in the world – provided a grounding in equity research skills and stock picking. In 2004, Mark joined Trafelet & Company UK LLP (now renamed Habrok Capital Management LLP) for the launch of Delta Fund Europe. He worked in the investment team for five years, focusing on shorts, during which time the Fund returned a Net Performance of +43% against the MSCI World Index -15%. His experience at such a successful long/short equity fund provided a broad investing education and an extensive exposure to listed companies around the world and across many sectors. After travelling in early 2009, Mark began investing full time in his best stock ideas. He founded The Analyst in London in 2010; a market-leading and independent research platform, focusing on differentiated equity ideas for like-minded investors. Today, The Analyst serves 50 institutional clients (~200 fund managers) with European idea generation via quarterly fees. We have different service levels and approximately 50 equity ideas long/short in Europe at any time. Our ideas are differentiated and high conviction.
JADE HU
Columbia Business School Contest Team Winner
Ms. Hu is a first-year MBA student at Columbia Business School pursuing a track in investment management. Prior to attending Columbia, Ms. Hu was an Associate at J.P. Morgan where she focused on transportation and logistics within the Investment Banking division. Previously, she covered private equity fund investments at Canada Pension Plan Investment Board. She began her career as an Analyst in the Industrials Investment Banking Group at Citigroup. Ms. Hu received a Bachelor of Science in Business and Finance from Carnegie Mellon University.
JUSTIN HUGHES
Founding Partner & Co-Portfolio Manager, Philadelphia Financial Of San Francisco
Mr. Hughes is Founding Partner and Co-Portfolio Manager of Philadelphia Financial Management of San Francisco "Philly Fin". Philly Fin is a long/short hedge fund focusing in the Financial Services sector. Prior to founding the firm in 2004, Mr. Hughes was a sell-side analyst at Jefferies and Robertson Stephens and has had a particular focus on the Capital Markets sector since 1994. He holds a degree in Economics from University of California at Irvine.
CHRIS IRONS
Founder, Quoth The Raven Research And Senior Business Writer, GeoInvesting
Mr. Irons is the founder of Quoth the Raven Research, LLC and Senior Business Writer for GeoInvesting, LLC, a research firm responsible for exposing over $15 billion in U.S. listed China based frauds. GeoInvesting is featured in the 2018 major motion picture documentary The China Hustle. His work has been featured in the Wall Street Journal, Barron's, CNBC.com, USA Today, Financial Times and numerous other financial media outlets. His idea was a finalist for the 2016 Sohn Investment Idea conference and he speaks annually at numerous investing conferences, including the Traders4ACause Annual Las Vegas Charity Conference. He runs the Quoth the Raven Podcast on iTunes and has written thousands of articles, research reports, and commentaries on the market as a contributor for sites like Seeking Alpha, Motley Fool, and Zerohedge. His website is www.quoththeravenresearch.com and you can follow him on Twitter @ QTRResearch.
ASHER JACOBS
Columbia Business School Contest Team Winner
Mr. Jacobs is a first-year MBA student at Columbia Business School, where he is Assistant Vice President of Competitions for the Columbia Student Investment Management Association (CSIMA). While at Columbia, Asher is also interning as a research analyst at DG Capital Management, a value-based investment firm focused on distressed securities, reorganized equity, and special situations. Prior to attending Columbia, Asher worked as a Tax Consultant for Deloitte's Private Equity group in New York and taught classes at Hebrew University in Jerusalem. He holds a Masters Degree in Accounting from Farleigh Dickinson University, is a licensed CPA, and has passed Levels 1 & 2 of the CFA exam.
JILLIAN MCINTYRE
Chief Investment Officer & Portfolio Manager, 221B
Ms. McIntyre has worked for top tier hedge funds including the UK-based Children's Investment Fund (T.C.I.), Pequot Capital Management and Perella Weinberg Partners. She has also been a sellside analyst at global investment banks including Morgan Stanley and Merrill Lynch. More recently Ms. McIntyre was primarily responsible for equity shorts for White Elm Capital LLC, a spin-off of Lone Pine Capital, which grew AUM fivefold during her tenure. Previously she ran the short book at Chris Hohn's T.C.I., a $20bn long-short fund. Since 1992, Ms. McIntyre's primary industry focus has been global technology, but has expanded her coverage include growth companies within the renewable energy and clean tech sectors. Ms. McIntyre is a dual citizen of both the US and the UK.
MARK ROBERTS
Owner, Off Wall Street Consulting Group
Mark Roberts founded Off Wall Street 28 years ago, on May 1 1990. Mark is Director of Research leading a team of 7 analysts focused mainly on short sales of mid-cap stocks and publishing about 20 new ideas a year. Since inception, through 2017, Off Wall Street has compiled a 76% batting average of success over 545 published recommendations. Off Wall Street's model short portfolio has beaten its benchmark, the inverse of the S&P 500, in every year of its existence. Prior to Off Wall Street, Mark worked at Boyar Research, Homans McGraw, Fidelity, and Baupost Group. Before embarking on a career in finance, he was CEO of Atlantic Steel, a steel service center, and grew a nation-wide chain of retail software franchise stores, Softwaire Centres International. Mark has a B.A. from Swarthmore College and an M.A. from U.C. Berkeley.
MARK SPIEGEL
Managing Member & Portfolio Manager, Stanphyl Capital
Mr. Spiegel is the Managing Member & Portfolio Manager of Stanphyl Capital Partners and is a New York-based equity investor. Prior to founding Stanphyl in 2011, he spent six years as an investment banker (most recently as a Principal with Piper Jaffray & Co.) financing public companies. Prior to becoming an investment banker Mark spent a year working for a microcap Nasdaq tech company, and he began his career with 17 years in the commercial real estate industry where he experienced firsthand the opportunities and challenges faced by a wide array of client companies. Mark believes that all these experiences– banking public companies, working for a public company and securing real estate for a wide variety of companies– combine to provide the kind of "real world" experience that's extremely useful for an investor.
JONATHAN TUNICK
Founder & Chief Investment Officer, Vitalogy Capital
Mr. Tunick is the founder and CIO of Vitalogy Capital Partners Management L.P, headquartered in Chicago. Vitalogy seeks to generate long and short alpha across the capital structure, focusing on corporate dislocations, 'white-hat' shareholder activism, and investigative alpha shorts. Previously, Mr. Tunick was Head of Equity Opportunities at Magnetar Capital. Mr. Tunick served on the investment committee of the event-driven fund. Prior to that, Mr. Tunick was Head of the event-driven strategy and Portfolio Manager at Balyasny Asset Management. Before that, he was a Portfolio Manager at Pentwater Capital Management. Mr. Tunick got his start in the investment business working with former investment professionals of the Field and Pritzker families on various special situations, leveraged buyouts, and constructive shareholder activism. Mr. Tunick received a B.S. in finance and management from the University of Colorado, Boulder.
Kase Learning Speakers
WHITNEY TILSON
Founder, Kase Learning
Mr. Tilson is the founder of Kase Learning, which hosts investing seminars, bootcamps and conferences. Whitney Tilson founded and, for nearly two decades, ran Kase Capital Management, which managed three value-oriented hedge funds and two mutual funds. He is also the co-founder of Value Investor Insight, an investment newsletter.
Mr. Tilson has co-authored two books, The Art of Value Investing: How the World's Best Investors Beat the Market (2013) and More Mortgage Meltdown: 6 Ways to Profit in These Bad Times (2009), was one of the authors of Poor Charlie's Almanack (2005), and has written for Forbes, the Financial Times, Kiplinger's, the Motley Fool and TheStreet.com. He was featured in two 60 Minutes segments in December 2008 about the housing crisis (which won an Emmy) and in March 2015 about Lumber Liquidators.
Prior to launching his investment career in 1999, Mr. Tilson spent five years working with Harvard Business School Professor Michael E. Porter studying the competitiveness of inner cities and inner-city-based companies nationwide. He and Professor Porter founded the Initiative for a Competitive Inner City, of which Mr. Tilson was Executive Director. Mr. Tilson also led the effort to create ICV Partners, a national for-profit private equity fund focused on minority-owned and inner-city businesses that has raised nearly $500 million. Before business school, Mr. Tilson was a founding member of Teach for America and then spent two years as a consultant at The Boston Consulting Group.
Mr. Tilson received an MBA with High Distinction from the Harvard Business School, where he was elected a Baker Scholar (top 5% of class), and graduated magna cum laude from Harvard College, with a bachelor's degree in Government.
GLENN TONGUE
President, Kase Learning
Mr. Tongue is the President of Kase Learning, an educational platform offering a range of programs for people interested in becoming better investors and launching and building a successful investment management business. Mr. Tongue founded Deerhaven Capital Management and was the sole portfolio manager of the Deerhaven Fund, a private investment partnership. Previously he was a General Partner of T2 Partners Management from April 2004 to July 2012 and was the co-portfolio manager of three private investment partnerships.
Prior to joining T2 Partners, Mr. Tongue spent 17 years on Wall Street, most recently as an investment banker at UBS, where he was a Managing Director and Head of Acquisition Finance. Before UBS, Mr. Tongue was at Donaldson, Lufkin and Jenrette for 13 years, the last three of which he served as the President of NYSE-listed DLJdirect, the consistently top-rated on-line brokerage firm. During his tenure, he oversaw both DLJdirect's IPO and ultimate sale. Prior to DLJdirect, Mr. Tongue was a Managing Director in the Investment Bank at DLJ, where he worked on over 100 transactions aggregating more than $40 billion.
Before working on Wall Street, Mr. Tongue managed sales, marketing and certain operations at Blonder-Tongue, Inc., a manufacturer of pay television and cable television distribution equipment. Mr. Tongue has served for many years on the boards of directors of JMP Group LLC, an NYSE-listed public company, and Spencer Holdings, a private insurance company. Mr. Tongue received an MBA degree with distinction from The Wharton School at the University of Pennsylvania and received a BS degree in Electrical Engineering and Computer Science from Princeton University.
SPONSORS
CENTERPOINT SECURITIES is a brokerage firm catering to active traders and institutional money managers. We focus on offering extensive easy to borrow lists with access to hard to borrow stocks, highly competitive rates, a multitude of routing options and high touch customer service through our full-time trading desk. We currently have five different clearing firms giving our clients a wide array of choices, as well as a preferred relationship with Velocity
Capital – the leading hard to borrow lending desk on the street.
VELOCITY CAPITAL is a registered broker dealer specializing in securities lending services. Velocity's customers consist primarily of institutions and other broker dealers that seek securities lending services above and beyond what their prime broker and clearing firms currently offer.
Updated on