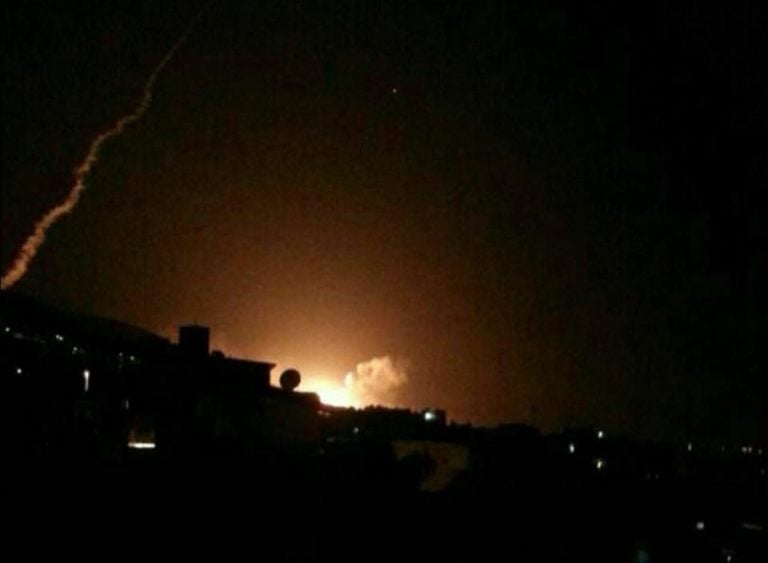 UPDATE 10:00 pm EST:  US along with its allies UK and France have launched strikes on Syria.

Syrian war has been started. Russia and Iran siding with Syria against US, UK and France.‬
‪Syrian air defence systems firing at US missiles. Russian air defence systems now also firing. #Syriawar #Syria #SyriaStrike‬
Scientific research facility and a number of Syrian army bases in Damascus struck in attack – Syrian Observatory
Wave after wave of cruise missiles hitting Syria; it is not stopping. Over 40 minutes of cruise missiles.
Local Sources: #Damascus airport is completely destroyed and the fires could be seen from everywhere
Syrian air defense forces reportedly downed 13 incoming missiles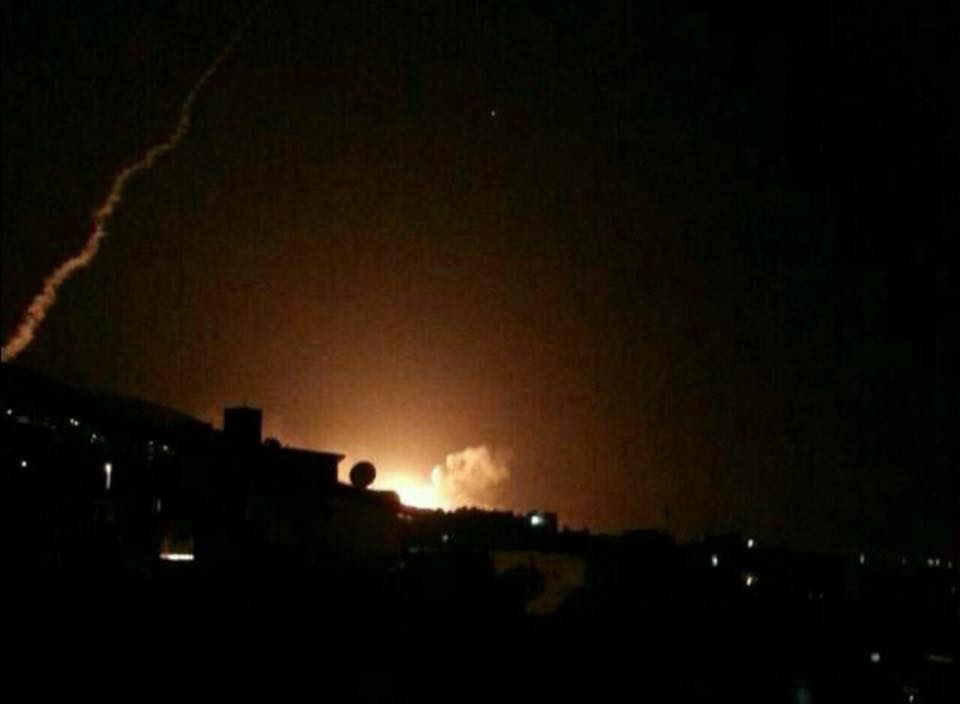 How A Weakening PE Market Serves As Another Sign Of A Weakening Economy
Amid the turmoil in the public markets and the staggering macroeconomic environment, it should come as no surprise that the private markets are also struggling. In fact, there are some important links between private equity and the current economic environment. A closer look at PE reveals that the industry often serves as a leading indicator Read More
VIDEO OF MISSILE ATTACKS:
BACKGROUND:
Last week, President Trump unsettled the world by indicating he would withdraw the 2,000 US troops still stationed in Syria and de-escalate US involvement in the war that has already waged for eight years. Many, including Iranian President Hassan Rouhani, publicly doubted the US President would carry out the exit plan. The Assad regime's alleged use of chemical warfare against the Syrian people last weekend made President Trump's exit plan seem like even more of an impossibility.
Instead, analysts predict the US will become even more involved in the Syrian Civil War, at least temporarily, raising tensions even further with President Bashar al-Assad's allies, Iran and Russia.
"They Will Be Coming"
The civil war in Syria has already been labeled a "proxy war" underscoring the fears of returning to a Cold War era relationship with Russia. President Trump touched on these fears in a series of tweets April 11 about Russia. He wrote, "Our relationship with Russia is worse now than it has ever been, and that includes the Cold War."
As Israel has increased missile strikes in Syria, the US has threatened to do the same. After Russia threatened to shoot down any missiles fired at Syria, President Trump tweeted, "Get ready Russia, because they will be coming, nice and new and 'smart!'" He seemed to walk back somewhat on these comments, tweeting a day later, "Never said when an attack on Syria would take place. Could be very soon or not so soon at all!"
Ending the Iran Deal?
The expected escalation of US involvement in Syria in the face of Assad's chemical warfare raises questions not just about US-Russia ties, but also about the US' strained relationship with Iran.
Next month, President Trump will face to choice whether to continue waving sanctions on Iran under the Joint Comprehensive Plan of Action (JCPOA), also known as the Iran Nuclear Deal. The war in Syria, which has killed at least 500,000 and displaced 12 million, brings into question whether the US will remain in the deal which has been harshly criticized by President Trump. Iran has indicated they will also be willing to walk away from the deal, which was was meant to place restrictions on Iran's nuclear program to ensure it would remain peaceful.
New Trump administration appointments have raised more questions about the fate of the JCPOA. President Trump has nominated former CIA Director Mike Pompeo to serve as Secretary of State. Thursday, during Pompeo's confirmation hearing, he indicated that he would try to "fix" the Iran Nuclear Deal if confirmed. In the past, he has been a strong critic of the deal.
Pompeo also stepped up the rhetoric against Russia, blaming Russia's "bad behavior" for tensions between the US and Russia. He implied future measures, including sanctions, could be taken against Russia, saying, "Vladimir Putin has not yet received the message sufficiently."
Russia Blames "Russophobia"
Earlier this week, the Russian military and Russian Foreign Minister Sergey Lavrov claimed the chemical attacks were "bogus" and staged by rebel militants to solicit positive coverage from the foreign press. Friday, Lavrov changed his sentiments, claiming the attacks were staged by "foreign agents" hoping to frame Assad for waging chemical warfare against his own people.
Lavrov said he has "irrefutable evidence" the attacks were staged by one country, which he did not name, as part of a "Russophobic campaign." Igor Konashenkov, a spokesperson for the Russian Defense Ministry, was willing to be more specific, saying, "We have… evidence that proves Britain was directly involved in organising this provocation."
Despite Moscow's insistence the chemical warfare was falsified, the US and France claim they have seen proof the attacks were indeed carried out by Assad's forces. Thursday, anonymous US officials told NBC News the US has obtained urine and blood samples from victims of the latest chemical attacks in Syria. The samples tested positive for chlorine and an unnamed nerve agent. In the past, the Assad regime has utilized the nerve agent sarin in its chemical warfare.
Nikki Haley, US Ambassador to the UN, said, "We definitely have enough proof but now we just have to be thoughtful in our action."
Proxy Wars à la Cold War
Although the war in Syria has been dominating the headlines, it's hardly the only dangerous proxy war and human rights disaster threatening international peace in the Middle East.
Saudi Arabia and Iran are embroiled in another proxy war in Yemen. A war between the Houthi rebels, backed by Iran, and the former government, backed by Saudi Arabia, has led to a catastrophic civil war and what the UN has called the worst human rights crisis of our time.
Not only are people in Yemen starving and dying from preventable disease due in part to the Saudi naval blockade, but the rebels are threatening to disrupt oil production for the entire region. Last week, the rebels hit a Saudi oil tanker carrying two million barrels of crude oil in the Red Sea with a missile. Wednesday, the Houthis said they launched a drone strike against a facility owned by oil giant Aramco, but did not specify when the attack occurred. Experts worry the highly publicized nature of the Syrian war and the damage caused by the war in Yemen could cause a "fear premium" on oil prices.
Is War Imminent?
Russia has warned they would not only shoot down missiles launched against Syria, they would also target their launch sites if Russian personnel were under threat. This situation presents the possibility that a greater US intervention would put the US in "direct confrontation" with Russia and Iran.
French President Emmanuel Macron has said the use of chemical weapons represents a "red line" for his administration and could justify military intervention. Speaking in a joint press conference with Macron, Saudi Crown Prince Mohammad bin Salman (MbS) indicated KSA would be willing to join in an international effort against Assad, "If an alliance with our international partners requires it, we will be present."
In the past week, Israel has also amped up its attacks against Assad, targeting an airbase and killing 14, including a senior Iranian commander. Israel borders Syria and sees the growing presence of Iranian and Hezbollah forces as a major security threat.
Russia's ambassador to the UN, Vassily Nebenzia, accused the US of putting the world at risk of war. He said Thursday, "The immediate priority is to avert the danger of war."
Antonio Guterres, UN Secretary General, also touched on the fear of a coming war. He said this week the Cold War is "back with a vengeance."
Saturday, a delegation from the Organisation for the Prohibition of Chemical Weapons (OPCW) will begin their investigation into allegations of chemical warfare in Eastern Ghouta, just outside of Damascus.
Updated on