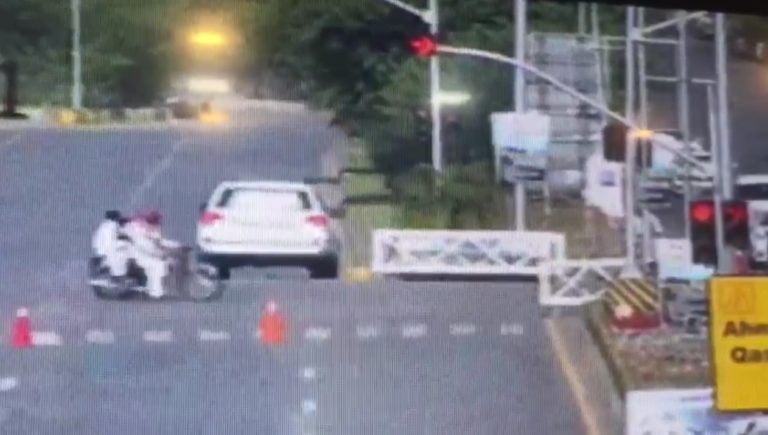 A US military official has been barred from leaving Pakistan after he allegedly struck a motorcyclist with his SUV. Col. Joseph Emanuel Hall, US military attache has been accused of killing a Pakistani man after running a red light.
The accident is said to have taken place on April 7, resulting in the death of Ateeq Baig. Hall enjoys diplomatic immunity so he cannot be arrested or tried for the accident. However, the Baig family has filed a civil suit against his, while the Pakistani government has added Hall's name to a "blacklist." The family hopes to receive financial compensation for the loss. In the meantime, Hall is unable to leave the country according to Pakistan government authorities.
The US embassy is coordinating with Pakistan to resolve the dispute. The embassy was unable to disclose the location of Col. Joseph Hall, but Pakistani officials confirmed that he is still in the country.
Ray Dalio At Robin Hood 2021: The Market Is Not In A Bubble
At this year's annual Robin Hood conference, which was held virtually, the founder of the world's largest hedge fund, Ray Dalio, talked about asset bubbles and how investors could detect as well as deal with bubbles in the marketplace. Q1 2021 hedge fund letters, conferences and more Dalio believes that by studying past market cycles Read More
Col. Joseph Hall Accident
Earlier this month, Hall allegedly ran a red light and hit a motorcycle carrying two men. One of the men, Ateeq Baig, died immediately the other sustained serious injuries. Video footage of the accident has gone viral in Pakistan, leading to public outrage. The US military official was detained by police briefly, but eventually released due to his diplomatic immunity.
Hall has since been hiding out in the US embassy to protect his safety from the angry crowds demanding justice and payment or "blood money."
Richard Snelsire, spokesperson for the US embassy in Islamabad said, "At this stage we are fully cooperating with the local police and authorities who are investigating the case."
Blood Money
Despite Hall's diplomatic immunity, Islamic laws complicate the matter. Families are allowed under Islamic law to bring a killer to justice, often leading to feuds generations long and retribution killings. However, victims' families are also able to pardon a killer after they receive compensation for the death. These deals are sometimes referred to as "blood money." In Islam this kind of payment is called diya.
The Quran explains:
It is not for a believer [Muslim] to kill a believer unless (it be) by mistake. He who hath killed a believer by mistake must set free a believing slave, and pay the blood-money to the family of the slain unless they remit it as a charity. If he (the victim) be of a people hostile unto you, and he is a believer, then (the penance is) to set free a believing slave. And if he cometh of a folk between whom and you there is a covenant, then the blood-money must be paid unto his folk and (also) a believing slave must be set free. And whoso hath not the wherewithal must fast two consecutive months. A penance from Allah. Allah is Knower, Wise.
Pardons can also be granted in the name of Allah.
The victim's family rallied in Pakistan's capital Islamabad this week demanding justice. Street protesters gathered holding signs accusing Hall of murder. One woman held a sign reading, "Diplomatic immunity means license to kill?" Another sign read, "Why killer is not behind bars?" Baig's father, Idris Baig, has indicated in the past that he is willing to issue a pardon, should certain conditions be met.
The family has asked for $1 million in compensation. Braig's father, spoke to the New York Times this week after demonstrations were held in Islamabad on Wednesday, making it clear that the family wants compensation and justice.
"We are ready for agreement but on the condition of his arrest." The bereaved father went on to say, "We haven't even seen the killer once — no one from the Pakistan government or U.S. Embassy official came or offered us an agreement."
Government Negotiations
While negotiations continue, Pakistan has added Hall's name to a travel blacklist so he is unable to leave the country. The list is held by border control authorities, allowing them to bar the US military official's exit should he try to leave Pakistan.
With the growing protests and the demands of Baig's family, the Pakistani government has requested that the US waive Col. Joseph Hall's diplomatic immunity so a trial can proceed. This is a relatively rare occurrence. It does not seem likely that the US will waive immunity, especially in light of the recent poor relations with Pakistan. Pakistan's Foreign Ministry claims the US has refused to waive the immunity.
A senior State Department official, Alice Wells, is now handling the scandal. Wells landed in Islamabad on Monday to carry out negotiations with the Pakistani government. Details of the conversations between the two entities are not yet available.
Troubled Relationship with Pakistan
The US Military official scandal is the latest development in worsening relationship between the United States and Pakistan. In January, the US announced they would be ending over $1 billion in aid to Pakistan citing Islamabad's alleged support of terrorists networks. President Trump claimed Pakistan is providing safe haven to terrorists fleeing Afghanistan, allowing them to reorganize and launch fresh attacks against the US led forces in Afghanistan.
The Hall incident is similar to the 2011 case of Raymond A. Davis, a CIA security officer who shot and killed two men in Lahore. Although both men were armed at the time they were killed, the incident led to a diplomatic rift between Pakistan and the US. Public outrage in Pakistan caused the US relationship with Pakistan to worsen to levels nearly as bad as those seen just after the 9/11 attacks.
Eventually, the case was settled through a secretive blood money payout to the families of the victims. After a $2.3 million payment, a judge acquitted Davis and he was release from custody and able to leave Pakistan.
At the time, the US held that Davis should not face trial due to diplomatic immunity. Then President Barack Obama said, "There's a broader principle at stake that I think we have to uphold."
US officials are hoping the situation with US Military official Col. Joseph does not devolve to that seen in the Davis case in 2011. The embassy has issued its condolences to the victim's family.