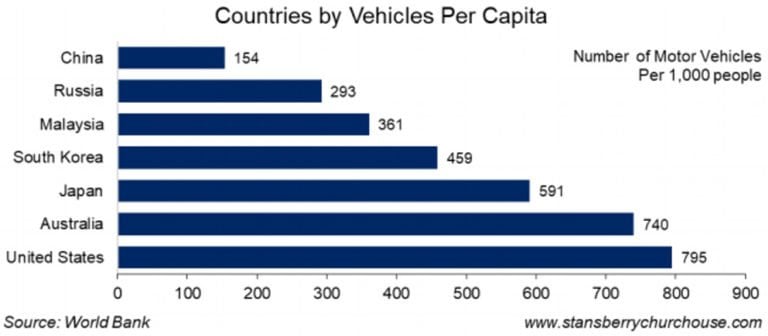 I visited Beijing for the first time in 1983.
My to-do list included the same things that it would today – a visit to the Forbidden City and Tiananmen Square, the Summer Palace and a drive out to the Great Wall.
Seth Klarman Describes His Approach In Rare Harvard Interview
In a rare interview with Harvard Business School that was published online earlier this month, (it has since been taken down) value investor Seth Klarman spoke at length about his investment process, philosophy and the changes value investors have had to overcome during the past decade. Klarman's hedge fund, the Boston-based Baupost has one of Read More
But the first challenge was how to get around to see the places on my list. There was no mass transit system. There were no taxis cruising the streets of this city of nearly 10 million people.
Instead, there were four kinds of vehicles in the city. Buses, or electric trolley busses, were bursting with people and clogged the main roads. There were some large trucks belching steam and smoke as they carted goods around the city. A smattering of smaller vans and jeep-like vehicles were also a common sight. And then there were the occasional black shiny limo-like vehicles with darkened glass windows and little flags on the bonnet.
It was staggering to me that there were no private vehicles in Beijing, or any other large cities in China. Even the very poorest countries I had made my way through in Africa in the 1970s had vibrant car markets and widespread car ownership.
In 1985, not long after my first visit to Beijing, the total number of vehicles in all of China was just 1.78 million. That's tiny in a country with a then population of 980 million people. By contrast, greater London, with a population of 8.5 million people, is home to 2.56 million vehicles.
And private car ownership in 1980s China was virtually unheard of, a rare luxury. In 1985, less than 2.5 percent of all passenger vehicles were privately owned. It was not until 1994 that the government started encouraging private car ownership.
The Chinese have adopted the automobile with a vengeance since then
Since 2009, China has been the largest passenger car market in the world. It accounts for nearly a third of global car sales annually. Whilst the days of double-digit annual growth are behind us (we're expecting around 4 percent growth in passenger car sales in 2018), there are pockets of the sector that are poised to grow around 15 percent annually in the coming years.
So what's driving this growth?
In short, China's middle class.
We have long pounded the table on the importance of the Chinese middle class. Just 4 percent of China's urban population was considered middle class in 2000. Fast forward to 2022, and that figure will be a whopping 76 percent. That's over 550 million middle-class people in China (urban households earning US$9,000 to US$34,000).
A growing middle class means Chinese consumer spending is surging too – it's set to increase 55 percent between 2015 and 2020 to US$6.5 trillion, according to Boston Consulting Group.
This has been one of the main drivers of car sales in China over the past few years.
In 2008, just 6.76 million passenger cars were sold in China. In 2017, the figure was 24.72 million… a 265 percent increase in the space of a decade. (By contrast, in the U.S. last year there were 6.3 million passenger car sales.) And passenger vehicle sales in China grew at 17 percent per year in the decade through 2016. This is extraordinarily high.
But despite its high growth, China still has very low national car ownership rates, along with rapidly increasing real disposable incomes. And car ownership remains low by global standards.
As the following chart shows, China has around 154 vehicles per 1,000 people. This is still a fraction of other regional developed and developing countries.
China's lower-tier cities are going to be the major driver of consumption growth going forward.
China introduced a tiering system for its cities in the 1980s according to urban and infrastructure development needs, and has since become a proxy for societal classification, i.e., Tier 1 cities are the "wealthiest", whereas Tier 4 are the "poorest" (on a per capita basis).
Around 80 percent of all urban population growth over the next decade is going to be in lower tier cities. And bear in mind, China's real disposable income per capita is growing at high single-digit rates. Wealth is spreading and building in the lower tier cities, which are the engines of Chinese growth. And these cities have significantly lower car penetration rates than the wealthier tier 1 and upper tier 2 cities.
In short, there's still a lot of room for the car market – especially in lower tier cities – to grow. So if you don't have any exposure to Chinese automobile manufacturers in your portfolio, now would be a good time. (We recently recommended a great option in The Churchouse Letter.)
Good investing,
Peter Churchouse
Article by Stansberry Churchouse
Updated on