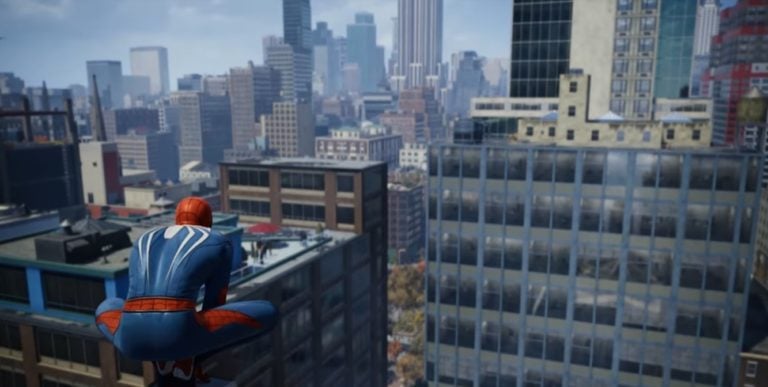 A recent tweet from Insomniac Games confirms that news regarding the Spider Man PS4 Game release date is coming soon, which should give us insight into when exactly we'll see the upcoming title.
The tweet, included below, was a nonchalant response to a random tweet asking about when the Spider Man PS4 release date would be, and has fans of the superhero extremely excited for the next entry in this incredibly successful video game genre. In addition to new gameplay footage, there was also more information about the process of making the game as well as different paths that gamers can take throughout the story. Overall, it seems like a Spider Man PS4 game that gives players much more freedom to explore as Spidey.
While we have seen more information regarding the game, including the Spider Man PS4 release date, we don't actually know too much about the game itself. We do know, however, that the game will have a focus on playing Peter Parker in addition to the suited superhero. It's an interesting choice in a genre that usually focuses almost entirely on the superhero with little concern for the actual identity of the man or woman behind the costume. While some superheroes are public about their identity, others are more secretive and less willing to divulge their citizen identity. Having the opportunity to experience both normal life as Peter Parker and the heroics of a superhero should allow the Spider Man PS4 title to take an interesting departure from the genre.
Gator Financial Partners 1H2022 Performance Update
Gator Financial Partners letter to investors for the first half of the year ended June 30, 2022. Q2 2022 hedge fund letters, conferences and more Dear Gator Financial Partners:  We are pleased to provide you with Gator Financial Partners, LLC's (the "Fund" or "GFP") 1st Half 2022 investor letter. This letter reviews the Fund's 1st Read More
The game will feature multiple options for players to choose from, as mentioned above. There are also different options for the players to choose from when it comes to crafting Spider Man's suit, which should add some complexity and allow players to customize their hero to their liking. Being able to choose a play style that is uniquely suited to each gamer will likely make the Spider Man PS4 game a more unique experience, and the game – at least from what we've seen so far – is shaping up to be a delightful experience for fans of all things superhero – adding some complexity and deep customization options to a genre which has typically been light on that front.
As far as the actual release date of the Spider Man PS4 game goes, we'll have to wait until the official announcement. The game is likely still a few months out, considering it hasn't even been announced yet, but we could see a launch as soon as June for the hotly-anticipated title that has fans around the world at the edge of their seats for the opportunity, once again, to take control of Spider Man and spend countless hours fighting crime around the city.
Keep an eye on the Insomniac Games twitter included below in order to receive updates on the actual release date.
So they are going to reveal it by the end of the coverage ??

— Abdullah Al Marhuby (@Almarhuby) April 3, 2018
Updated on