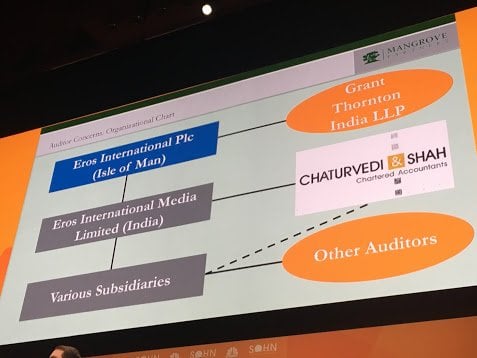 Nathanial August's detailed notes from the 2018 Sohn Conference, discussing his new short Eros International plc (NYSE:EROS).
Q1 hedge fund letters, conference, scoops etc
Premium coverage on the 2018 Sohn Conference in NY can be found here
Sohn Investment Conference 2021 Coverage: Octahedron Capital, Glenernie Capital
The following is our rough coverage of the 2021 Sohn Investment Conference, which is being held virtually and features Brad Gerstner, Bill Gurley, Octahedron's Ram Parameswaran, Glenernie's Andrew Nunneley, and Lux's Josh Wolfe. Q1 2021 hedge fund letters, conferences and more Keep checking back as we will be updating this post as the conference goes Read More
Sohn Conference 2018 main event here
I got this fuking thorn in my side and it refers to Eros International, LLC (Eros).  A little bit of background – production and distribution in Bollywood films.  It also has an OTT platform, Eros Now – "Netflix of India".  It reports under three segments – theatrical, TV syndication, digital & ancillary.
With sum of parts valuation, implied share price of $10.93, only 7% below current so why not like?  First Question, what are theatrical revenues? The company has shifted towards low budget films (3/4 produced on YTD basis) – cost less than $1MM in production costs.  Despite this shift, theatrical revenues are at an all-time record at $3.5MM per film.  And yet, the number of films have collapsed by 2/3s to only 21 on an LTM basis.  And this is a small enough # of films to go through 1 by 1 to get a view on how those films did.
I took the most aggressive estimates I can find on third party data.  Sarkar 3 is most important – distributor typically keeps 50% of box office, so $1.4MM to EROS and then so on to get to $3.4MM in distributor share of revenue estimate for Q1'18.  As compared to the $23.6MM that EROS reported.  That is an 86% discrepancy.  Things aren't better for the second quarter – $9.3MM vs. $19MM as reported by the company (52% discrepancy).  And most recent quarter, distributors share estimate was 0.3MM compared to $12.9MM reported by the company (98% discrepancy).  Company reported average of $3.5MM per firm. Independent estimates about $800K per film.  Between 2009 – 2011, reported average theatrical revenue of $600K.  The company's DS0s have increased 99 in FY08 from to 407 in most recent quarter.