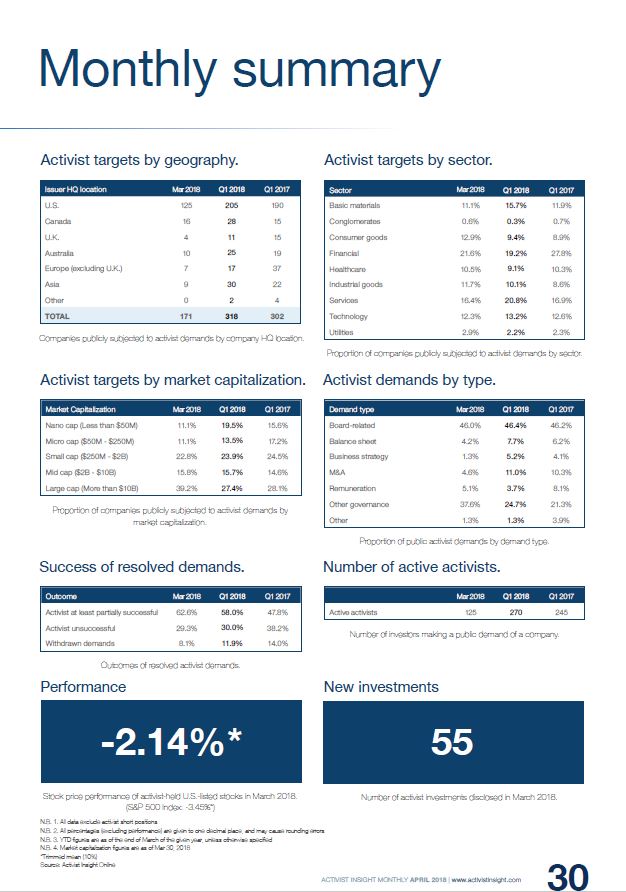 Please see below a fact-sheet containing statistics on activist investments from March 2018 (click on the image itself for a clearer view).
The number of companies publicly subjected to activist demands rose in Q1 2018 by comparison with the same period a year ago, led by the hot starts in the U.S., Canada, and Asia. European and U.K. campaigns were less numerous than in the same period a year ago, however.
Dan Sundheim Founder Of D1 At Sohn 2021 On His Favorite Stock
At this year's Sohn Investment Conference, Dan Sundheim, the founder and CIO of D1 Capital Partners, spoke with John Collison, the co-founder of Stripe. Q1 2021 hedge fund letters, conferences and more D1 manages $20 billion. Of this, $10 billion is invested in fast-growing private businesses such as Stripe. Stripe is currently valued at around Read More
Another notable data point highlights a move away from financial targets to basic materials, services, and industrials as a proportion of the total.
For any questions about the data, or if you have a follow-up request, please contact Josh Black at [email protected] Please note that bespoke data requests may take 24-48 hours depending on the amount of manual work required.
We look forward to assisting you with your articles.
Kind regards,
Josh Black
About Activist Insight 
Since 2012, Activist Insight (www.activistinsight.com) has provided its diverse range of clients with the most comprehensive information on activist investing worldwide. Regularly quoted in the financial press, Activist Insight is the trusted source for data in this evolving space. Activist Insight offers five industry-leading products: Activist Insight Online, Activist Insight Shorts, Activist Insight Governance, Activist Insight Vulnerability – a tool for identifying potential activist targets – and Activist Insight Monthly – the world's only magazine dedicated to activist investing.