Note: The following is a note I sent to Saber Capital Management investors. Saber manages separate accounts for clients using a value investing strategy. If you are interested in learning more about Saber Capital's investment approach, please feel free to reach out to me at [email protected]. 
Q1 hedge fund letters, conference, scoops etc
Exclusive: Third Point is diving into the private and SPAC markets [In-Depth]
Dan Loeb's Third Point returned 11% in its flagship Offshore Fund and 13.2% in its Ultra Fund for the first quarter. For April, the Offshore Fund was up 1.7%, while the Ultra Fund gained 2.3%. The S&P 500 was up 6.2% for the first quarter, while the MSCI World Index gained 5%. Q1 2021 hedge Read More
Dear Investment Partner,
Last month, I had the great privilege to visit Markel and speak with Tom Gayner and a few of his colleagues at Markel in Richmond, Virginia. Markel has always been a company that I've greatly respected, in large part thanks to the leadership of Tom Gayner, who has done an outstanding job stewarding the culture that the Markel family established and maintained over many decades. I wrote about my thoughts on Markel as an investment idea a few years ago, which you can review if you're interested in reading more about the business.
At our meeting, I gave a brief presentation to the Markel guys about my thoughts on a few of the stocks we own, including Google and Facebook, which are my two most recent investments.
I'll have more to say about those two companies in upcoming investor letters, but I believe these are two more examples of how large cap businesses can at times become undervalued, regardless of how widely-followed they are. Apple and Tencent are examples of how even the largest companies in the world can be significantly mispriced from time to time, and I believe Google and Facebook are also in this camp at the current time.
This presentation was not designed to be a comprehensive discussion of these firms, but rather just an overarching view of some of the common denominators I have found in a few of these high-quality technology companies. Part of the presentation uses some slides from a talk I did on Tencent last year (see that original Tencent presentation here).
Again, I'll have more to say on these companies over time, but I wanted to pass this presentation along for you to review. I updated the numbers in the talk to reflect the current valuation as of now:
---
Discussion with Markel The Common Denominator: Tencent, Facebook, Google
Saber Approach - 2 Buckets
"Every day you either get better or you get worse." - Former Michigan football coach Bo Schembechler
There are two types of companies in the investable universe:
Bucket A) Those that are growing their intrinsic value over time
Bucket B) Those that are shrinking their intrinsic value over time
Money can be made in either bucket, but I prefer to stick with Bucket A.
Saber Approach - 2 Categories of Investments
Within "Bucket A" (the companies that are growing their value over time), there are two sub-categories:
Category 1: "Compounders" - Growing Companies with a Long Runway
Category 2: "Stalwarts" - Durable, Mature Companies at a Discount
Saber's investments typically fall into one of those two categories.
Category 1's are very rare but can produce large winners;
Category 2's yield lower profits but occur much more often.
Even Large-Caps Get Mispriced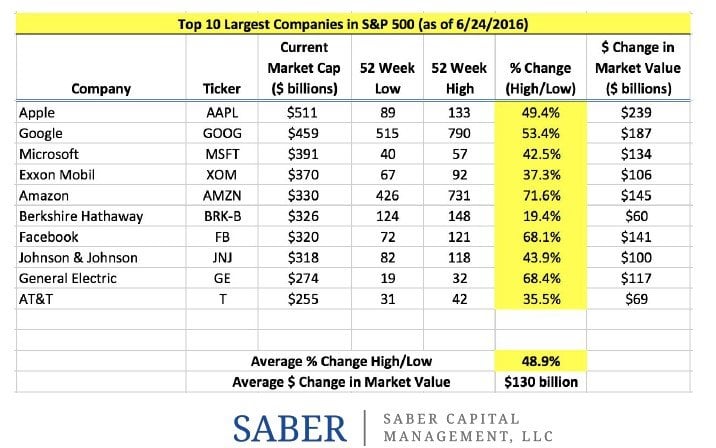 What is the Common Denominator?
What do all of these companies have in common?
Facebook
Amazon
Netflix
Google
Tencent
JD.com
Common Denominator #1 - Culture
Culture
Mission-Driven Focus
Most Important Moat (User Experience and Customer Value)
"I think of our engineers as missionaries, not mercenaries" - early Googler
Most Important Moat
The most important moat is a company that is focused on providing great value for its customers over the long-term.
Technology touches all industries today
Change is much more inevitable and occurs much more rapidly
I believe the most effective antidote to "disruption" is a management team that is driven by something larger than profits
A company that is motivated to provide great value for its users and customers has the potential to establish a long-term advantage over the vast majority of companies that manage their businesses for the short-term
All of those companies offer the customer/user significant value:
Facebook - free social connections/chat; high ROI for advertisers
Amazon - incredible convenience (in addition to low prices and wide selection)
Netflix - large library of movies and shows at a fraction of your cable bill
Google - indispensable search tool, email, maps, storage, video (all free); high ROI for advertisers
Tencent - indispensable app for anyone living in tier 1 or tier 2 cities in China; great value in a variety of other products for both users and businesses that desire to reach those users
JD.com - speedy delivery, authentic merchandise, low prices
Mission-Driven Companies
"Our mission is to make the world more open and connected" - Facebook Mission Statement
"We don't wake up in the morning with the primary goal of making money, but we understand that the best way to achieve our mission is to build a strong and valuable company." - Mark Zuckerberg, Letter to Prospective Shareholders (IPO Prospectus)
"I look at people here as missionaries, not mercenaries." - Alan Eustace, an early Google engineer
See the full PDF below.
---
I value your partnership, and I appreciate your trust and confidence in me as your manager. Please reach out should you have any questions about anything in this email (or anything else).
Thank you!
John Huber
Managing Member, Portfolio Manager
Saber Capital Management, LLC