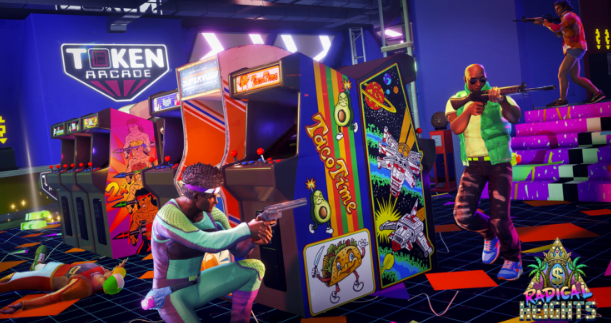 Battle Royale is currently the most popular mode in the gaming industry, and is attracting more and more developers towards it. The genre, which is dominated by immensely popular games like Fortnite: Battle Royale and PlayerUnknown's Battlegrounds (PUBG), is getting one more game, this time from Boss Key Productions.
On Monday, Boss Key Productions, which just last week admitted the lack of popularity for its premiere game Lawbreakers, announced that it is working on its next game, Radical Heights, a free-to-play battle royale shoot.
Since the battle royale space is already crowded, to make its game unique, Boss Key Productions is focusing on the styling of the game, giving it a colorful, cheesy '80s aesthetic. Also, the game has a murderous element, which according to the developer, complements the game's theme "Cash is king." As you might have guessed, Radical Heights will be about players fighting and killing each other for cash and prizes.
Looking Into the Gaming Industry with VanEck's JP Lee
ValueWalk's Raul Panganiban interviews JP Lee, Product Managers at VanEck, and discusses the video gaming industry. Q4 2020 hedge fund letters, conferences and more The following is a computer generated transcript and may contain some errors. Interview With VanEck's JP Lee ValueWalk's ValueTalks ·
"We're huge fans of Battle Royale games along with the bright, inviting irreverence of the '80s aesthetic. Because of that, we want to put our own spin on the genre and create a futuristic '80s world that takes place in 2023 during an over-the-top game show where contestants battle it out for fame and prizes," said Zach Lowery, Radical Heights creative director, in a statement, according to Variety.
Talking further of how the game is different, the developer said that it is the only game where in-game cash would carry over into future matches. "Play matches, collect cash, kill contestants, interact with game show elements and more to buy cosmetics from your personal prize room, or put some of that sweet cash in your bank to help buy a weapon next match quicker than your opponents. The choice is yours," Boss Key Productions said in a press release.
Radical Heights' official trailer suggests that the players will have the option of depositing and withdrawing in-game cash during the middle of matches. The trailer also reveals players performing stunts on colorful BMX bikes.
The game will go live as an early-access title on Steam. The early access will include Cash Grab, Mystery Door and Spin Wheel, a spokesperson tells Variety. In the Cash Grab, the in-game cash will drop from the sky in an open area for a limited time. Spin wheels will also drop from the sky randomly, but players would have to interact with the wheels to get unique rewards. A mystery door appears randomly in the game world and reveals random loot.
Players can use the cash to buy 80s-themed cosmetics, weapons, and gadgets (like confetti bombs, inflatable decoys, and remote bombs). Boss Key Productions says that it will use players' feedback to better the game, and will even allow the community to "guide development decisions."
"We love open development and we cannot wait to establish this rapport with fans," the developer says.
Though it's a free-to-play title, players can buy a Founder's Pack, which comes with exclusive items and bonuses, for $14.99. To avoid the perception of "pay-to-win" mechanics, the developer has confirmed that any real money spent on in-game purchases will not give players any gameplay advantages.
Separately, talking of the LawBreakers last week, the developer said that the game has failed to "find enough of an audience to generate the funds necessary to keep it sustained in the manner we had originally planned." Even before this acknowledgment from Boss Key Productions, it was quite clear that the gravity-defying shooter from Gears of War creator Cliff Bleszinski has failed to attract audiences.
Despite offering new game modes and free-play weekends, players have stayed away from the game. As of now, it isn't exactly known what the developer has planned for the game, but it is almost confirmed that it won't be made free-to-play (F2P), at least for the time being. The developer notes that though making it F2P will be the "easiest change to make," it would need "publishing planning and resources to do it."
Also, making a game F2P is no guarantee of its success. Online shooter Evolve from Turtle Rock is a big example of that. This doesn't mean that the developer is abandoning the game altogether. The game will continue to receive support as it is. Going ahead, the game may see a major upgrade, but not right now, as the developer is focused on its battle royale game.