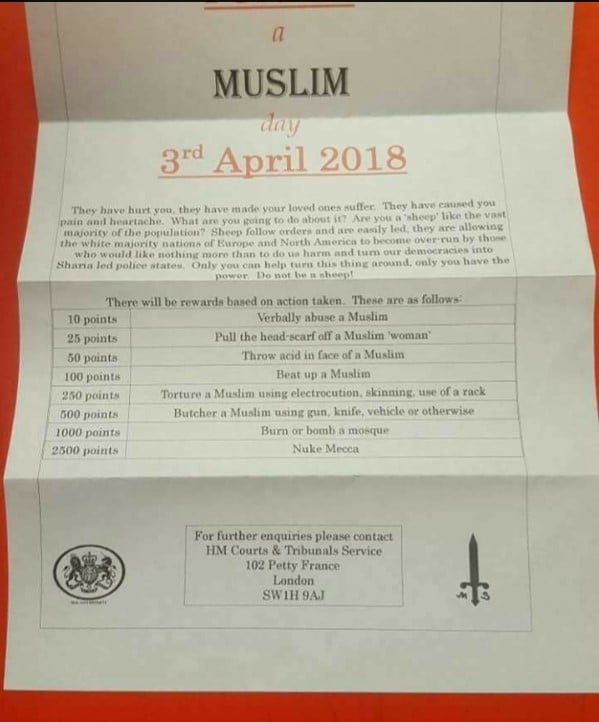 Anti-terror police in the UK are investigating what appears to be a white nationalist letter invoking violence against Britain's Muslim community. Muslim women have been warned by community leaders not to pick their children up alone from school or be seen wearing a hijab after a letter circulated around the UK advocating to make April 3rd Punish a Muslim Day.
Punish A Muslim Day Letters
Last month, people across the UK reported receiving a letter declaring April 3rd as Punish a Muslim Day. Copies of the letter allegedly sent out to UK citizens can be seen across the Internet. Tell Mama, an NGO dedicated to documenting and eradicating Islamophobia in the UK, has reported they have documented 20 instances of the Punish a Muslim Day letters being received around the UK.
Exclusive: Voss Value Launches New Long Only Special Situations Fund
Since its inception in January 2012, the long book of the Voss Value Fund, Voss Capital's flagship offering, has substantially outperformed the market. The long/short equity fund has turned every $1 invested into an estimated $13.37. Over the same time frame, every $1 invested in the S&P 500 has become $3.66. Q1 2021 hedge fund Read More
The letter lists a point system which grants participants points for harassing, torturing, and killing Muslims. The yet unknown authors of the letter promise rewards "based on action taken" to participants.
The list begins with 10 points for verbal abuse, 25 points for pulling off a Muslim woman's hijab, 50 points for throwing acid, escalating to 1000 points for bombing a mosque and 2500 points for those who "nuke Mecca." When referring to Muslim women, woman appears in quotes, implying the organizers somehow do not see Muslim women are real women. UK news outlets blurred out the more violent parts of the letter.
Some of the eight proposed "punishments" are quite graphic, evoking images of Nazi Germany. 250 points are granted for torturing a Muslim "using electrocution, skinning, or use of rack." 500 points are given to those who "butcher a Muslim using gun, knife, vehicle, or otherwise." The letter does not indicate where one is meant to find a rack readily available for torture in the 21st century or how to obtain a nuclear warhead, underlining the absurdity of the call to violence as well as the potential that Punish a Muslim Day might be a joke, although a sick one. Whether the authors of the letter were serious in their calls to torture and kill Muslims, the Muslim community, especially women, are disturbed and remain on high alert.
A Muslim cafe owner in Manchester, Manzoor Ali, said, "It's astonishing that people want to spread this hate. Even if they're joking, people latch on to it. The person behind this has lit a match and those sharing it are throwing fuel on the fire."
The letter motivates participants to attack Muslims with an injunction to "not be a sheep." The letter reads:
They have hurt your, they have made your loved ones suffer. They have caused you pain and heartache. What are you going to do about it? Are you a 'sheep' like the vast majority of the population?
The letter is filled with white nationalist and racists rhetoric. It goes on to say:
Sheep follow orders and are easily lead, they are allowing the white majority nations of Europe and North America to become over-run by those who would like nothing more than to do us harm and turn our democracies into Sharia-led police states. Only you can help turn this thing around, only you have the power. Do not be a sheep!
Extreme Caution
Muslim leaders have informed female community members to practice extreme caution on the so-called Punish a Muslim Day. Women are being told to travel in groups, cover their hijabs with hats, and to calmly explain the risk to their children. A message circulating on Whatsapp recommended women stay inside on April 3rd.
Iman Atta, the director of Tell Mama, gave advice to the UK's Muslim community ahead of Punish a Muslim Day:
We've put security bulletins with safety tips out through police forces but also through our own database. The advice is to continue with your daily activities and don't stay indoors as some messages circulated on WhatsApp have told people, but to be alert and vigilant and if you see anything suspicious, report it to police and Tell Mama.
UK police report they have received "no credible information" that any hate crimes would be carried out on Punish a Muslim Day, but remain on high alert.
A spokesperson for the Metropolitan Police told The Standard:
The Metropolitan Police Service is aware of continuing concerns circulating in the community about some correspondence that has been widely shared on social media. At this time there is no credible information to suggest there is any criminal activity that will take place. However, we recognise the alarm and distress such messages cause and an investigation led by Counter-Terrorism Policing North-East, and supported by the Metropolitan Police Counter Terrorism Command, is ongoing to identify those responsible.
The Metropolitan Police recommends London residents take part in a social media campaign against the hate. A spokesperson said, "We will be encouraging local faith and community networks to take part in a '#westandtogether' campaign to demonstrate once again that London is a tolerant city, proud and protective of all its diverse communities and a city the Met is proud to represent."
"Love a Muslim Day"
In response to the disturbing calls to Punish a Muslim Day, a number of solidarity events have been organized around London and other major cities to support Muslim communities in the UK. A human chain of solidarity will be formed around the East London Mosque at 6:15 pm GMT. The anti-racism organization, Stand Up To Racism, will be hosting "No to Islamophobia" events across the UK and are offering an anti-Islamophobia sign for free download online.
Last month, Shahab Adris, who works for Muslim Engagement & Development, an anti-Islamophobia NGO, sent out "Love a Muslim Day" letters, echoing the format of the Punish a Muslim Day letters. He turns the point system into "something lovely" by recommending acts of kindness that can be taken towards Muslim community members instead of the violent acts proposed in the Punish a Muslim Day letters. Adris recommends smiling at a Muslim or conducting a fundraiser for the needy. With a hint of humor, Adris also reminds readers of all the "curries and kebabs" made by Muslim members of the community.