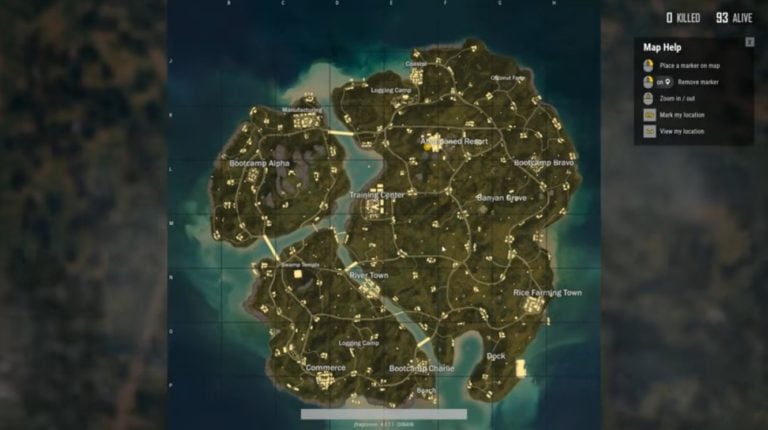 News regarding the new Savage arena for PlayerUnknown's Battlegrounds has been circulating around the web, and gamers are chomping at the bit for a chance to experience the excellence that this new design direction has to offer. The PUBG Savage map key is available now for testers, but there's a limited supply available at this time, making them a hot commodity.
If you can manage to get your hands on a PUBG Savage map key, you'll be able to jump in and experience a brand new environment to fight for the top spot of this battle royale arena. With a smaller 4x4KM size that is roughly half the size of the previous maps, the matches are sure to be more action-packed and much faster than the more traditional maps. With a lot of persistence and a little bit of luck, you can now receive a PUBG Savage map key and give the mode a try yourself.
In order to vie for a PUBG Savage map key, you can visit the mapbeta website at mapbeta.playbattelgrounds.com and see if there's an access key available. If you're lucky, you'll receive the key you need to become a tester and help the development team further refine this brand new mode that is sure to provide many gamers with many hours of enjoyment.
Exclusive: Dan Loeb's Two New Stock Picks [Q1 Letter]
Third Point's Dan Loeb discusses their new positions in a letter to investor reviewed by ValueWalk. Stay tuned for more coverage. Loeb notes some new purchases as follows: Third Point's investment in Grab is an excellent example of our ability to "lifecycle invest" by being a thought and financial partner from growth capital stages to Read More
The PUBG Savage map key further expands the functionality and features of one of the hottest games of the past year. When PUBG first released, it quickly gained a large amount of traction – climbing the ranks on Steam where it continues to rank highly for concurrent players to this day. The growth of the game only seems to continue, and while the game has had its share of missteps, those problems were balanced out by the incredible success of the game overall – and the PUBG Savage map key allows an early selection of gamers to experience the change first hand.
With the release of PUBG Mobile, many new gamers flocked to the game. With accessibility on over 500 Android devices and a number of recent iOS options, it contributed even more hype to a game that has defined a genre and inspired other popular alternatives such as Fortnite – a game that has exploded in popularity and has proven a strong competitor to the dominance of PUBG.
In addition to a smaller size, the PUBG Savage map key gives users access to a much more varied environment. With each map release, the developers have taken a step forward when it comes to adding diversity and a more rich gaming experience to their title. Until now, however, it has seemed like we were seeing a lot of the same thing with little variation in terrain or environment. With the release of PUBG Savage, gamers will explore a more compact map that seems to be inspired by a more forested Asian locale. With temples and villages and mountains and streams, it's overall a more interesting experience than the rather barren landscape of the original maps.
As mentioned above, the PUBG Savage map key is available now on the mapbeta website, so try your luck and see if you can get into the hottest map from the hottest game in recent history.