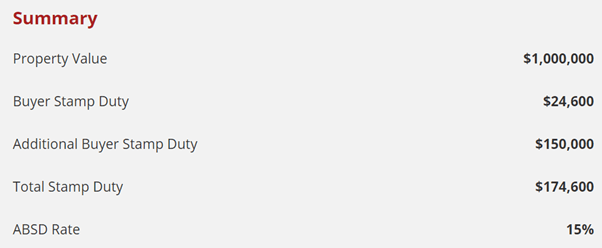 Investors have plenty of different asset classes to invest in. I list down my own thoughts on the major pros and cons of each in regards to each. This week, I talk about residential property.
[REITs]
Corsair highlights SPAC FG New America ahead of OppFi merger
Corsair Capital highlighted its investment in a special purpose acquisition company in its first-quarter letter to investors. The Corsair team highlighted FG New America Acquisition Corp, emphasizing that the SPAC presents an exciting opportunity after its agreement to merge with OppFi, a leading fintech platform powered by artificial intelligence. Q1 2021 hedge fund letters, conferences Read More
Singapore Residential Property
Most investors are most familiar with this – and it is not uncommon to hear investors bemoan the fact that they should have just put most of their money into buying properties instead when they were young.
The pros of buying property are summarized:
Investors are able to focus easily on the "fundamentals" like location, rental yields easily
Investors are able to obtain long-term mortgages to enhance their returns via leverage
Although I am actually quite positive on the short to mid-term outlook of residential property, there are several major points that should give new investors pause:
Frictional costs of buying an investment property were already high but have increased dramatically because of government intervention
Actual net rental yields are very low – you are essentially betting on capital appreciation or a rise in rents down the road
Interest rates are rising thereby increasing the cost of financing
The biggest frictional cost today in buying an investment property is ABSD (ranging from 7% to 15% depending on your tax status).
This dramatically alters your future return and even your break-even price of the property.
Other frictional costs are well covered in a great article entitled Your REAL Rental Yield in Singapore is likely ZERO.
Low Rental Yields, High-Interest Rates
The second point regarding low rental yields and rising interest rates are related.
Singapore and Hong Kong suffer from a similar problem in that we have excess liquidity in the system. There's plenty of money sloshing around from excess savings (and the fact we are a financial hub).
Compounding that is our small geographical landscape (w.r.t this point Hong Kong in a much better place as investors can invest in other regions where there is less competition in the Pearl Delta Region in places like Guangzhou, Zhu Hai etc).
As a result, you have a situation whereby asset prices are relatively high, especially in comparison to their rental yields.
Adding to the problem is that interest rates are rising. SIBOR has already started to rise thereby making home loans pricier. This is in my view just the start as we are early on in the interest rate hike cycle.
As a result, investors may find that with ever-increasing interest costs, their rental yields may go to zero or even negative.
Loan Amount: $1,000,000
Loan Tenure: 25 Years
Source: Property Guru Mortgage Repayment Calculator
The end game for some investors could then be capital gains – but as mentioned earlier, investors are already penalized on the get-go because of stamp duty (SD) and additional stamp duty (ABSD) thereby.
Illustration: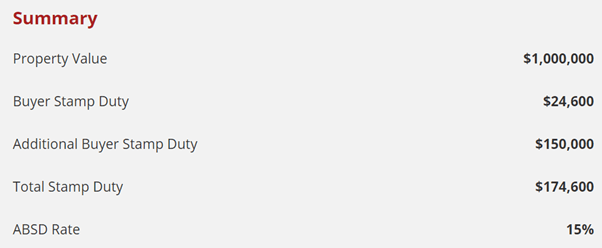 Source: Property Guru Stamp Duty Calculator
Because of the SD & ABSD payable, you need a rise of about 17.5% just to break-even!
Bear in mind we have not included other cost like lawyer fees, sellers stamps duty, agent fees etc.
Will Demand Keep Growing?
One has to weigh whether you think that property prices can keep rising dramatically over the next decade or so.
In this regard, I am less optimistic.
Singapore's demographic and economic situation is much different from that of two or three decades ago. For the first time in history, we have more people aged 65 and above than 15-year-olds and this is just the start of the trend.
The impact on this is very real. I was quite taken aback when eventhe Junior Colleges started merging because there weren't enough students!
Source: Straits Times
Property prices are inevitably linked to the buying power of the country's citizens. Our GDP per capita is about $53,000 USD today – if we can grow at 3% GDP per annum over the next decade, that will be over $71,000 USD.
If we pull it off, that will be a pretty amazing feat.
The fact is the likelihood of experiencing fast pace salary growth like in China is not high. The only way for property prices to keep rising dramatically and for it to be affordable is for flat sizes to shrink (which is already happening). However, I suspect at some point the government will intervene given the political implications.
The only consolation for investors is the Population White Paper 6.9 million people. There is only one way to hit that proposed number given the declining birth rate – net immigration.
However, the backlash to that number was swift. It is inevitable that net immigration will take place – but what that eventual number will be will largely depend on the political climate of the day.
Concluding Thoughts:
If you're already held your property for many years (i.e. before the days of ABSD and TDSR) – the outlook for the next 2 – 3 years is actually very bright and I would hold off selling at this moment until the "en-bloc millionaire" start entering the market in droves.
There is a limited amount of inventory available in the market from developers at this moment that is ready to move in.
However, if you're looking to buy property at this stage for investment purposes, given the challenges above, it will be much tougher to earn a good return in the next decade or so.
Article By Jun Hao Tay, Value Edge